William Higgins Sexy Hung Buff Czech Gay Porn Star, Milen Petrof
Years Active: 2015
WILLIAM HIGGINS INFO:
Age: 20
Home Town: Prague
Height: 180cm/5'10"
Weight: 77kg/169.4lb
Foot Size: EU43/US8.7/UK8.2
Penis Size: 16cm/6.3″
Profession/Student of: University student
Hobbies: Sport
Favorite Sports: Boxing
Active Sports: Swimming
Movie/Music/Sport Stars: Michael Douglas
Visited Coutries: Ireland
Want to Visit Coutries: USA
Dream of My Life: I don't know.
Zodiac Sign: Leo (July 23 – August 22)
Milen Petrof is aged 20 and lives in Prague. He is a student who enjoys sports, particularly swimming and boxing. What a very handsome straight guy Milen is. He does a very nice interview, in English and then he starts his show. Standing up he begins by running his hands over his body and down to his groin. He gropes himself through his pants and then removes his sweater, revealing a great chest. It is smooth, with just the hint of a happy trail. Then Milen sits on the sofa to remove his shoes and socks. Leaning back on the sofa he rubs his groin some more and also his sexy chest. He then stands up again, rubbing his chest and playing with his nipples. His pants are open and he slides them off to show some very hairy legs. His underwear is tight, with a pronounced bulge, which Milen rubs with both hands. Then he removes his underwear and that shows a simply wonderful, and very large cock. That dick is hanging down over his balls as Milen takes hold of it and gives it a few tugs. He releases is and moves his hips to make the cock flop from side to side and up and down. Then he starts to wank it as his continues to rub his chest. What a handful that beautiful cock is and Milen soon gets it nice and hard, using two hands to wank for some of the time. When he releases it from his hands the huge dick sticks out such a long way. He makes it flop around some more by moving his hips. Then the camera closes in so we see the big, bulbous head as the foreskin goes back and forth over it. Milen then turns and kneels on the sofa, pushing his ass back, to spread the hairy cheeks. His cock and balls hang between his legs as he works his ass back and forth. He reaches back and pulls on the ass cheeks to spread them further. The hairy crack parts until we get to see his hot hole too. Then he turns around and wanks on his big dick some more. He has a good set of balls too, which he rubs with one hand as he wanks. Milen then sits and lays back on the sofa, lifting his legs in the air to show off that hot ass some more. He wanks his huge cock as we check out his ass hole. Next Milen drops his legs and wanks on that cock some more, as he continues to feel his chest. He stands again, one foot on the sofa and wanks his meat, speeding up and rubbing his balls until he shoots a nice load of cum. He keeps wanking on the cock until all the cum is released, then Milen goes off to the shower to clean up.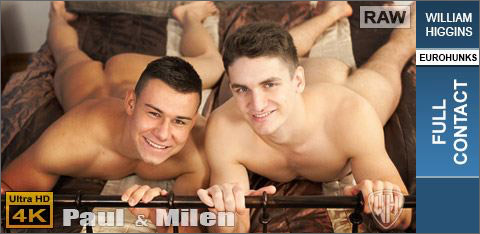 FULL CONTACT: MILEN PETROF & PAUL HUNTER RAW
Milen Petrof and Paul Hunter are a couple of very hot straight guys who get right into some hot sex, kissing each other as they kneel on the bed. Paul grabs Milen's dick through his underwear, rubbing it. It is clear that Milen is already rock hard in the underwear as Paul leans over to kiss his chest and niipples. As they kiss more Milen reaches round to grab at Paul's sexy ass. Then he moves to sit on the bedframe as Paul rubs his face over his groin. He pulls the underwear down, releasing Milen's big cock. He grabs it and wanks it as he starts sucking. That big cock is good and hard as Paul's mouth closes around the head. He keeps wanking and licking at it and then sucking it into his mouth. That cock looks so good as Paul pulls the underwear off and then takes his own off and the two guys lay down. Milen sucks on Paul's throbbing cock as the hips thrust upwards, fucking the cock into the eager mouth. He fucks Milen's hot mouth as the lips are closed tight around that cock. Moving to a 69, with Milen on top they suck each other for a while. Then they kneel again, with Paul wanking both cocks together. Paul then turns around and bends over, offering up his ass to Milen's big dick. Milen shoves his cock into the eager hole and Paul fucks his ass onto it. He then turns over, inot missionary position for Milen to fuck him deep. Paul moans as the big cock rams into his hot hole. He takes it all the way. Then as Milen lays on the bed Paul sits on his big cock, riding it hard and fast. He really can take cock so well. When they go back to mission position Paul wanks himself as he gets fucked hard and fast. Soon his cock releases its' creamy load and Milen keeps fucking him deep, until his load is ready too. He pulls and and shoots his hot cum all over Paul's belly. Then he leans over to kiss him again before taking him to the shower to clean up.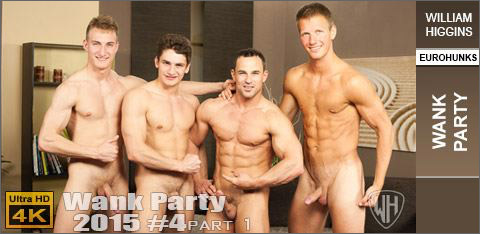 WANK PARTY 2015 RAW #4
We have a stellar line up for WANK PARTY 2015 #4, with Matej Borzik, Martin Porter, Milen Petrof and Robin Valej. In part 1 we find the guys enjoying a drink as they consider the upcoming hockey match. Robin invites the other back to his place to watch the match. As they sit on the sofa chatting the power goes off. Martin and Robin go to investigate, as they return the power comes back on and they find Matej and Milen bare-chested and kissing each other. They invite Robin and Martin to join them. So each guy removes his shirt and sits on the sofa. Martin kisses Matej and Robin joins Milen. Martin quickly has Matej's throbbing cock in his hand, wanking it. Milen pushes his jeans down as Robin takes his off. Then kiss some more as Martin starts to suck Matej. Robin wanks on Milen's big cock as he kisses him. Then they both get naked and wank each other. Martin gets naked too, and his stiff cock is available to Matej, who eagerly sucks on it. Robin kisses his way down Milen's sexy body, wanking his cock as he goes. Then he takes Milen's beautiful cock in his mouth and sucks it. Matej keeps up with his sucking too before coming off Martin's dick, so the favor can be returned. Milen then also return the favor to Robin, getting to work on his stiff cock. His mouth envelopes the cock suck it real good. Matej goes back down on Martin's cock, taking it deep. Then they all change, with Milen sucking on Martin's throbbing cock and Matej happily bobbing his mouth on Robin's. Robin and Matej move to 69 as Martin takes a on Milen's big one. Then they move to 69 too. Matej hot ass is spread nicely as Robin sucks his dick. Then it is all change again, into a chain, with Martin sucking Robin. Matej sucks Martin and Milen works on Matej. What a great start to this latest Wank Party, with a lot more hot action to come in Part 2.
EROTIC SOLO: MILEN PETROF
FULL CONTACT: MILEN PETROF & PAUL HUNTER RAW
FULL CONTACT: MILEN PETROF & ROSTA BENECKY RAW
WANK PARTY 2015 RAW #4
MASSAGE: MILEN PETROF
CLICK HERE TO GO TO HIS WILLIAM HIGGINS BIO PAGE