William Higgins Czech Gay Porn Star, Milan Pokorny
Known Aliases: Adam Kelly, Zach Hansen
Years Active: 2015 – 2016
WILLIAM HIGGINS INFO:
Milan Pokorny is a great looking straight guy from Prague. He is aged 18 and likes sports, particularly soccer. He looks so good as he poses for the camera, with a smile on his face. We quickly get a good look at his very sexy ass as he pulls his pants and underwear down, kneeling on the sofa and pushing his ass back towards the camera. Then, as he gets naked we see Milan's full push and his soft cock. It doesn't take long before his cock is rock hard too and pointing skywards for us. He really does a great show, whetting the appetite for what is sure to be a very hot video.
Model Name: Milan Pokorny
Age (2015): 18
Home Town: Prague
Height: 190cm/6'2″
Weight: 75kg/165lb
Foot Size: EU46/US9.3/UK8.7
Penis Size: 18cm/7.09″
Profession/Student of: Worker
Hobbies: Sport
Favorite Sports: Soccer
Active Sports: Soccer
Movie/Music/Sport Stars: Bill Cosby
Visited Coutries: Croatia
Want to Visit Coutries: Ireland
Dream of My Life: I don't know.
Zodiac Sign: Capricorn (December 22 – January 19)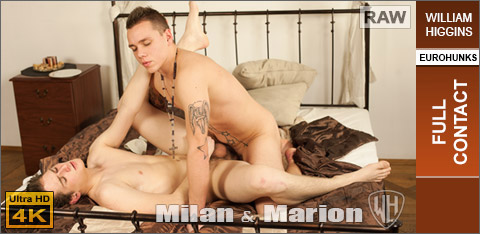 FULL CONTACT: MILAN POKORNY & MARION ANEL RAW
Milan Pokorny and Marian Anel are on the bed, naked and hard. Marion has an ice cube that he is rubbing over Milan's lips and then his nipples and down his body. He rubs it over Milan's hard cock and balls and kisses them too. Then Marian has a suck of that hard cock. He keeps playing with the ice and kissing Milan's sexy body. Then he starts to suck the cock, alternating with rubbing it with the ice cube too. He laps at the cock with his tongue and gets more ice to rub over the head. He rubs the ice on Milan's hairy balls as well. Then Milan lifts his legs to that ice can be rubbed over his tight hole as well. Marion tongues the hole as well and has another taste of the throbbing cock. Then he slips a finger into Milan's ass as he sucks on his cock. His finger fucks the ass hole before more rimming. His finger slips back into the hole before he climbs over Milan for a 69. Then Marion lays on the bed and Milan climbs over him and slides his ass down on Marion's hard cock. Marion fucks that tight ass, so hard and fast. Milan moans as he feel the cock slamming into his hole. He rides the cock a little before Marion starts his hard fucking again. Milan turns around and sits continues to take the dick deep in his ass. Marion's fuckng continues to pound that hole. Then Milan dismounts and lays down so that they can kiss as Marion wanks him. he then returns to fucking Milan, this time in missionary position. Milan wanks himself as he takes the dick deep in his ass. His cock soon shoots his creamy cum as Marion keeps up with his fucking. Milan pulls his legs up and holds them as Marion slam his dick in and out of that eager hole. The moaning increases as Marion builds up to his cumshot. He pulls out and dumps his hot cream over Milan, milking every last drop out of his cock. Then he shoves his dick back into that hot ass and fucks it some more. Then both go off to the shower to clean up after a very hot fuck.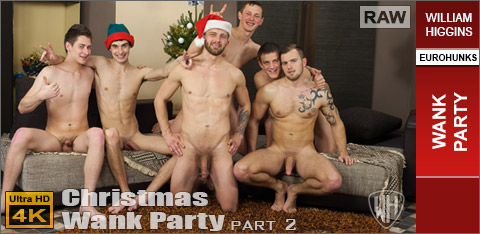 XMAS WANK PARTY 2015 RAW
We have a great line-up for our 2015 Christmas Wank Party. It features Laco Meido, Martin Dorcak, Alex Stan, Roco Rita, Nikol Monak and Milan Pokorny. We find Laco, Martin, Alex, Roco and Milan enjoying each other's company and singing Christmas songs. Then Santa arrives, in the form of Nikol Monak. Wearing only his hat and some short Nikol is carrying his sack of presents too. The guys are all happy to see him and reach out to feel his sexy body. Nikol asks if they want to see him in action, smiling as he moves in time to the music. The guys are feeling him and Nikol tells them they should get undressed too. Martin is first with his pants off, showing his big cock. Then Milan follows, his cock already hard. Roco and Laco follow suit as Alex starts kissing Martin. Nikol's shorts come off and Laco reaches to wank on his cock. Alex gets naked too so all are ready to play. They pair up and start kissing and feeling each other's cock. Then Laco and Nikol split up. Nikol joing Alex and Martin. He kisses Alex as Martin leans over Alex, reaching for Nikol's cock with his mouth. He kisses Nikol as well as Laco is enjoying Roco and Milan. Alex lays back so that Nikol and Martin can suck on his stiff cock. They lick it and keep kissing his hot body. Milan and Roco wank each other as they kiss Laco. Martin's mouth is wrapped around Alex's rock hard cock, as Milan wanks Laco. Roco starts sucking Laco, taking turns with Milan. Nikol keeps licking Alex's shaft as Martin sucks the cock head. then Nikol gets in the middle to let Alex and Martin share his throbbing cock. Roco keeps sucking Laco's dick as Alex and Martin take turns on Nikol's. Then Laco moves to join Alex and Martin. Laco sucks on Martin's massive cock and Alex sucks him. Nikol's dick is being shared by Milan and Roco, as he lays between them. Alex keeps sucking Laco and wanking his own cock as Martin pushes Laco's head up and down on his. What a great start to this wonderful Wank Party, with much more to come in part 2.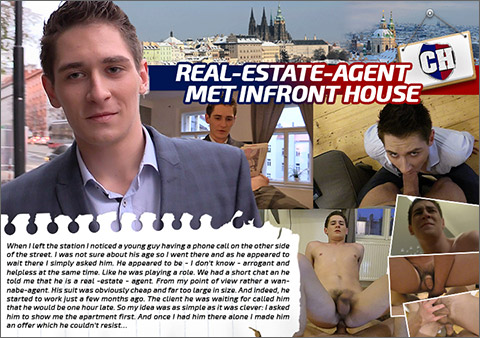 CZECH HUNTER 226
When I left the station I noticed a young guy having a phone call on the other side of the street. I was not sure about his age so I went there and as he appeared to wait there I simply asked him. He appeared to be – I don't know – arrogant and helpless at the same time. Like he was playing a role. We had a short chat an he told me that he is a real -estate – agent. From my point of view rather a wannabe-agent. His suit was obviously cheap and far too large in size. And indeed, he started to work just a few months ago. The client he was waiting for called him that he would be one hour late. So my idea was as simple as it was clever: I asked him to show me the apartment first. And once I had him there alone I made him an offer which he couldn't resist…
WILLIAM HIGGINS
BADPUPPY
STAXUS
CZECH HUNTER
BOY FUN COLLECTION
CLICK HERE TO GO TO HIS WILLIAM HIGGINS BIO PAGE