Hot House Uncut Gay Porn Star Sub, Mikoah Kan
Known Aliases: Mikoah
Years Active: 2014 – 2017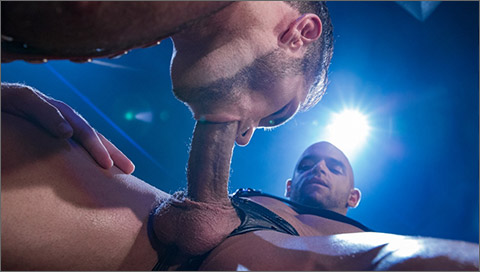 SKUFF: ROUGH TRADE 2: Sebastian Kross fucks Mikoah Kan
Mikoah Kan is down on hands and knees and untying Sebastian Kross' jock to reveal what hot, huge surprise lies underneath. After Mikoah unleashes the beast, Sebastian shoves his long cock down Mikoah's windpipe without hesitation. The throat fucking commences and Mikoah takes Sebastian's massive member fully and energetically. Sebastian returns the favor and gives Mikoah an intense and soaking wet rim job to loosen up his hole. Getting him ready for the power pounding to come, Sebastian breaks out a huge toy, working over Mikoah's hole with a massive Manrammer, stirring it around in Mikoah's gut. With Mikoah's hole prepped for genuine cock, Sebastian fits his hefty meat into Mikoah's eager hole. Mikoah stays down while Sebastian pile-drives his ass from behind. Switching positions, Mikoah hops on top and lets Sebastian fuck up into him until he lies on his back and takes Sebastian's thick load in his mouth. With both of them drained, they share a cummy kiss.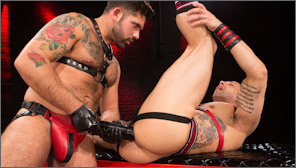 XPERTS: Alessandro Del Toro dildo-fucks & fists Mikoah
Alessandro Del Toro produces a turkey baster and fills Mikoah's hungry hole with lube in preparation for an intense round of assplay. The action begins with a huge ribbed bullet-shaped butt toy with an 8′ circumference. Del Toro introduces the tip, teasing Mikoah's hole until he's stretched out and most of the toy disappears in his ass. Another huge latex weapon even longer and bigger around that the previous one only serve to whet Mikoah's anal appetite; he needs Alessandro's manly fist and forearm up his ass. Alessandro, always ready for a heated handball session, orders Mikoah on his knees. He shoves one hand up the greedy bottom's ass, pulls out his own fat uncut cock and jacks a load onto Mikoah's boots with the other. Now that's an expert!
HOT HOUSE
HOT HOUSE CLUB INFERNO
TREASURE ISLAND MEDIA
KINK MEN
JAKE CRUISE'S COCK SURE MEN
CLICK HERE TO GO TO HIS HOT HOUSE DETAILS