Next Door Studios Gay Porn Star, Mikey Junior
Known Aliases / aka:
Years Active: 2016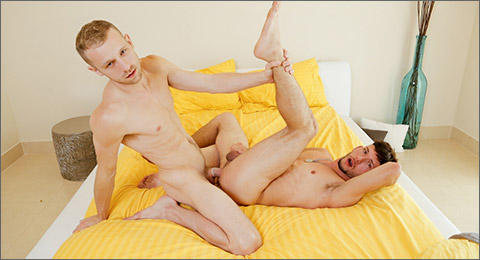 SLEEPY HANDS
After a night of good company and a few drinks, Mikey Junior decides to sleep over instead of driving home. Austin Everett has no problem with this arrangement, but come morning time, Austin stirs awake to find Mikey's hands down his pants. Maybe it was the wine or maybe Mikey has been keeping a secret, but whatever the reason, Austin can definitely feel Mikey's hard on pressing against his back through Mikey's underwear, but when he rolls over and laughs it off, Mikey is suddenly indignant and confused, adamant that he didn't mean it. Austin tells him it's no big deal, and that guys fuck around. This is news to Mikey, who thus far has never messed around with a guy, so Austin admits that he's messed around, and that it's just a fact that guys give better head. Mikey seems to question the validity of Austin's statement, so Austin tells him his theory that guys know what guys like, and so are more suited to satisfy each other sexually. Mikey remains skeptical, so Austin decides there's only one way to prove his theory, pulling Mikey's pants down and beginning to suck him off. Mikey's curiosity quickly grows, as does his cock, and eyeing Austin's monster dick, he tells Austin he wants to ride it. Austin obliges, giving Mikey every inch of his gigantic cock, which Mikey takes slowly and surely. More accustomed to the sensation, Mikey bends over for Austin, who picks up the pace and proceeds to pound Mikey from behind, watching Mikey's ass slap against his pelvis as the dick disappears deep inside Mikey's bubble butt. Austin flips Mikey over and fucks the cum out of him, blasting him with a morning load that's sure to make Mikey re-think some things he swore he was sure of, just last night.

RED ASS LOBSTER
With sun-soaked buddy Mikey Junior just waking up by the pool, Drake Riley realizes he's going to be in quite a bit of pain as soon as the sunburn sets in, so Drake offers to rub aloe on Mikey's tender spots. Mikey can't believe how cooked he is, and Drake's soothing hands feel amazing as he rubs the lotion on Mikey's back and shoulders. Flipping him over onto his stomach, Drake rubs Mikey's legs, inching his hands up Mikey's thighs and resisting his temptation to squeeze Mikey's perfect looking bubble butt.
   As Mikey relaxes and closes his eyes, Drake gives in to his urges and takes a cursory swipe with his tongue of Mikey's ass. Mikey's eyes bulge as he looks over his shoulder, but Drake is indignant, asking Mikey if he wants him to stop. Mikey hesitates, unsure how to answer, and Drake takes that as confirmation to continue, diving in full bore and tonguing Mikey's hole. Mikey is not sure what feels better: the aloe soothing into his skin or Drake's tongue penetrating him, as he flips back over and kisses up Drake's body, making his way back down to Drake's hard dick. Mikey sucks him off and then begs Drake to finish the job, so Drake bends him over and gives Mikey every inch of his cock, plunging it in raw and filling Mikey up in a way he's never experienced. Drake takes it slow at first, but once he's confident that Mikey can handle it, he slowly increases his speed and ferocity, fucking Mikey hard in every which way. Mikey strokes himself off as Drake continues to pound away, shooting jizz across his chest as Drake pulls out. Drake tells Mikey he wants him to suck him off, and Mikey obliges, so Drake pulls out and fucks Mikey's mouth, shooting his load all over Mikey's sun-drenched face.
CLICK HERE TO GO TO HIS NEXT DOOR STUDIOS DETAILS