Handsome American Gay Porn Star, Mike Maverick
Known Aliases:
Years Active: 2016 – 2017
TWITTER @xxxmikemaverick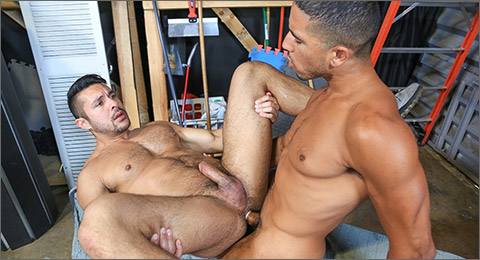 GET TO WORK!
Seth is sitting in the back room of the warehouse he works at looking at his phone when Mike comes through the door. Annoyed that Seth is not working; Mike calls him out and tells him he needs to stop being lazy and get back to work. Seth ignores him at first and then argues back by saying that Mike just needs to get laid. Awkward moment and then Seth plants a kiss on Mike. The two kiss for a bit and then Seth drops to his knees and sucks Mike's hard cock. Mike then sucks Seth for a bit. Seth rims Mike's beautiful ass next and then Mike says he wants to eat his ass. After Mike rims Seth he drives his hard cock deep into Seth's beautiful round ass. He fucks him against the ladder first and then bends him over the work bench and continues fucking him. He then flips him to his back and fucks the cum out of Seth before pulling out and shooting his own load all over Seth.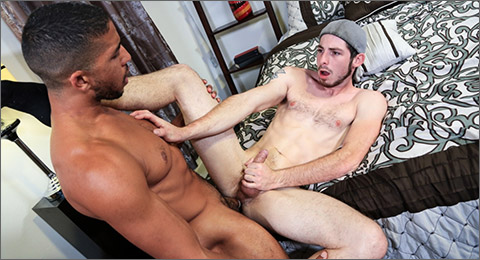 STRESS RELEASE
Toby is visibly upset and Mike is there to comfort him. They have been lovers for a while and Toby explains that he thought he was going to get the raise he expected at work, but it did not come through and he feels like a total loser. Mike assures him that all will be fine and gives him a big hug and a kiss that leads into some passion. Toby pulls off Mike's pants and begins sucking his cock all the way down his throat and Mike loves every second of it. Mike then moves to Toby's ass where he gives it a tongue bath that Toby loves. Mike sits in the chair and has Toby ride his cock for a while before bending him over the bed and fucking him doggy style. He then flips Toby onto his back where he fucks him until he cannot hold back and when he pulls out Toby grabs his own cock and shoots a massive load all over himself and then Mike shoots his own big load with one stream hitting Toby in the shoulder.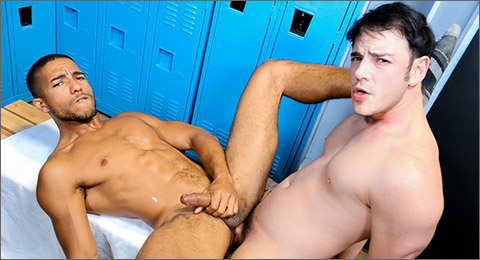 LONG TIME CUMMING
Mike is sitting alone in the locker room looking at his phone and he is visibly upset. Rego walks in and strikes up a conversation with him and Mike tells him he is upset because the guy he recently starting dating has a boyfriend and he would be nothing more than a 'side piece.' He is upset about always meeting the wrong guys. Rego is a little exasperated because he has heard this before from Mike, but he tells him he can relate as he has been single for the past year and meeting all the wrong guys too. Mike jokingly asks him why they have never hooked up and Rego tells him 'you never asked.' With that they are soon kissing and groping each other. Rego is 1st to suck Mike's hard cock and then Mike drops to his knees and gives Rego such a great blowjob that he exclaims 'why have we not done this sooner?'Mike then says he wants to eat Rego's big round ass and Rego agrees. Mike goes to town on Rego's beefy ass burying his face deep between his thick butt cheeks. Rego then fuck Mike long and deep with his hard cock as Mike rides it utilizing his hips to their full potential. He then flips Mike on his back and fucks him until Mike shoots a nice huge thick load of creamy cum. Rego can't hold back and shoots his load all over Mike. Mike then says he needs to take him to dinner!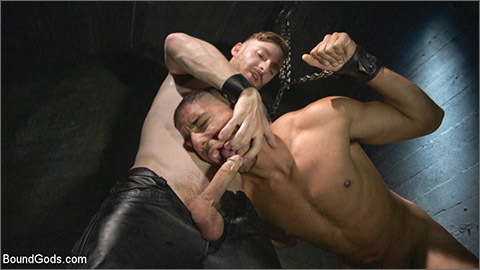 MR KEYS BEATS AND FUCKS TOUGH NEW SLAVE
Mike Maverick is slave #133, the new slave in Mr Sebastian Keys' house. Mr Keys enters his new fuck slave's cell, and wastes no time playing with his hard cock. Mr. Keys tests his plaything's ability to take a lot of punishment by tying him to the wall. Mr. Keys covers the pain slut's tender body in clamps. #133 is able to withstand the intensity of the clamps long enough for Mr. Keys to reward him by whacking the clamps off with a crop. Mr. Keys then chains up #133, and unleashes his flogger on him. #133 begs for release by taking Mr. Keys throbbing dick down his throat. Mr. Keys then throws #133 off his cock and continues to flog him mercilessly. Mr. Keys likes to mix pain with his pleasure and gives #133 the privilege of taking Mr. Keys' hard dick in his ass. #133 is locked in a stockade, while Mr. Keys canes him, while still pushing his cock down #133's little hole. Mr. Keys approves of his new fuck slave and christens him with his hot cum. #133 is finally allowed to shoot his load all over Mr. Keys' boots.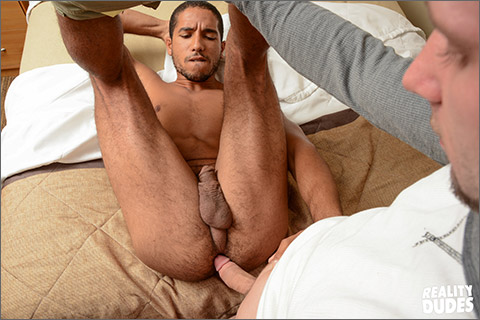 STR8 CHASER: MIKEY
Mikey is a student athlete and isn't shy about showing off his hot body. Although it's his first time doing anything like this, he's a quick study. Seeing him take a huge cock down his throat will bring you close, but it's seeing him ride that cock, and his bubble butt bouncing up and down that will get you to blow your load.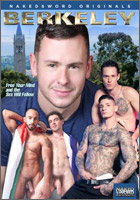 BERKELEY: BRENNER BOLTON & MIKE MAVERICK FLIP-FUCK
KINK MEN
REALITY DUDES NETWORK
NAKEDSWORD
KINK.COM / BOUND GODS
CLICK HERE TO GO TO HIS PRIDE STUDIOS DETAILS