Sexy Spanish Gay Porn Twink, Mike Fontana
Known Aliases:
Years Active: 2017 – 2018
STAXUS INFO:
He claims to be a distant relative of Rafael Nadal, but given that Mike is a bit of a joker and self-confessed storyteller it's sometimes hard to extract the fact from the fiction. One thing that is certain, however, is that he's got an appetite for cock that's second-to-none!
Date of birth: 5th February 1999
Height: 5'9″ / 175 cms
Cock size: 7″ / 18 cm
Ethnicity: Spanish
Role: Bottom
Interesting Fact:
Mike is a really superstitious fellow, who hates the number 13 and who would never, ever film on the 13th of the month!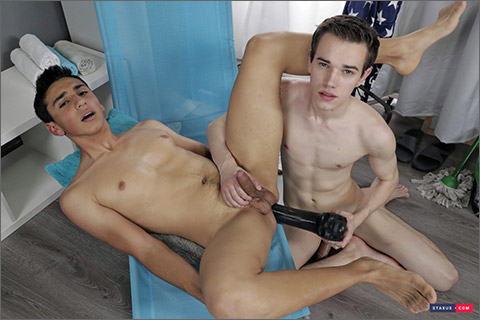 BIG IS BETTER: Big Is Fucking Better – Be It Raw Cock Or A Big Monster Dildo
With his darker-toned skin and Arabesque features, new boy Mike Fontana is almost sure to be a hit with those with a more exotic taste in boys; and sure enough Vitali Kutcher can't resist hitting on the lad when he enters the changing room of the local baths and discovers him mopping the floor. To be fair, no-one could ever claim that Kutcher used clichéd techniques – after all, presenting a fellow with a choice between a fifty euro note and a monster-sized dildo is not exactly your typical chat-up line! But suffice it to say that the guy is very much true to form when it comes to reaching inside Fontana's shorts, grabbing hold of his cock and promptly gobbling away on the fellow's dusky uncut shaft! Not that the newbie throws any complaints for such unoriginality.
   In fact, the lad is soon replicating the move on Kutcher's well-used ramrod; before getting down on a nearby lounger so that Kutcher can suck on his balls and rim that nicely shaved pucker between his butt-cheeks. All this, of course, is but a prelude to what can only be described as an invasion extraordinaire, as Kutcher yields the mother of all dildos and thrusts it into the boy's guts with almost unforgiving vigour.
   To the amazement of surely the whole film-crew – not to mention you, the public – the fellow takes the beast like a veritable pro. So much so, in fact, that the fuck that follows almost seems tame in comparison. Never fear, however, these lads produce a desperately hot, sweaty fornicating fiesta, that culminates in two of the most violent eruptions you could wish for. Topped off with a gooey smooch!

CLICK HERE TO GO TO HIS STAXUS DETAILS
VIDEO ON-DEMAND: Mike Fontana @ AEBN SMUTJUNKIES THEATER
DVDs & ON-DEMAND: Mike Fontana @ RAD VIDEO