American CockyBoys Gay Porn Star, Mickey Knox
Years Active: 2015
TWITTER @MickeyKnox_xxx
COCKYBOYS INFO:
It's not often that a CockyBoy's coming out story is as inspirational as that of Mickey Knox! A blue collar southern boy, Mickey kept his sexuality a secret for quite some time. Without many resources to explore and be open about being gay, Mickey saw no reason to officially "come out" to the world — that is until he met his long-time boyfriend Colby Chambers. Colby's beaming confidence turned Mickey's world upside down and they became an inseparable item upon their first meeting. Mickey is now out and proud — so proud in fact, that he and Colby make jaw-droppingly hot porn together. Mickey is the first one to admit he's submissive — there's nothing he loves more than making his partner moan. That said, Mickey loves to bottom — for Colby and for many more CockyBoys to come!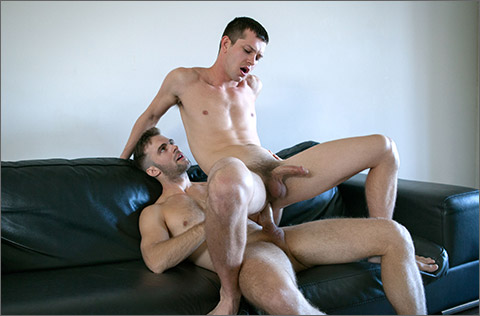 GABRIEL CLARK FUCKS MICKEY KNOX
Mickey Knox is the first one to admit he's "submissive by nature," but of course we already knew that from his first steamy scene at CockyBoys with real-life boyfriend Colby Chambers. Once we set him up with Gabriel Clark, though, he took the word "submissive" to a new level and basically let Gabriel have a free-for-all. Being the domineering power top that he is, Gabriel of course couldn't have asked for a better playmate!
   Being a submissive guy also meant that Mickey was on the shy and reserved side when he first met Gabriel, but Gabriel knew exactly what to do to loosen him up. He took the initiative and flirted with him, cracked a few jokes, and then wrestled with him on the bed before moving over to the couch. Mickey was all smiles by this point sitting on Gabriel's lap, and it wasn't long before the guys' lips were locked and Gabriel's hands were feeling around inside Mickey's jeans.
   They hastily peeled off each other's clothes and Gabriel walked around to let Mickey have a taste of the cock he'd been craving. Mickey was really putting a lot of effort into the blowjob, frequently meeting Gabriel's eyes to see how much he was enjoying it. Gabriel then returned the favor and sucked off Mickey for a bit… which quickly transformed into a hot rimming… and then a merciless doggy-style fuck. Mickey was in heaven obeying Gabriel's every command — Gabriel soon sat back down on the couch and let Mickey ride him like a professional cowboy. Then Gabriel flipped Mickey over on the couch so his feet were in the air and jack-hammered him until they were both ready to shoot their loads! The best part about this position, as Gabriel explained himself, "When I reach down and kiss you, it goes deep!"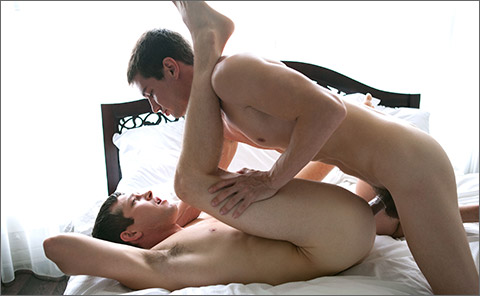 COLBY CHAMBERS & MICKEY KNOX FUCK
Colby Chambers and Mickey Knox are a real-life couple, literally head-over-heels in love with each other. Their sweet story starts before Mickey was even "out of the closet" growing up in the South. But that all changed when he met the confident, sexy, and very out-and-proud Colby. All it took was one look at each other in a bathroom urinal, and they became inseparable. As Colby says himself, he plans on them growing old together.
   Physically, they make for one extremely hot couple — they're both clean-cut, everyday kind of guys who take care of themselves and each other. They both have great bodies with smooth, bulging muscles and nicely hung, thick cut cocks. They first started making out delicately and sensually, with Mickey slowly pulling out Colby's dick and teasing the head with his tongue. He then went in for a deeper, more intense blowjob — Colby was moaning in no time!
   Colby flipped Mickey on all fours and rimmed him, and that's when it became clear that Colby reigns as the top in this relationship. After sucking off Mickey's equally impressive hard-on, Colby slid into Mickey's hole slowly at first and then picked up the pace. Every kiss, thrust, and moan flowed in the kind of perfect rhythm only well-practiced partners can make. Things really started heating up so Colby let Mickey ride him both forwards and backwards before Mickey exploded on Colby's torso. But for Colby's grand finale, Mickey positioned himself on all fours so Colby could jack-hammer him doggy-style and then shoot an impressive load on his back. Now that's true love!
CLICK HERE TO GO TO HIS COCKYBOYS DETAILS