British Twink Gay Porn Star, Michael Wyatt
Known Aliases / aka:
Years Active: 2016 – 2017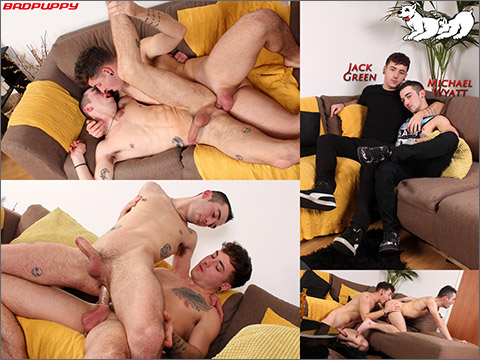 JACK GREEN FUCKS MICHAEL WYATT
Michael Wyatt makes a return visit to Badpuppy with British stud, Jack Green. The intense passion between these two rises quickly as the clothes come off and they grope each other's young tight bodies. Jack pushes Michael back on the sofa, runs his tongue from Michael's neck, down through his pleasure trail and then licks the zipper as he slowly unzips Michael's pants. Michael is the first one out of his cloths and Jack drops to his knees swallowing every inch of Michael's fully engorged cock. Michael has other plans though, he want's Jack's cock up his ass. He drops to his knees and begins working his oral magic on Jack's dick. Obviously Michael knew exactly what Jack needed to get primed. Jack did not even let him finish the blowjob before he pushes Michael back on the sofa and shoves his tongue into Michael's hole getting it nice and loose. Michael jumps on top of Jack and I'm assuming it's because he wanted it so badly; but, that huge cock went up his ass quite easily and then; Michael starts rocking up and down on Jack's cock like a mad man. Jack finally spins Michael around, shoves his cock back in and starts pounding Michael with everything he's got. The climax comes when Jack slides in behind Michael and shoves that huge cock of his in for one last time. Michael grabs his cock as Jack starts fucking him again and with quite the explosive thrust he shoots streams of jizz all over his rock hard tummy. Jack kneels up between Michael's legs and works his cock spewing cum all over Michael's balls, cock and stomach.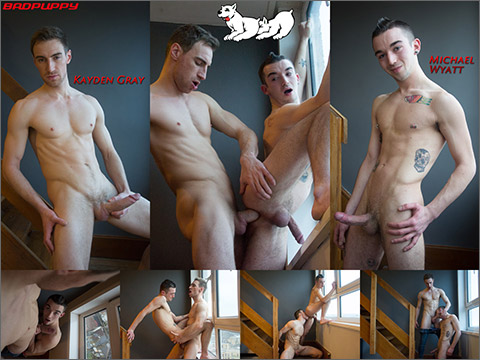 KAYDEN GRAY FUCKS MICHAEL WYATT
Kayden Gray and Michael Wyatt stumbled onto an open construction site; left open when the construction workers left for the day. They slip in, secure the door behind them and Kayden pins Michael against the window. Their lips lock in a deep passionate kiss and they quickly start to remove each other's clothes. Michael drops to his knees pulling Kayden's already rock hard cock from the confines of his underwear and then swallowing every inch of Kayden's huge piece of meat. Kayden spins Michael around and with Michael staring out the glass window; Kayden buries his face and tongue deep into Michael's asshole. When Kayden gets the hint that Michael's ass is ready, he stands up and pushes his thick, hard cock all the way up Michael's hole. After letting Kayden fuck the hell out of him from the rear, Michael jumps up on the window sill and while holding himself up with the stair rail he goes to town bouncing up and down; riding Kayden's cock. Kayden pounds until he's ready to shoot. He pulls out of Michael and no sooner had Michael knelt down on the floor; but, Kayden squirts a thick, creamy load of jizz all over Michael's face. Michael can't hold it anymore either and he too blows a huge load of cum all over the floor.
BADPUPPY
BOYNAPPED
UK NAKED MEN