American Gay Porn and Solo Performer, Michael Molotov
Years Active: 2015 – 2016
NEXT DOOR STUDIOS INFO:
Cock: 7″
Body Hair: Smooth
Height: 5'11"
Hair Color: Blonde
Eye Color: Blue
Foreskin: Uncut
Body Type: Muscular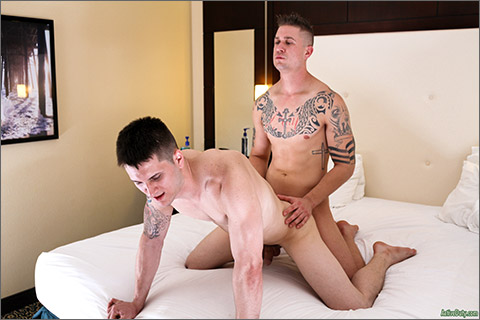 MICHAEL MOLOTOV FUCKS ALLEN LUCAS
Not long after their trousers are off, Michael tells Allen to scooch over and suck his fat cock. No arguments from Allen! Allen takes Michael's lovely erection very deep, slurping it with lots of gusto. I especially enjoyed the way Allen runs his hands all over Michael's strong, tattooed chest. He had absolutely no reservations when it came to enjoying his fellow recruits amazing body. Just a wonderful job by Allen…blowjob that is!
   Michael goes to his knees to take a more dominant position, and uses this leverage to slap that stiff cock on Allen's open mouth and tongue. This gets Michael hungry for a taste of dick for himself, so Allen lays back and lets him get more than a mouthful. Gosh, look at the gorgeous cock on Allen! I somehow am always awestruck by his massive, wonderful cock. Michael sure does the job to the fullest here, taking the whole length, nice and slow. This leads right in to some hot 69 action, where both boys let loose, sucking fervently and jerking each other good. 'Now that feels REALLY good!' Allen tells Michael as Michael works on his swollen meat.
   Then we go right into some good, solid fucking. Allen bends over the side of the bed and allows Michael to slide that big dick right into his tight, hungry ass. Michael has never been scared to show a squad mate what kind of power he's capable of delivering. And with a willing and eager partner like Allen, Michael is blasting at full power! Claude does a bang-up job of getting some wonderful shots of Allen's face while being pounded. He also sneaks underneath the boys and captures a great angle of Michael's cock going in and out of that tight hole, while Allen tugs his hard dong. HOT!!!
   Before the glorious finish, Allen switches to his back. This leads in to a final eruption that ended up being a little bit unique from what we're used to seeing, and the credit is all due to Claude. As Michael is really getting close, putting all his effort into pumping Allen good, Claude tells him to jerk finish by 'jerking all over him.' And golly, what an amazing eruption! This is a must-see and certainly in the running for my favorite ending.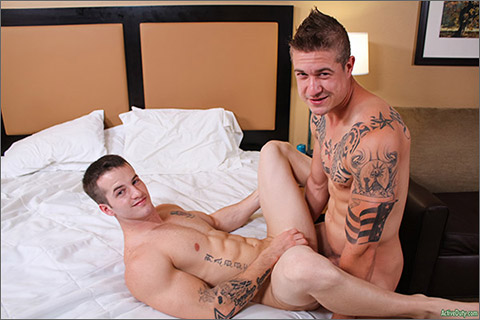 QUENTIN & MICHAEL
Boy, am I glad to be bringing you this gem of a match up. Two of my favorite recent recruits, Quentin and Michael, finally together, just as I had imagined, after I first saw Quentin's solo. For me, and I would wager most of you dedicated troops as well, Quentin is simply irresistible. From that first solo, I've been waiting with dick in hand to see him bottom for a take-charge type of recruit, exactly like Michael. I can tell Quentin is a fast learner and is eager to mix with fellow recruits. Claude did another bang-up job this time; I couldn't have squeezed better moments myself from this encounter. My impressions of Quentin really came from Claude's great interactions with him. 'You like that big cock in your ass?' we hear Claude ask Quentin while Michael is slow-thrusting in and out. This was an incredibly hot moment. He smiles that wickedly cute smile and tells the camera that he 'loves' getting fucked by Michael. Michael definitely loves to make full use of his lusciously large dick. His focus and intensity were two of the things that contributed to making this pairing so choice. I can tell that in a different situation, Quentin would easily adapt to being fucked by a more laid-back recruit, but I think getting slammed by someone like Michael for his first time was a great thing to see. It was a nice yin and yang blending that made it work so well. After seeing this, I think Quentin would do very well with someone like Gage. Gage is, by now of course, very comfortable and has become such a great member of our Active team. Gage is so full of great, fun energy that I think he would do a number on Quentin to bring out his natural, happy-go-lucky personality that I know is there. Hmmmm, perhaps the two of them sharing nice, stiff cock?? I think that would work!
Brunette, Muscular, Smooth, Duo, Blowjob, Jerk Off, Anal Sex, Gay, Tattoos, Big Dick, Bareback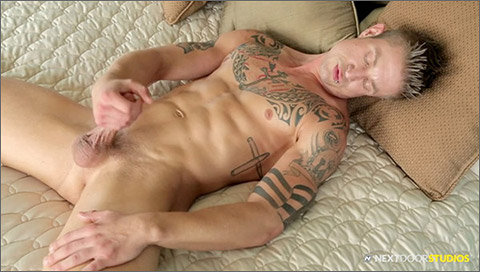 MICHAEL MOLOTOV NEXT DOOR MALE SOLO
Michael Molotov is a military man who is more than willing to be your drill sargeant. Originally from Michigan, this is one soldier who isn't afraid of a hard mission, as he spreads his legs wide while stroking his thick, meaty shaft as it stands up in salute. This army private makes sure to show off every inch of his ripped body, as he rubs his chest in the afternoon light by the window. Running his hands down to his cock, he plays with his taint as he rubs himself to the point of no return, then fires his rifle, and discharges his payload in a sweet and sticky direct explosion.
Amateur, Blonde, Softcore, Solo, Tattoo/Piercing, Masturbation, Mature, Military, Climax, Gay Porn, Caucasian, Smooth, Muscular, Athlete, Jerking off
NEXT DOOR STUDIOS
ACTIVE DUTY / DINK FLAMINGO
CLICK HERE TO GO TO HIS NEXT DOOR STUDIOS DETAILS
CLICK HERE TO GO TO HIS ACTIVE DUTY DETAILS