Hung Handsome Czech Gay Porn Star, Michael Getlin
Known Aliases / aka: Rusty Smith, Jack Nixon, John, Rob Samuel ???
Years Active: 2007 – 2008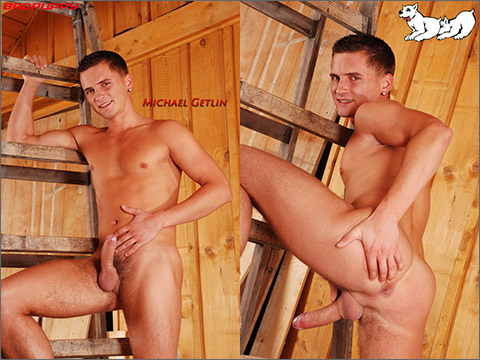 MICHAEL GETLIN SOLO
19 year old Michael Getlin was very excited to be in front of the camera. It was quite apparent because, as the interview begins, our producer notices Michael rubbing what was apparently a growing bulge in his jeans. As Michael stands, he unzips his jeans, pulls them and his underwear down just enough to free his stiffening cock and balls. He slowly undress showing off his tight, hard body. Heís got a very nice cock; but, I just want to bury my face in that ass of his. Grabbing his cock he goes to work jacking his hard, thick piece of meat. Lying back on the sofa, Michael pulls his legs back and begins fingering his hole with one hand and jerking his dick with the other. As he turns and kneels on the couch, he spreads his ass cheeks, showing off his man hole as he tugs down on his cock. Standing up on the couch, you can tell heís close and with a few final strokes; Michael blows a thick creamy load before heading off for an extended shower.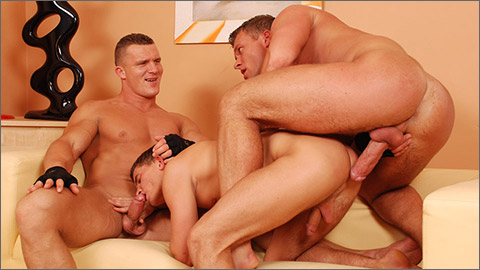 THE SEVEN CUMSHOT THREESOME
Our jock, Michael Getlin, makes a bad decision and tries to pickpocket our sexy stud, Eric Flower. Eric and his friend, Tad Harrisson, catch Eric but instead of just getting the wallet back, the get revenge! They take him back to their place and top him relentlessly. Revenge is sweet! They blindfold Michael, and then Eric makes him worship his bulge while Tad rubs his crotch against Michael's ass. When the clothes come off, Michael's blindfold stays on. They force feed him their dicks, and Michel loves it. Two thick uncut cocks in your face?! We'd be happy, too. Then, Tad and Eric can't hold back anymore and cum on their little thief's face.But the fun is far from over. Off come Michael's clothes exposing his beautiful pink hole. Eric and Michael take turns rimming him while they jack off his rock hard dick. Eventually, two hot men rimming his hole drives Michael over the edge and he shoots a big load. That drives Tad nuts because he immediately stand up and blows ANOTHER load right onto Michael's quivering hole. Very hot!But apparently, Tad and Eric haven't gotten their full revenge. Now they bend the thief backwards over the arm of the couch and spit roast him. Tad's cock pistoning in and out of Michael's hole while Michael subserviently licks Eric's balls is VERY hot. Next, Michael flips over and gets doggy styled by Tad while Eric sits down, lays back, and gets his huge cock worshipped. Michael takes it in both holes like a champ. Finally, Michael opens his hole for Eric's thick prick and gets a taste of Tad's cock. I think all three studs enjoy their new positions because Tad blows ANOTHER load (count 'em: three cumshots from Tad!) all over Michael's face, Michael explodes, for a second time, onto the sofa as Eric pounds him, and Eric pulls out to shoot a second load onto Mchael's back.3 incredibly hot men and 7 huge cumshots in one crazy-hot scene. Maybe Michael's decision to pickpocket Eric wasn't such a bad idea, after all!
BADPUPPY'S DANNY RAY COLLECTION
DOMINIC FORD
TITAN MEDIA / TITAN FRESH
FALCON STUDIOS
HAMMER ENTERTAINMENT
AYOR STUDIOS
RAWBOYS / BARE ADVENTURES
IKARUS STUDIOS / SWEET AND RAW
ELITE MALE AT MALE DIGITAL