American Exhibitionist Gay Porn GayHoopla Amateur, Michael Evans
Years Active: 2015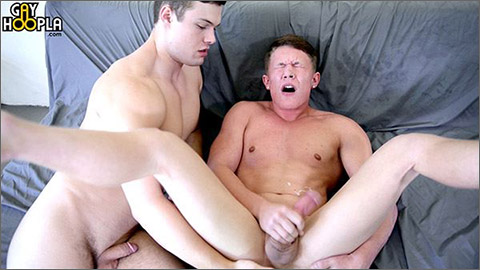 JASON KEYS & MICHAEL EVANS FUCK
Jason showed up here a few weeks ago for a cam show, when he got here I was editing some photos of Michael Evans, the first words out of his mouth were "Holy shit, that guy has a huge ass!" He joked about how he'd bend that over and tear it up if he ever had the chance. Jason said he had a thing for dominating huge asses. I knew Michael was coming out in a few weeks so I figured, what the hell, let's give Jason what he wants. A few weeks later they were here sitting on the couch in front of me, Jason was grinning ear to ear, a bit nervous but ready to fuck! Jason fucks him pretty hard and finally makes Michael bust all over his stomach. When Michael finally catches his breath he throws Jason's legs up in the air and fingers him hard until blows a big load all over himself. We love it when our models make special requests!