Scruffy Tattooed British Gay Porn Star, McKensie Cross
Years Active: 2013 – 2016
BULLDOG INFO:
McKenzie Cross is our northern Rudeboi. Rough as they cum but cute as hell. He's truly versatile to the core but loves it most when he's getting his ass banged hard by a twink with a big dick. So if you like 'em cheeky, hung and always horny, McKensie is definitely YOUR diamond in the rough!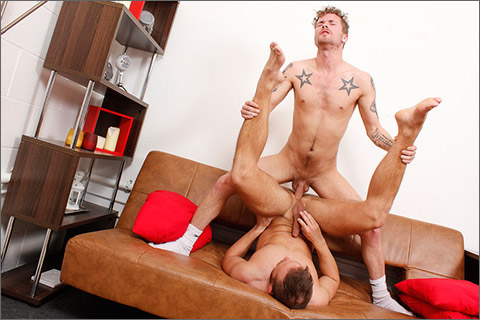 ROUGH YOUNG FUCK!: MCKENSIE CROSS FUCKS BRENT TAYLOR
Rough young fuckers McKensie and Brent love it hard, fast and deep, not to mention without a condom in sight! McKensie's tight tattooed body is aching to fuck a hot young ass and Brent is more than willing to fill that role! Fingering his bottom bitch, opening that hole wide for his raw dick to slide inside, he pins Brent to the sofa and fucks him hard, his dick almost a blur as it slides in and out so fast, the feeling of fucking a warm wet hole overpowering McKensie so much he just lets loose and loses himself in the moment! Pulling Brent ass up, McKensie has a favourite position to fuck in and pushes his dick straight down into the waiting hole, gaping open for him to fill with his bare dick. McKensie's dick sporting a hot big vein as it disappears and reappears from inside Brent's butt plunges over and over as Brent jerks himself, ending up covered in his own load whilst still getting a pounding, lapping up his spunk waiting for McKensie to join the cumfest, which is saves purely for his hole, sloppy and wet and fucking it inside him some more, letting Brent lap the remaining drips of cum in a great ass to mouth finale!
BULLDOG PIT
EUROCREME
EUROBOY XXX
MEN.COM – MEN OF UK
CLICK HERE TO GO TO HIS BULLDOG DETAILS