Slutty Kink Men American Gay Porn Star, Max Woods
Known Aliases:
Years Active: 2016
TWITTER @MaxWoodsxxx
KINK MEN INFO:
Body Type: swimmer
Height: 6'0″
Weight: 155
Hair Color: brunette
Gender: male
Cock Girth: normal
Cock Length: 8
Foreskin: cut
Scene Role: bottom
Pubic Hair: unshaved
Ethnicity: white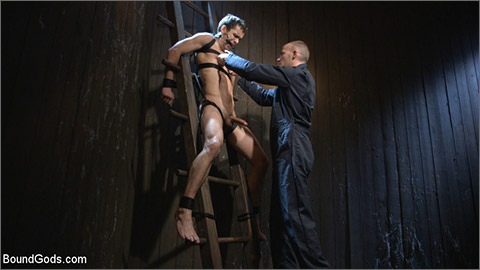 HESITANT STUD TRANSFORMED INTO MR WILDE'S BONDAGE SLUT
Max Woods moves nervously through a dingy warehouse — not exactly what he expected for an internet hookup with Christian Wilde. He finally finds Christian's door and enters his dungeon workshop to find a trove of intimidating toys and bondage devices. It all quickly becomes too much for Max, who tries to call off the date. Christian doesn't have time for any of Max's wavering attitude, so he slams the boy into his bondage ladder and secures him to it. Roped down to the ladder, Christian treats Max to a cocktail of pain and pleasure, using his riding crop to edge Max's throbbing dick. Max submits to Christian's hard cock before his ass and back are flogged beet red. Christian moves Max to his bondage table and affixes electrodes to the boy's nipples and cock. Max tries to fight against the heavy wooden blocks bolting him to the table and the electric current running through his body, but to no avail. Christian fucks Max's face as the boy begs for his cum. After dousing Max in hot jizz, Christian throws the wimp out. As Max exits the warehouse, he is overcome with horniness and jerks a load in the hallway.

OFFICER KEYS TORMENTS SEXY COCK CONVICT
Officer Keys caught Max Woods jerking his cock in public, and takes the pervert back to the precinct. Disgusted by Max's protests, Sebastian leaps over his desk and manhandles Max. He promises to edge Max so much that he'll never dream of jerking off in public again. The sexual deviant only gets harder under the torment. Max shakes and moans gagged pleas for orgasm. Officer Keys only responds with more edging. He takes Max to the holding cells and fashions a cockring out handcuffs, pulling Max's rod through a hole in the metal cage. Max is bound in place, drooling for cum as Keys sucks his cock and almost makes it explode with a fleshjack. Knowing that criminal rehabilitation is a long process, Keys throws Max into a dark interrogation room and bolts him to an examination table, leaving his legs spread open for a vibrating dildo. Just as Max is about to blow his load, Officer Keys interrupts with a vicious tickling. Keys finally gives the deviant what he wants, and milks a thick load from his aching balls. But Max is still under arrest– Officer Keys keeps him secured to the table for processing.