American Fisting Gay Porn Star, Max Cameron
Years Active: 2013 – 2016
TWITTER @XXXMaxCameron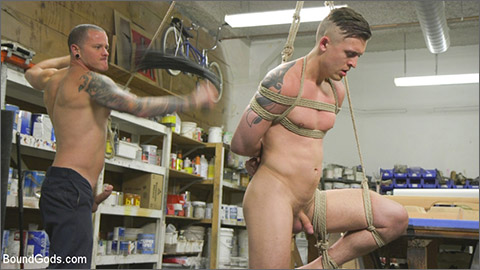 SADISTIC PAROLE GIVES CREEPY COWORKER A BRUTAL LESSON
Max Cameron is fresh out of jail, and through an ex-con work program, started working at an assembly line. The only problem is the constant harassment by his coworker in the paint department, Tyler Rush. Max quickly tires of Tyler's condescension, so he binds Tyler with duct tape, and gives him a taste of some prison style harassment. Max starts by knocking Tyler around with a broom, and pulling out his cock while he is pushed against the ground. Tyler keeps resistant until Max wraps his face in duct tape and quiets him by thrusting his hard cock in Tyler's mouth. Tyler still needs to learn to keep his teeth out of a good blowjob, so Max tapes Tyler's mouth completely open and attaches him to a sawhorse. Next in Max's prison bitch lesson plan is a good flogging. Tyler is suspended on one leg while Max unleashes the flogger across his body. Max finds good use for the paint supplies by turning his prison bitch into a brown fuck pup. Tyler is fully coated in brown paint, and given tape dog ears, and a tape pup tail. Max gives his pet the privilege of sucking on his bone, before ruthlessly cropping him. Tyler's pup tail is then removed, revealing his open hole just waiting to get fucked. Max fucks his plaything until Tyler blows his load across his chest and opens his mouth to receive max's cum on his tongue.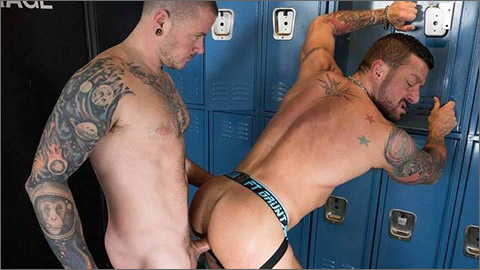 MAX CAMERON FUCKS HUGH HUNTER
This is my first time working with these two sexy men and I'm glad I found them. When I put these two together they both instantly were into it. Never having worked directly together on film was fun for the both of them and Entourage Las Vegas was the perfect backdrop. Watching Max swallow Hugh's HUGE tool was very hot but watching Max fuck the shit out of Hugh was hotter. In and out, up and down till both loads flew. A scene you for sure don't want to miss.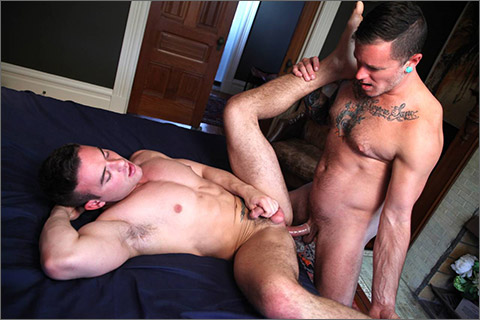 HOOKER STORIES 3 – GOODS FOR GOODS: Max Cameron fucks Killian James
New York super hooker Killian James rarely takes calls after midnight but rent is due tomorrow so he accepts an offer of $600 to see a couple downtown. As soon as Killian walks in he meets Max Cameron who excuses himself and begins to argue with his boyfriend in the next room about money. Max returns to explain but Killian takes over… no one is getting the better of him at 3am in the morning. Instead of cash Killian considers taking the couple's big screen TV and an expensive watch; but not before getting a taste of Max's big cock. Max fingers Killian's legendary hole and shoves his cock in, pounding him hard. Killian finally shoots while Max plays with this nipples then rolls over to cuddle Max while he jerks off. As he shoots Killian leans in to get a taste and spots Max's boyfriend's LV wallet on the bed table. Score!
BAREBACK THAT HOLE
RAGING STALLION
HOT HOUSE
HOT HOUSE CLUB INFERNO
LUCAS ENTERTAINMENT
TREASURE ISLAND MEDIA
RAW FUCK CLUB
DARK ALLEY XT