Titan Men Sexy New Exclusive Gay Porn Star, Matthew Bosch
Years Active: 2015 – 2016
TWITTER @MatthewBoschXXX
TITAN MEN INFO:
San Francisco, September, 14th, 2015
TitanMen Signs Newcomer Matthew Bosch as Newest Exclusive
TitanMen is pleased to announce they have signed industry newcomer Mathew Bosch as their newest exclusive performer. Bosch stands 6' tall, weighs in at a hunky 185 lbs. with Matinee idol good looks, penetrating blue eyes and a fat uncut 8" dick. The 29 year old Boston resident will make his gay porn premier in a highly anticipated TitanMen film set to release in early 2016. Matthew stars in the lead role as a closeted conservative Senator running for President who gets outed during his campaign. From a Manhunt hook-up on the down low the Senator is thrust into the headlines when his hardcore sex tape is leaked to the tabloids and goes viral online. "I'm thrilled to be exclusively working with TitanMen, one of the pioneering leaders in the gay porn industry," says Bosch. "My experience has already been amazing and I can't wait to see what we do in the future."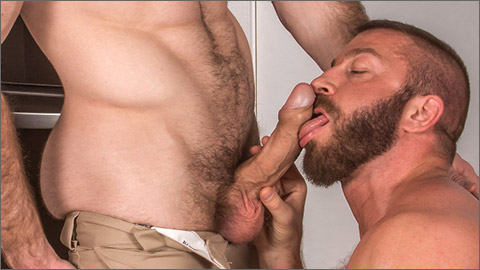 PACKAGE: Matthew Bosch delivers his huge uncut package to Hunter Marx's mouth and ass!
Lounging outside, Hunter Marx strokes his cock—which pulses as he licks his hand. He squeezes it inside his trunks to greet deliveryman Matthew Bosch—whose own bulge catches Hunter's attention. The uniformed stud sees Hunter's movies in the box: "I thought you looked familiar! I've always fantasized about doing porn." Hunter gives him an instant audition, pulling Matthew close for a kiss, their foreheads touching as they rub each other's bods. Hunter works up Matthew's dick, teasing the foreskin before trying to take it deep. The breathless sucker moans "Fuck!" as he comes up for air, spit dripping from his beard. Matthew sucks Hunter back, spit sliding from his mouth to the shaft and down Hunter's sac. Hunter eats and spreads Matthew's furry hole before fucking him from behind, ass hairs clinging to his shaft. Matthew sits down on Hunter, then fucks him back before taking it again—Hunter dumping his wad on the bottom's pubes and sac.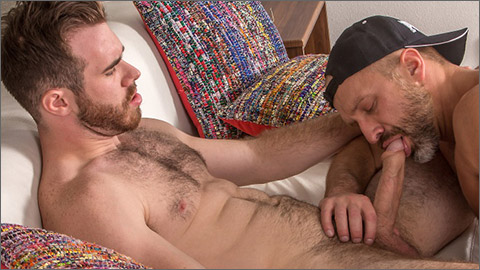 PACKAGE: Dirk Caber delivers his hard cop cock into Matthew Bosch's hairy hole
Policeman Dirk Caber comes home to find husband Matthew Bosch stroking his monster while watching Hunter's porn. Dirk gets on his knees to worship Matthew's meat, engulfing his balls. "You haven't showered, have you?" asks Dirk as he takes a whiff. "You smell damn good…how much of that's you and how much of that's him?" Dirk stands up and feeds Matthew, spit dripping to the floor. Dirk holds on to his head as he fuck's Matthew's face, his cock springing up when released from the sucker's mouth. The two eat each other out, Dirk rubbing his stubbly head all over Matthew's ass. Dirk rams him from behind, the bottom's ass quivering. Matthew sits down on the top and rides, his massive boner bobbing up and down, then in a circle in a hot sequence. "Those your balls banging on me?" asks Dirk. "That's awesome!" Matthew gets on his back as Dirk holds his legs wide, the two soon squirting as the bottom moans "Come all over me!"
CAUKE FOR PRESIDENT: Nick Prescott fucks Mike Cauke (Matthew Bosch)
Conservative presidential candidate Mike Cauke (Matthew Bosch) cruises Manhunt…then sneaks into the bedroom of a stroking Nick Prescott, who soon guides the conservative down. Nick whips his dick on the sucker's face, cupping his sac for the senator to suck. Nick sucks Bosch's big uncut cock back, the two soon 69ing in bed before Nick buries his beard in the politician's hairy ass. While fucking the bottom from behind ("Gimmie that dick!"), the top realizes who he's screwing—then turns on his camera to get dirt on the unsuspecting senator. Nick gets the bottom on his back, holding his hairy legs in the air as he pounds away—the two soon squirting. Nick then shares the sex tape with his buddy, investigative political reporter Tex Davidson.
CLICK HERE TO GO TO HIS TITAN MEN DETAILS