William Higgins Czech Gay Porn Star, Mate More / Felix Gaul
Known Aliases: Felix Gaul (Bel Ami)
Years Active: 2015
WILLIAM HIGGINS INFO:
Home Town: Bratislava, Slovakia
Height: 171cm/5'7″
Weight: 62kg/136.4lb
Foot Size: EU40/US8.1/UK7.6
Penis Size: 16cm/6.3″
Profession/Student of: High School
Hobbies: Sport
Mate More is aged 18 and he lives in Bratislava. He is a student who enjoys snowboarding, fitness and sports generally. What a great looking guy, and with such a lovely smile too. As well as that, as we see when he strips off, Mate has a great body. His muscles are so well defined and he poses so well to show it off. He turns around and displays that hot ass, before letting us see his soft cock and his balls. Then he kneels and exposes his hot, tight hole. Next it is time for some hard cock, and Mate's gets very hard indeed, with some very good poses so that we can really enjoy it. He is one very handsome guy who gives a great performance in this shoot.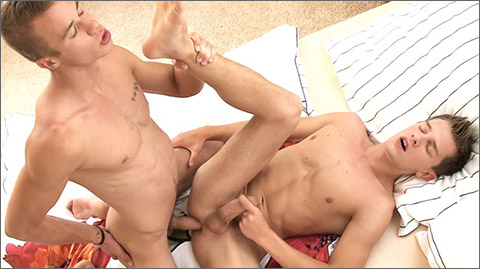 BEST FRIENDS with JAMIE DURRELL & FELIX GAUL
Felix is a big fan of 'street workouts', rather than going to the gym. He wants to show Jamie some good exercises to keep his body in great shape. But Jamie gets distracted by Felix's smooth rounded butt which he wants to see wildly riding his big dick.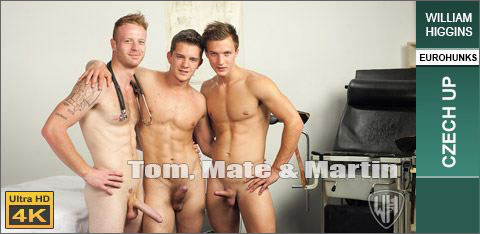 CZECH UP: MATE MORE & DR TOM VOJAK & MARTIN MERLOT
Mate More is due for a Czech Up from Dr Tom Vojak and Sister Martin Merlot. He has reported a bad back. Martin helps Mate off with his tee shirt and then, as he bend over, Tom checks his back. He decides that Mate needs the back massaged. So, with his jeans off he lays on the massage table and Tom begins to manipulate his back. He uses some oil, as Martin lowers Mate's underwear. Tom has Mate turn over and begins to work on his legs too. Then Mate is told to sit up, legs over the edge of the table. Tom checks him out some more, concentrating on the neck and shoulders. He decides a more thorough investigation is needed and has Mate remove his underwear and sit in the examination chair, with his legs in the stirrups. Like that Mate's ass is spread and Tom can take his temperature. As the thermometer slips into Mate's ass his cock is soft and resting on his balls. He has a temperature and Tom decided to massage his groin. Martin helps with that and Mate's cock starts to grow. Tom leans over and sucks on the big, hard cock as Martin leans over and kisses Mate. Tom sucks on the cock and rubs his hands over that sexy ass as Mate reaches for Martin's cock. Tom then kisses Mate as Martin bends over and sucks on the hard cock. Tom also slips a finger into Mate's hot ass. He fingers that hole as Martin steps up so that Mate can suck on his beautiful cock. Tom keeps up with the fingering and then leans in to rim the hot hole. Mate's mouth is wrapped tight around Martin's cock as it fucks his face. Then Tom's big, fat cock is out too, and he moves so that Mate can wank and suck it too. Mates takes turns on each of the medic's dicks. Tom's cock is so hard and needs more than sucking, so he stands between Mate's open legs and slides it deep into his tight ass. Mate takes that big cock and sucks on Martin's at the same time. Tom fucks him deep, spreading his hole wide. His big cock really works that hot hole as Mate' moans with pleasure. With Tom's big cock pounding that ass Mate grabs his own and wanks it until it releases his hot, creamy cum. Tom keeps fucking as Martin wanks himself. Tom's cock reaches the point of no return and he pulls out to shoot his hot cum over Mate's groin. He leans over to kiss Martin and then he takes turns with Mate to suck on that hard cock. Martin leans back on the table as they both suck his throbbing cock. Martin needs some ass too though so Mate kneels between Tom's legs, so that Martin can fuck him. With a cock deep in his ass Mate sucks on Tom some more. Martin fucks that ass with nice long strokes, speeding up. It doesn't take him long before he pulls out and shoots his hot cum all over Mate's sexy ass. Then they all kiss each other to end a great Czech Up.
CZECH UP: MATE MORE & DR TOM VOJAK & MARTIN MERLOT
WRESTLING: MATE MORE vs VILEM POSTO
AIRPORT SECURITY: DANEK GYOR, ONDRA RADNI & MATE MORE
SPANKING: MATE MORE
EROTIC SOLO: MATE MORE
FULL CONTACT: RADAN FLEX & MATE MORE RAW
FULL CONTACT: TOMAS MELUS & MATE MORE RAW
FULL CONTACT: MATE MORE & LUKY SVIT RAW
FULL CONTACT: MATE MORE & FILIP CERNY – SCREEN TEST
BEST FRIENDS with JAMIE DURRELL & FELIX GAUL
BEL AMI
WILLIAM HIGGINS
STR8HELL
CLICK HERE TO GO TO HIS WILLIAM HIGGINS BIO PAGE