Canadian Muscle Hunk & Gay Porn Star, Marko Lebeau
Known Aliases / aka:
Years Active: 2010 – 2016
TWITTER @markolebeau
MEN OF MONTREAL INFO:
Height: 5'6
Weight: 165 lbs
Dick Size: 6.5″
Position: Versatile
Meaty muscle-cutie Marko Lebeau was inspired to start modeling by his father, who did the same when Marko was a child. Like father, like son: this French speaking sex-pro loves to show off in front of the camera. Marko's favorite part of sex is, "all of the cum!" His fantasy fuck would be to have a huge orgy with muscled men all around. Besides a hot sex session, Marko's hobbies include dancing, sports and going to the gym.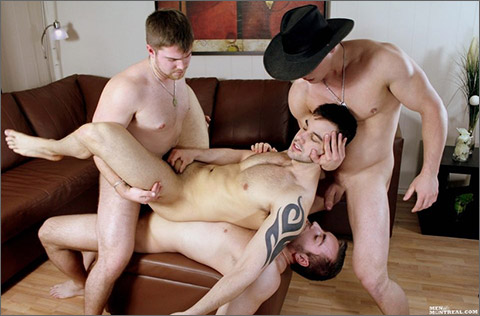 1ST ANNIVERSARY GANG BANG: FELIX TAKES THE HIT!
These four guys are friends outside of filming, so it wasn't surprising that they would have a blast together and they would deliver a hot scene!
   One thing we knew heading out of Montreal was that one guy would be the happy bottom for the three others. We just didn't know at that point who would be the 'victim'. Even Ivan Lenko was ready to give up his cherry if he was to lose the card game that would decide the bottom. Ivan doesn't know much about poker, so it wouldn't have surprised anybody if he had lost… In fact, several of us were hoping he would lose… Alas, it was the most experienced poker player of the bunch that actually lost the hand. That was Felix Brazeau!
   We all know how much Felix likes to bottom so this wasn't such a bad thing. But little did we know just how far Felix was willing to go. Felix was actually ready to get double-dicked… Yep! When we asked him if he was down for it, he agreed. Always count on Felix to take things one step further! As awkward as it was at times, he did it and enjoyed it!
   The scene started in the hot tub the morning after the guys' evening of crazy antics, card games and table football! Things got going with the four relaxing in the outdoor hot tub with the sun beaming down. While the skies were blue and the surroundings beautiful, it was a bone chilling -25. So, things moved inside quickly, as one guy after the other made his way back in the cottage with a boner in hand.
   First Marko and Felix got going, then Ivan joined in… Filing in last was Alec. He eventually got fucked by Marko as he was inside Felix in a little gravy train action. Then the long-awaited moment arrived. After Alec lay on his back and Felix sat on his cock, Marko came in from underneath to shove his dick in Felix's already cock-filled hole. For a first DP, Felix look like he was doing pretty good. At times he had a look of bliss on his face, but at other times he would wince in pain. In any event, he was a real trooper and the guys had a great time. Marko and Ivan were the first to shoot on Felix's face and chest, doing so in sync. Then Alec pulled out of Felix's hole and shot a huge wad over Ivan's load on our bottom's chest and some mixed with Marko's on Felix's face. Felix even took a few dribbles in his mouth. After the three were done, Felix dropped his own load.
   With the last load out, Marko suggested they go back to playing cards… And off they went!

THE RECTODUS SOCIETY
We exist together in a world of uncertainty, doubt, restlessness, regret, stress, and worry. Many seek answers and solutions from traditional religion, ancient philosophy, and far east thinkers. But too often true enlightenment remains elusive. The essence of total freedom is still merely a whisper in the wind, always dancing just out of reach. When other roads have lead to dead ends, when the straight path becomes too gnarled to follow, when the guiding light becomes obscured, the Rectodus Society is there. If your soul needs nourishment, we'll let you drink, come. If you feel a lacking, we'll fill your hole with dictations from our well equipped counselors.
   The Rectodus Society is an organization founded upon principles of encouragement, brotherhood, and acceptance. With a passion for guiding men by coming together we are a beacon for those struggling to walk the straight path. The Rectodus motto is 'turning you gay so she doesn't have to.'
   In this video captured from an actual Rectodus Seminar and Retreat, you'll witness nine men learning, sharing, and bonding together by participating in a carefully structured activity session. The basic agenda for each attending member includes 1) KISSING another man, 2) JERKING OFF another man, 3) RIMMING (optional, but strongly recommended), and 5) FUCKING (positions negotiable). Watch the amazing symbiosis as these nine sincere men come together to transition into new awareness of themselves, and harness their rightfully deserved destinies. Feel the intensity as Parker London takes two cocks in his ass at one time in a Rectodus technique called 'double penetration.' See Adam Wirthmore's gentle guidance as a Rectodus counselor as he deepthroats Jay Cloud's long, hard boner. You'll get goosebumps watching Brec Boyd experience Dylan Hauser's tight asshole as both men expand their consciousnesses. As James Jamesson is counseled by Wirthmore through intensive fuck therapy, Tyler Torro bangs the international ass of Marko Lebeau, a Rectodus attendee from beautiful Montreal. And when you experience the breakthrough made by the once bashful Vance Crawford as he joins his new brothers in blowing hot, built-up loads all over Counselor Wirthmore's face, you'll realize your own potential.
   Don't hesitate another minute, stumbling in the dark. Let the Rectodus Society become an important part of your life TODAY!
MEN OF MONTREAL
NEXT DOOR STUDIOS
JAKE CRUISE'S COCK SURE MEN
DOMINIC FORD
HIGH PERFORMANCE MEN
FALCON STUDIOS
LUCAS ENTERTAINMENT
COLT STUDIO / BUCKSHOT PRODUCTIONS
CLICK HERE TO GO TO HIS MEN OF MONTREAL DETAILS