Smooth & Ripped Next Door Studios Exclusive, Markie More
Years Active: 2014 – 2015
TWITTER @MarkieMore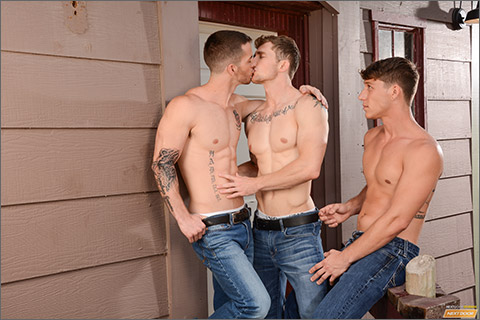 THE REUNION – EPISODE 1: PLAYFUL BOYFRIENDS
When Markie More and boyfriend Quentin return home for a reunion with their childhood mates, they do so with a big secret. Years removed from the group, Markie and Quentin have become exclusive, and it is Quentin's hope that this will be the weekend they tell the rest of the gang. They discuss this as they walk hidden paths and trails, which leads them to an old church. Quentin is all for exploring but Markie has reservations, so Quentin decides to loosen Markie up a bit with a little fun, and he presses Markie up against the building and they begin to make out.
   Fresh out of the shower after 3 days of driving, Paul Canon is ready to mingle, so he goes out after the guys in hopes of maybe catching up with them on their hike. Needless to say, when he stumbles upon them at the church, naked as jaybirds as Quentin sucks Markie off, Paul is surprised. Not only did he not know the guys were together… he didn't even know either one of them was gay. Paul hides around a corner and watches, getting hot and bothered in the process, so he takes out his wang and begins to stroke it.
   Unbeknownst to Paul, Markie and Quentin can hear him, and Markie catches him wacking it, so he takes Paul by the hand the three of them finish together, stroking, sucking each other off, and then running a train on each other as the rest of the guys begin to show up. Going to be one hell of a weekend, if this is how it starts.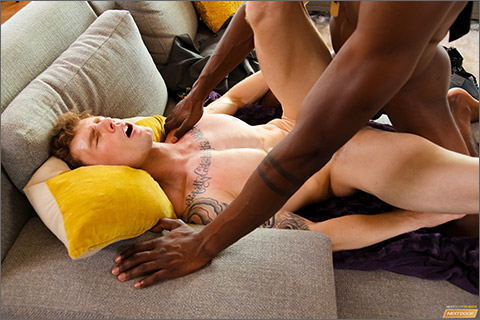 LOADED BODYGUARD
Pop sensation Markie More is no treat to work for. His spoiled, rude entitlement is on full display before he even eats breakfast, so needless to say, body guard Derek Maxum's days are long and hard. Quite frankly, it's all Derek can do to keep from grabbing Markie by the shoulders and shaking some sense of reality into him.
   So when Markie asks to see what Derek is packing, Derek doesn't know if his employer has finally crossed the line, or if Derek will finally get to put his plan into action. As Markie begins to bob on Derek's thick shaft, Derek has his answer. He quickly pushes Markie's head down further onto his cock, and as it grows past 8 inches, Markie realizes he may have bargained for more than he can handle. Derek turns Markie over, eating out the spoiled brats tight ass, moistening up the songwriter, and then plunging his giant cock deep within Markie, who begins to sing a different tune now that Derek is in control.
   Derek pounds Markie from behind, grabbing him by the back of his head and thrusting even harder, before turning him over and finishing the job. He runs his hands down Markie's chest as Markie strokes himself to the brink of cumming, then Derek pulls out and they race to see who can lose their load first: Markie spraying his load all over himself as Derek follows by unleashing a massive load of his own.
   Markie may be the one signing checks, but there's one area where Derek will always be the boss.
MARKIE MORE NEXT DOOR MALE SOLO
PERFORMANCE INCENTIVE
CAUGHT IN THE ACTION
WEDDING JITTERS
GETTING AN EYEFUL
A LATE ARRIVAL
WEDDING JITTERS – PART 2
COUPLE'S CAKE
PICNIC PLEASURES
DREAM PARTNER
COCK TALES
BUDDIES AUDITION: JACOB LADDER
BUDDIES AUDITION: BRANDON MOORE
BUDDIES AUDITION: JORDAN
BUDDIES AUDITION: JOHN SMITH
BUDDIES AUDITION: DIEGO
BUDDIES AUDITION: JUSTIN STAR
BUDDIES AUDITION: PIERCE HARTMAN
WORSHIP OF A GOD
THE LONG MASSAGE
FIX MY PORN
LOADED BODYGUARD
THE REUNION
BUDDIES AUDITION: ROBERT LONGWOOD
BUDDIES AUDITION: JORDAN EVANS
BUDDIES AUDITION: BROCK AVERY
BUDDIES AUDITION: DESTRO
BUDDIES AUDITION: MR. SHANE
BUDDIES AUDITION: J HOWLING
BUDDIES AUDITION: TEX
BUDDIES AUDITION: JOHNNY
BUDDIES AUDITION: BRIAN STROWKES
BUDDIES AUDITION: JUAN LOPEZ
BUDDIES CASTING: PAUL CANON
BUDDIES CASTING: ABEL ARCHER
BUDDIES CASTING: SCOTTY
BUDDIES CASTING: PRESLEY WRIGHT
BUDDIES CASTING: JAKE KARHOFF
BUDDIES CASTING: GREG JAMISON
BUDDIES CASTING: ORLANDO FOX
BUDDIES CASTING: HARLEY HARDMAN
MARKIE & GAGE
MARKIE, MICHAEL & JAMES
BRAD & MARKIE
GIMME MORE