American Next Door Studios Jock "Bad Boy" Gay Porn Star, Mark Long
Years Active: 2012 – 2019
TWITTER @MarkLongxxx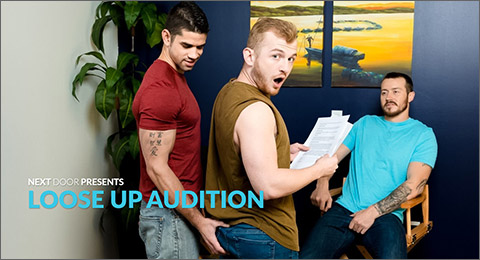 LOOSE UP AUDITION
Archer Hart really needs this part, and casting director Mark Long is confident he's got the goods to deliver the performance Mark is looking for, but Archer seems nervous and in need of just loosening up. Mark enlists his assistant Jason Richards to look in on the audition, and Jason agrees with Mark that Archer really just needs to relax a little. Archer asks them if they can help him relax, and Mark smiles at Jason. Moments later, Archer finds himself kneeling on the floor with a cock in each hand, as he alternates between the two. Mark's giant cock is more than he can swallow but Archer proves his determination choking it down. Jason's long dick hits Archer in the back of his throat as Archer shows his ability to multi-task, but Mark wants to see Archer loosen up even more, so he plunges his rock hard cock raw into Archer's hole, fucking him from behind as Archer continues to suck Jason off.
   They switch it up, and Jason takes his turn with Archer, giving him every inch of his bareback cock while Archer just eats up all the attention. Showing he can take direction, Archer alternates riding both of them, and finally, with all of them ready to cum, Archer sucks off Mark while Jason fucks him doggy style. Mark jizzes in Archer's face as Jason soaks his back, and Archer flips over and strokes himself off, launching his load all over his stomach. Cum covered and out of breath, Mark tells him he's earned the part, and Archer realizes he really did have it in him the whole time.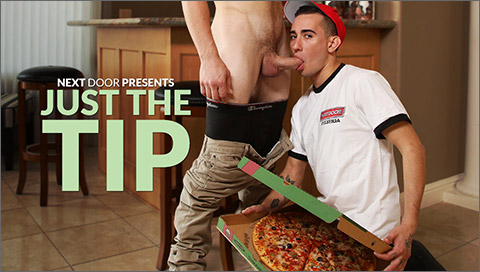 JUST THE TIP
What's a better combination than sex and pizza?! Mark Long is getting hungry. But after looking in his refrigerator, high and low, he reaches out and orders up a hot pie for delivery.
   As you probably know, Mark is one of the most delicious porn stars out there, and is recognized on the street by fans constantly. Sometimes it's a little nerve wracking, but sometimes the fans are smoking hot themselves. James Dickson, Mark's pizza boy, is one of the sexy ones.
   When James Mark opens his door, James nearly pops a fat hard on right on the spot. He's one of Mark's biggest fans! But when James expresses his adoration, Mark brushes it off, pretending not to be who James thinks.
   Mark realizes he doesn't have enough cash to give James for a tip, so he invites James in to discuss other options. He explains that he IS in fact James's favorite porn star, and figured that since James is such a huge fan, he would let James suck his dick…instead of a cash tip!
   James is more than excited and goes right in toward Mark's crotch. But Mark stops him, and pulls James face towards his own, by James's chin. They kiss deeply for a while. Then James finally pulls down Mark's pants and grabs his huge, swelling cock. He goes to his knees and bobs on the thick erection. Mark loves pleasing his fans and this couldn't be a more direct experience.
James mouth feels so good working his meat that Mark decides to go a little further and give James something to really tell his pizza-boy, pepperoni pals about. He sets James up on a couple kitchen stools and shoves his pulsating sausage into James's sweet hole.
   After pounding him for a while, he repositions the appreciative delivery boy so he can slam him from behind for a bit. Watch this fan get to fulfill his wildest fantasy when Mark Long runs out of cash and tries to make it right by giving a lot more than just the tip!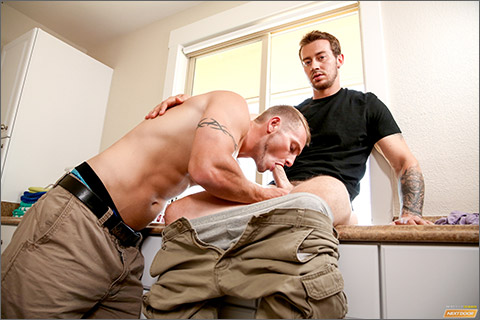 LAUNDRY ROOM HOOKUP
Mark Long is quite a horny young man. So horny, in fact, he's jerked off in semi-public places more than a few times. He's never been caught, but there've been a few close calls. Today, as Mark waits in the community laundry room for a load of laundry to work through a cycle, he gets that feeling where he's just get off!
   Jake Karhoff is a fellow condo resident and is having a nice, lazy laundry day. But when he discovers that the door to the laundry room has been locked, he must find Pete, the building manager, to unlock the door.
   When Jake enters the room to find Mark, mid stroke, Jake stays cool and doesn't act too excited. Mark, on the other hand is extremely embarrassed. He pulls up his pants and turns beat red. Jakes certainly likes the look of Mark's enormous cock. And in this particular situation, he can pretty well guess that Mark might be game for some fooling around, seeing as he must be very horny.
   When Jake suggests they hookup, Mark doesn't hesitate accept his advances. Jake goes to Mark and they kiss passionately. Soon, Mark's dick is making its second appearance, and Jake is slurping it as deep as his throat will allow. Mark can't believe his luck! The hot guy he's seen around the condos is sucking him off.
   It's not long before Jake is presenting his tight hole for Mark to fuck. Once Mark squeezes his swollen dick into Jake's ass, the action intensifies quickly. Mark bangs Jake's hole while Jake props his foot up on a dryer. After a while, they move to a chair where Jake climbs atop Mark and goes for a good, stiff ride. Mark loves how much Jake enjoys taking his fat cock.
   They move back over to the dryer to finish things off with a hard fuck session, where Jake ends up getting blasted in the face with Mark's hot, sticky cum. Now this was a load worth waiting for!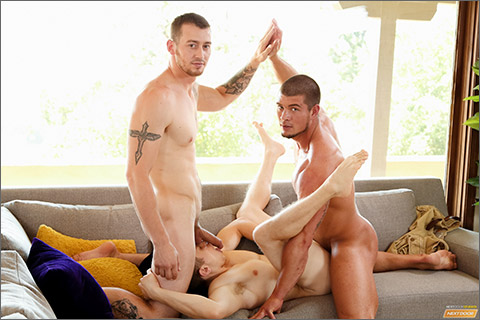 BIG DICK SUNDAY
Thaaaaat's right, fuck fans! It's Big Dick Sunday, and these three sizzling-hot guys are fired up. We have the tall, sexy Mark Long, the cock-hungry and gorgeous Dante Martin, and the incredibly chiseled Brad. They've each been working 'hard' recently, so director Rocco Fallon is giving them a treat!
   The boys don't know what to expect, but once they're all in the same room, ready to go, Rocco is filling them in on the plan. They're being rewarded with the chance, in Rocco's words, to remove all the porn distractions, like dialogue, premise, etc., and getting the chance to get as wild and crazy with each other as they want! You want it and they want it. This is real, natural sex, the way it's best enjoyed.
   Dante is the man in the middle for this adventure and he does NOT hesitate to jump in head first. If you know Dante's style, you know he's always full steam ahead, eager to have his holes fucked. Getting to play with two big dicks at once, with no rules, is right up his alley.
   The guys start out slow and passionate, taking turns kissing Dante and feeling each other all over. Then the shirts come off and dicks harden up a bit. After Dante enjoys nibbling Brad's hard nipples for a while, the pants all come off and Dante strokes both guys at once. It's a breathtaking sight to see such a hot guy jerking two enormous, stiff cocks.
   Then Dante goes to sucking one at a time. He starts by taking deep mouthfuls of Mark's fat meat, then going over to take Brad's erection. This gets Brad curious about Dante's ass, so he leans over and flicks his tongue in there while Dante goes back to slurping Mark's dong.
   The feeling of Brad tonguing his hole gets Dante eager to be fucked. He wraps his lips around Brad's dick again and presents his tender ass to Mark to be ravaged. And boy does Mark take advantage! He slides his throbbing cock into Dante from behind and rocks him hard and deep.
   Dante goes from getting banged by Mark to riding Brad on the couch. Brad helps him out by bouncing his bubbly ass up and down on his thick boner.
   Dante goes to his back so Brad can continue slamming his hole while Mark sticks his meat into Dante's mouth again.
   Join in, fuck fans, for an epic encounter where anything is allowed and the boys have a real field day with each other. And when these amazing dudes each erupt all over Dante, you're gonna wanna right there in the middle!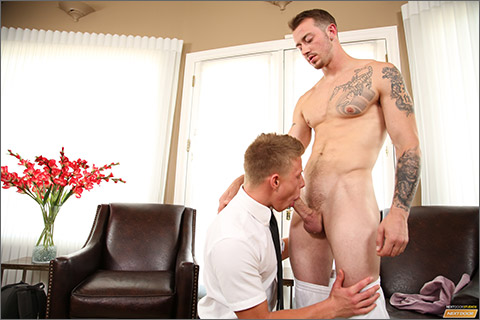 TEMPTING FAITH
He's a dedicated young man with lots of spunk. He's Ace Stone and he's a missionary for the Church of Next Door Bottoming Saints (CNDBS). Although Ace loves spreading the Good News, he knows it's sometimes tough work. On this particular outing, he's biked to the top of a tall hill, where one Mark Long happens to reside. Mark isn't into hearing about Ace's Faith as much as he's interested in getting into Ace's pants!
   When Mark answers his door to find young, chipper Ace, he has a feeling Ace is the type of young man who will swallow just about anything. Mark invites him inside to find out exactly how impressionable this sweet boy really is.
   Ace is excited to be invited in and goes right into his rehearsed lines. But Mark isn't like the rest of folks with whom Ace has sat down; Mark wants to strike a very special deal…Mark will read Ace's spiritual literature if Ace will try something new himself. Ace agrees and discovers that Mark was talking about something that's strictly forbidden by the church. In fact, it's something Ace has never done before, with anyone. That's right…Ace is a VIRGIN!
   Although nervous, Ace decides it's ok, as long as Mark will give the Faith some honest consideration. Ace starts out by accepting Mark's big, thick cock into his mouth. Ace does the best he can, sucking Mark's warm, swollen meat. After a while, Ace kinda starts to enjoy it! And by the time Mark is shoving his enormous dick into Ace's sweet, tight hole, Ace is realizing he should've tried this a LONG time ago!
   Join the ministering session and watch Mark remove Ace's 'sacred garments' and pound his ass hard. Find out who converts who after this righteous fucking.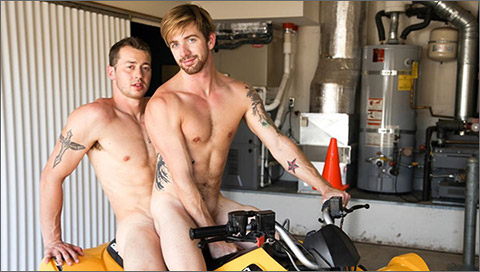 BAD BOYS RIDE
Mark Long's swag is fairly apparent. Between his rock hard bod, his flashy quad and his giant cock, he isn't hurting for suitors. Just observing him for a few minutes, Sean Blue can tell that Mark's got something worth tinkering with under his hood. So as Sean watches Mark take a quick 5 from fixing his four-runner to stroke his other hot rod, Sean seizes the moment and makes his advance. Mark has only let women ride his monster up to now, but Sean convinces him to go another way, and as soon as Sean wraps his lips around his waiting cock, Mark realizes he's been missing out. Sean sucks his shaft, choking on the full length of Mark's cock, and once he can take no more, he bends Sean over the seat of his quad and gives him the business, taking him from behind as Sean grabs the handlebars for stability. Sean and Mark violate the clearly posted warnings for double riding on the quad, throwing caution to the wind as Mark turns Sean over and continues to pound way, fucking the cum out of Sean before pulling out and unloading all over his chest. At least Mark knows the shocks are working properly, now.
VIDEO ON-DEMAND: Mark Long @ AEBN SMUTJUNKIES THEATER
DVDs & ON-DEMAND: Mark Long @ TLA VIDEO