Staxus Tattooed Gay Porn Star Twink, Mark Fontana
Known Aliases:
Years Active: 2017 – 2018
STAXUS INFO:
He's known as "The Sleeping Lion" – thanks in part to his tattoos, but also because he's got a bit of a reputation for taking a nap whenever and wherever he gets the chance. Which is kind of odd seeing as he's such a live wire. We've a sneaking suspicion, however, that it's the result of too many late nights spent clubbing (and fucking!) away.
Date of birth: 16th January 1997
Height: 5'8″ / 172 cms
Cock size: 7.5″ / 20 cm
Ethnicity: Spanish
Role: Bottom
Interesting Fact:
Mark is a bit of a kinky bastard on the quiet – a boy who wants to live out his fantasies in front of the lens. No question about it, he's our kind of boy!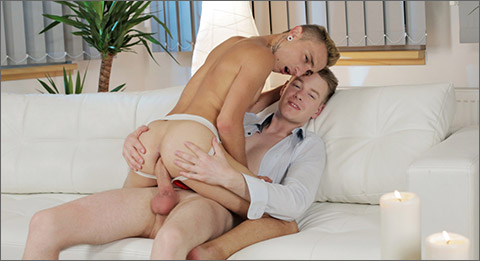 HUNG JURY: Legal Divide Wins Street-Boy A Big Dick & A Face-Load Of Spunk
Just because you're a lawyer and you wear a shirt and tie all day doesn't mean that you can't be attracted to guys of a lower standing order. Cocky young lads with tattoos, like Mark Fontana for example. Nor does it necessarily follow that chaps who have the cerebral ability to aspire to study the rule of law aren't duly blessed in other – more physical – areas! Monster-hung buds like Milan Sharp being a perfect example.
   So it is that this arguably mismatched duo pitch up together to celebrate their differences; with Fontana immediately heading for the contents of Sharp's rather kinky-looking leather pants, which he admirably tries to deep-throat to mixed effect.Every effort for trying, however; and suffice it to report that his reward is Sharp's keen attention on his sweet, hairless butt, which the legal expert meticulously rims in anticipation of some eye-watering action to come.
   Don't be fooled into thinking that Sharp's intellectual prowess is going to secure his position as lead role throughout, however. They might look like chalk and cheese – Sharp in his shirt, Fontana in his baseball cap – but the fact remains that when it comes to cock they're more than equals. So much so, in fact, that Fontana is soon returning Sharp's interest hip-thrust for hip-thrust; banging away at the donkey-hung maestro and bringing him towards the sticky point of no return. Which neatly brings us to arguably the talking point of the escapade – namely Sharp's almost obscene (and furious) rupture, which leaves Fontana shell-shocked and dripping in equal measure! In a word, fan-tas-tique!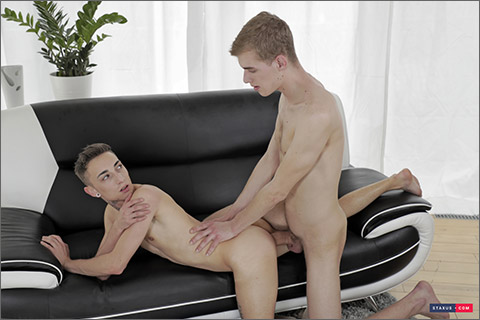 BIG IS BETTER: Poolside Twink Gets His Holes Filled To The Max With A Big Dick
For those who enjoy seeing contrasts between their pairings, this horny little escapade between Bjorn Nykvist and Mark Fontana will surely tick all the right boxes. Tall, lithe and fair-headed, Nykvist is almost the complete opposite to the young Spaniard – Fontana being distinctly petite, darker-skinned and tattooed. Two things that they do have in common, however, is the fact that they're both distinctly well-hung and that they both have a ferocious appetite for cock; which even if we didn't realise beforehand, soon becomes apparent as the two fellows frolic both in and out of their swimming-pool.
   Indeed, it's not too long before both lads are ready to take their interest in each other to a whole new level – heading to a private room, where they promptly begin to take turns at sucking each other off. Clearly enthused, the pairing then uptake 69-position on a sofa; simultaneously devouring cock like it was the only thing that they were born to do. Such a natural sense of purpose only continues when Nykvist – as the taller, more physically dominant party – turns his attention to his buddy's hairless little pucker, rimming the hole for all he's worth before ploughing hard into Fontana's guts.
   What ensues is a classic power-bottom performance from the Spanish lad, with Nykvist fucking his mate in literally every position imaginable – including a mid-air ass-banging bonanza that once again only emphasizes the Czech guy's physical mastery. All of which – not surprisingly – results in Fontana getting a heavy wad of jizz in the arse; before he himself splatters into Nykvist's mouth!
CLICK HERE TO GO TO HIS STAXUS DETAILS
VIDEO ON-DEMAND: Mark Fontana @ AEBN SMUTJUNKIES THEATER
DVDs & ON-DEMAND: Mark Fontana @ RAD VIDEO