Ripped Hungarian Power Bottom Gay Porn Star, Marco Sessions
Known Aliases:
Years Active: 2012 – 2015
FRESH SX INFO:
Marco has a great ripped body and an amazing sixpack which he works really hard in the gym. Sexually he is bottom and really goes for hot guys with huge cocks! He is into leather, watersports and groups. His favourite place to go on holiday is San Francisco and his favourite city is London, where he is currently living.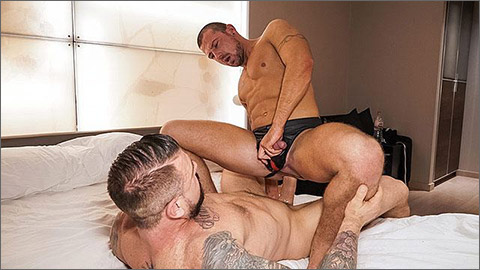 ROCCO STEELE FUCKS MARCO SESSIONS
Rocco Steele is in the House today and with him is Marco Sessions, facing his "biggest" challenge. Rocco is giving it to Marco until his hole is wide open and sloppy. He is playing his ass like an instrument, sometimes gentle sometimes hard. In the end Rocco was satisfied and Marco was in love, as all of Rocco's partners. Check this hot scene out now.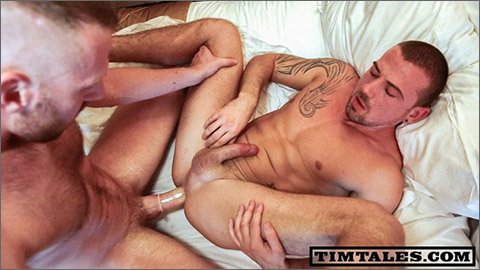 TIM FUCKS MARCO SESSIONS
I was waiting to shoot with Marco for a long time and finally when we were visiting London for Gaypride we both had time and arranged a meeting.
   He is such a hot, sexy and sweet guy and i loved playing with him. We totally forgot the camera and just enjoyed fuckaction!

FOOD FIGHT!
What a sweet and sour mess!! what started as a quiet and routine dinner became a food war when the ripped Marco Sessions gives Harry Louis a few harsh truths about his work ethic and ruins his meal in an intense food fight. But anger turns to passion and they both get the perfect dessert – eating out some ass and sucking on cream covered cocks. If you wanna see suits, ties, shoes, bodies, cocks and arses completely covered in food, you shouldnt miss this "Food Fight"…bon appetite…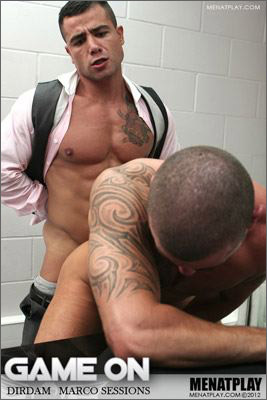 GAME ON
The last thing you'd expect when you're quietly working at your desk is that someone would burst in and throw you over the desk and start manhandling you, but of course this is the Menatplay office, and our office workers are not your ordinary dull business types. So when David Dirdam forces himself on poor Marco he definitely does not expect the young office worker to give him the best blow jobs he's ever had, swallowing his huge hard cock till he makes himself gag. And that's just the beginning. The sizzling chemistry between these two guys, gave us one of the hottest fucks ever seen in this office!!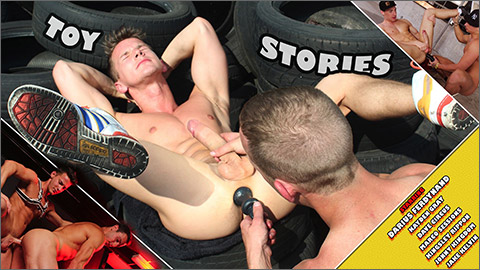 TOY STORIES – A SOLID SERVING
Kingsley Rippon fucks / dildo-fucks Marco Sessions
Marco has invited Kingsley round for some dinner. Offering to help out he reaches into the dishwasher for some clean saucepans only to find a little something unusual…two big boy bum-toys! A little shocked, Kingsley immediately confronts Marco, who is naturally a little embarrassed. Lost for words, there is an awkward silence between the two. Marco says he was just cleaning them after an earlier hole stuffing session. Kingsley is intrigued and wants to see just how well he can take them, so in the heat of the moment he grabs the now unusually timid Marco and sticks his tongue down his throat. The boys get into it, sucking each others big cocks before Marco bends over to receive Kingsley's fat dick. Fucking furiously over the chrome and hard wood of the kitchen, Marco feels loose enough to go for the toys. This is a real hole-stretching experience!
UK NAKED MEN
ALPHAMALES / ALPHA MALE MEDIA
UK HOT JOCKS
FRESH SX
MEN.COM – MEN OF UK
LUCAS ENTERTAINMENT
CHANNEL 1 / RASCAL