Hung Handsome BelAmi Czech Gay Porn Star, Manuel Rios
Known Aliases: Cody Clark, James Zahn
Years Active: 2006 – 2014
BEL AMI INFO:
Height: 177 cm / 5′ 9"
Weight: 78 kg / 172 lbs
Eyes: Brown Dark
Hair: Brown dark
Preference: Bottom
Manuel Rios is one of George Duroy's favorite models. His very first day at the Bel Ami offices coincided with a swanky party that Elton John, who was in Bratislava for a concert performance, threw for our beautiful models. (George laughs, "I think Elton came here just to be able to throw this party!") Manuel was also invited, even though he was very new. "This really impressed him, as you can imagine," George recalls. "It was quite a first day for him." Manuel came from a very small village, almost a hamlet, in Northern Slovakia, and worked as a ministrant for the local church. He was known for being the cutest boy in town. In fact, his neighbors often joked that he should move to the city and become a porn star! Manuel is bisexual, and George believes he gives the best blowjobs of any of the current Bel Ami models. "He really enjoys oral sex and can deep-throat. He is good in any kind of sexual situation," recalls George. "He is a marvelous top, but also a very good bottom. Manuel is always very horny, with instant hard-ons all the time, but he is also sweet and very reliable and handy." George is seriously considering filming Manuel with a girl, as he believes it will be a striking performance. "He is oblivious to the gender of his partner, he doesn't care," George says. In the summer, he works in construction and also helps out with Bel Ami's casting sessions. "He is a pleasure to work with, a real pleasure," George says. Manuel's best friend is Alex Orioli.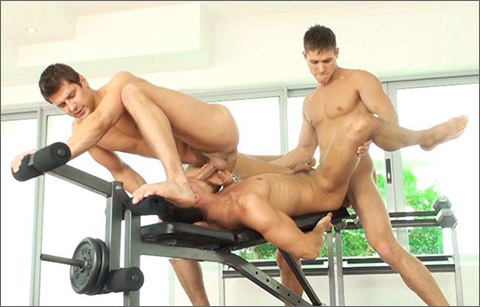 BRANDON MANILOW, VADIM FARRELL & MANUEL RIOS
All Three of these guys, but especially Manuel and Brandon were mainly active during the time when we filmed mostly with condoms, so it makes this screen with Three of our all time favorites special.
   It's kind of fitting also that the scene takes place in the gym (the place where the rest of us would have to spend 14 hours a day if we wanted bodies like theirs) although using the equipment for what is was made seems to be the last thing on their minds.
CLICK HERE TO GO TO HIS BEL AMI DETAILS