Kristen Bjorn Uruguayan Gay Porn Star, Manuel Olveyra
Known Aliases: Manuel Olveira
Years Active: 2014 – 2015
KRISTEN BJORN INFO:
Nationality: Uruguay
Height: 6′
Weight: 185 lbs
Dick: 7.5 (19.05 cms) uncut
Position: Versatile
Kristen says:
In daily life Manuel is a friendly, well mannered professional. But his hobby is sex, and in that area, Manuel is insatiable! He is also an unabashed exhibitionist, which makes a perfect combination for a porn actor. Manuel is thrilled to try new challenges, and is ready to take on as many cocks that come his way.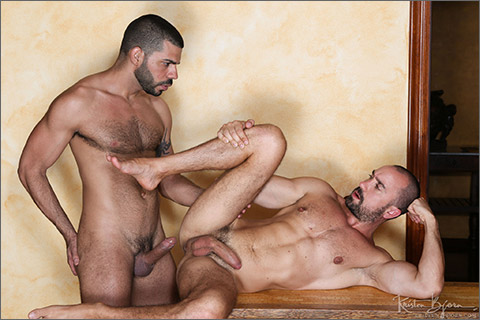 BARE TO THE BONE #10: HUGO ARENAS FUCKS MANUEL OLVEYRA
Manuel and Hugo are heading out for a wild night, but aren't able to get fully dressed. Walking around the house fully erect is always a deterrent. As they grope and fondle each other their excitement for one another rises even greater. Hugo takes Manuel's hard cock deep into his mouth and fills his senses with intense desire for more. Manuel then takes Hugo's fat cock as deep as he possibly can as Hugo forces his cock in and out of Manuel's greedy mouth. Without skipping a beat, Hugo flips Manuel over and caresses his smooth hole with the fat head of his cock before shoving his raw cock deep inside of Manuel's eager hole. Hugo continues to tease and taunt Manuel's hole by penetrating him hard and deep then pulling out completely and repeating the action over and over as Manuel opens his hole completely. Hugo flips Manuel onto his back and keeps fucking his raw hole, much to Manuel's pleasure. Manuel's pleasure has risen to a feverish pitch that he strokes out his thick creamy load as Hugo continues fucking his ass. Hugo pulls his cock out and showers Manuel's balls and ass with his hot load before shoving his cum slicked cock back inside of Manuel. Now it's time to go out for a drink!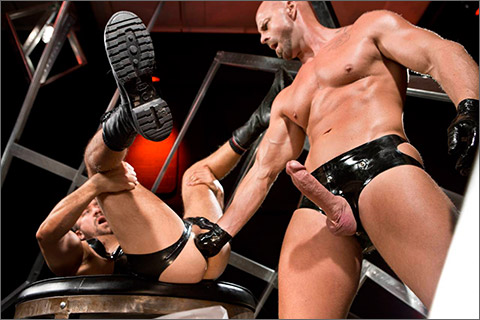 FULL DEPTH: Manuel Olveyra & Mitch Vaughn
Mitch Vaughn dips his hands into a huge, red bucket filled with slick lube. Forearm veins bulging, he penetrates Manuel Olveyra's fuck hole up to the wrist. Mitch is a burly guy with big hands, so you know that Manuel is feeling the stretch in his man chute. When Mitch pulls out, Manuel's rectum bulges out in a mound of clenched flesh. Gripping his rubber jock, Mitch unleashes his massive cock and starts jerking. Mitch's toned muscles flex under his dark, tan skin, and Manuel's back muscles form a solid ridge as he arcs himself to receive Mitch's fist. Flipping Manuel over, Mitch alternates between fisting and fucking Manuel's hole, sticking in as many fingers in with his cock as he can. When he cums, Mitch sprays cum clear across the room in multiple jets. Now that he's done using Manuel's hole, Mitch reminds him of his place by peeling off his black, latex fisting glove and stuffing it up inside Manuel's pig-hole!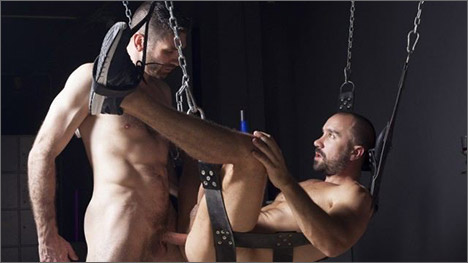 OPEN DOOR IN ORGYART: CRAIG DANIEL & MANUEL OLVEYRA
We have just discovered an orgy hot spot in Barcelona it is called Orgyart. When we visited this with Craig and Manuel. This is a raw encounter with hot hard fucking and deep penetration. Craig and Manuel know exactly what they want and how they like it. We were happy to cum along and capture it all on Fuckermate.com.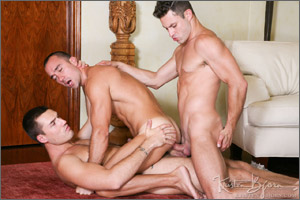 ON THE PROWL #10: JAMES CASTLE & THEO FORD DP MANUEL OLVEYRA
James is reminiscing with his old friend Theo and remembering the fun he has had with Theo's huge cock. Manuel walks by and decides this would be a hot couple to have sex with and invites Theo and James over. All three giant hard cocks are set free from the confines of their jeans as Manuel drops to his knees and begins swallowing and worshiping these perfect specimens. Manual has gotten so worked up swallowing these cocks that he blows his load. Theo and Manuel tag team James' hot hole with their wet tongues and fingers before Theo plunges his cock deep into James' raw pink hole. James needs a bit more lube, so Manuel lubes up Theo's cock by sucking it and slicking it up. As Theo assaults James' ass Manuel feeds him his cock down his throat. Theo and James take their host and plow both of their bare cocks deep in his ass for a wild and raw double penetration. James pumps deep and hard until he blows his thick, creamy load all over Manuel's ass and Theo's cock that is still pumping in and out of Manuel's hungry ass. Theo pops his cock out and James sucks the load from Theo's cock before shoving it back inside of Manuel. Speak to that hot couple on the street, you never know, they may be as hungry as you are.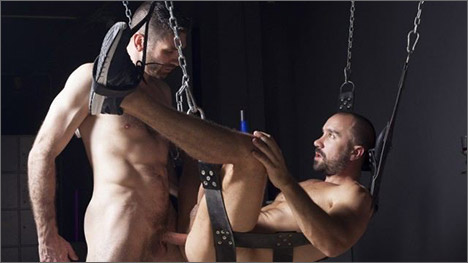 OPEN DOOR IN ORGYART: CRAIG DANIEL & MANUEL OLVEYRA
REALITY PORN #6: MANUEL OLVEYRA & JUANJO RODRIGUEZ
ON THE PROWL #5: MANUEL OLVEYRA & JOHN FINKEL
ON THE PROWL #8: MAX TORO & MANUEL OLVEYRA
ON THE PROWL #10: JAMES CASTLE & THEO FORD DP MANUEL OLVEYRA
ON THE PROWL #13: JAMES CASTLE & MANUEL OLVEYRA
BARE TO THE BONE #6: MANUEL OLVEYRA, VIKTOR ROM & CRAIG DANIEL
BARE TO THE BONE #10: HUGO ARENAS FUCKS MANUEL OLVEYRA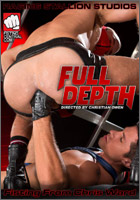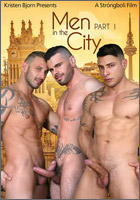 FULL DEPTH
MEN IN THE CITY
MADRID STORIES
KRISTEN BJORN PRODUCTIONS
FUCKERMATE
FISTING CENTRAL / FETISH FORCE
CLICK HERE TO GO TO HIS KRISTEN BJORN DETAILS