Canadian Stripper Gay Porn Performer, Mam Steele
Known Aliases: Mark Fallus, Mam Steel
Years Active: 2014 – 2016
TWITTER @mam_steel
MEN OF MONTREAL INFO:
Mam Steele is a 25 y.o. jock who sports a hefty 9 inch and thick uncut cock. Living in Montreal, this tattooed French Canadian loves to show off and play with his weighty tool. Measuring 5'6″ and weighing at 180 lbs., he keeps in shape by hitting the gym on a regular basis. The size of this guy's cock becomes quite apparent when we see him double fisting it. This Libra is pretty outgoing and open minded, but remains coy about his sexual orientation and his intentions to g
Cock: 9″
Hair Color: Brown
Height: 5′ 6″
Eye Color: Hazel
Foreskin: Uncut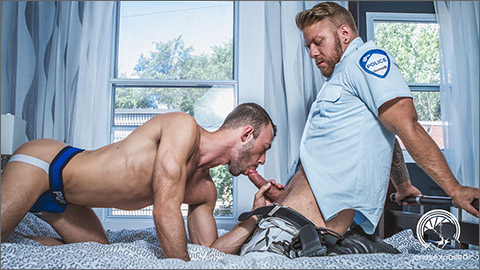 DESIRE: POLICEMAN: Mam Steel fucks Brandon Jones
A new day, a new fantasy… Brandon Jones loves a man in uniform who takes total control of his body. This time he asked for the help of one of the hottest bad boy of montreal : Mam Steel. The stud requested that his conquest leave the door unlocked, ass up and ready to be taken on a ride. The policeman start by teasing his bottom with his stick to stretch him for his large 9 inch dick. Making sure he always stay tied up he then let Brandon make his cock wet to pound him roughly. First on his knees, he love feeling balls slapping him as he gets fucked. After on his back and then riding him to make sure his horny man is satisfied before blowing is load over is tied hands … This scenes should be illegal for how hot it is and Brandon is a repeat offender. Arrest him before his next fantasy!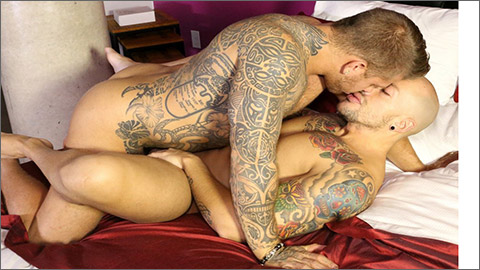 JORDANO TAKES A POUNDING
So, like we were saying last week, Jordano Santoro was coming to town and contacted Marko Lebeau prior to getting here 'cause he wanted some hot French Canadian uncut cock to play with. Marko was more than willing help him and suggested he hook him up as long as he was willing to give up his ass for Mam Steel's almost 10 inches of stiff cock.
   Jordano was in cock heaven. When Mam arrived and bent over to kiss our visiting American friend his stiff boner was already showing its appreciation. Fast forward and we find our two studs lying on a bed, side by side stark naked. There they were kissing and jacking each other off. As Jordano is lying back on the bed, Mam moves in, makes his way down to be the first of our two hunks to shove his partner's cock in his mouth. As with most of our American friends Jordano's nice cut cock was getting a good licking from our man of steel.
   Mam then moves towards one of the columns lining the bed while Jordano moved forward on his stomach putting his massive bubble butt on full display. Jordano wraps his luscious lips around Mam's piece of steel. Once Mam has had a good servicing, he moves to the bed lies on his back as Jordano position's himself to ride Mam like a cowboy, a reverse cowboy that is. You could tell that Jordano was shifting between pure ecstasy and sheer pain as Mam was pounding him shamelessly. The guys move into a spooning position and Mam's diligent cock work is so effective that his partner alerts him to slow down otherwise he would shoot his load.
Jordano moves onto his back and, not missing a beat, Mam positions his cock to pop right into his bottom's now expanded hole. Mam's skillful work is rewarded with Jordano shooting his load all over his abs and stomach. Mam pulls out, lies on the bed and jacks off. Jordano now spent but not dead goes into cock sucking mode and brings his top man to the edge when he unloads his baby batter into Jordano's face and mouth. Not wanting to lose a drop Jordano sucks again to drain his stud's cock empty.
   Marko was quite pleased with this teaming up of hot studs. And, Jordano was rather pleased with his visit to Montreal. What more can you ask for…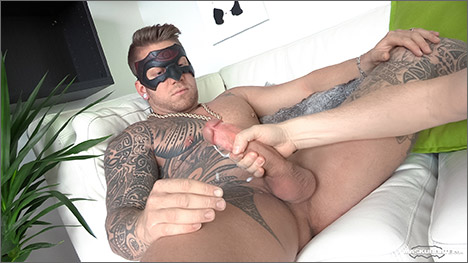 NEED A HAND MR STEEL?
Mam invited me to visit & shoot his first scene at his new & amazing place. I'd never met him before but I heard about this guy doing porn who had the largest cock in town. I thought it would be cool to spend some time with the dude and maybe get to play with the monster. Mam's most noticeable feature is the tattoos that cover half of his body, but I personally was attracted to his face (beautiful blue eyes and a smile that warmed the room). After a few minutes of chatting with him and playing with his tiny dog Dior, I really felt comfortable, so I asked if I could see it… that big uncut cock! He smiled and took his pants down. I grabbed it and stroke it. He moaned and his dick got so hard. Another great moment of my daily life caught on tape. I hope you'll enjoy it as much as Mam and I did!
JONES EXPOSED
MASKURBATE
MEN OF MONTREAL
CLICK HERE TO GO TO HIS MEN OF MONTREAL DETAILS