Blond Spanish Gay Porn Hunk, Malek Tobias
Years Active: 2015 – 2019
TWITTER @malek_tobias
MEN.COM INFO:
Hair Color: Blonde
Sign: Taurus
Eye Color: Blue
Dick Size: 6.2 uncut
Height: 5'6″
Weight: 156
Sexual Positions: Bottom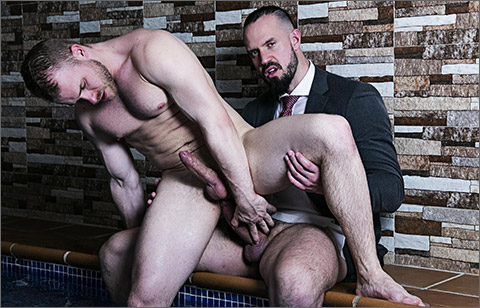 MAKE ME WET
When Andy Onassis and Malek Tobias run into each other in the gym locker room the sexual tension is undeniably palpable. After ogling each other's bodies and meaty cocks, Malek wastes no time stripping off to head to the shower, making it known with his eyes that a visit from Andy would be more than welcome.
   Andy ponders the invitation as he gets himself dressed, deciding that there is absolutely no way he can pass on Malek's generous offer.
   As Andy watches Malek shower, he begins to unzip his fly signaling to Malek that it is his turn to make good on his invite. Malek wastes no time swallowing Andy's cock and then offering up his wet hole to further thank him for his visit.
   Since fucking in the shower just isn't enough, these two dirty boys head to the pool where they can get even wetter and wetter.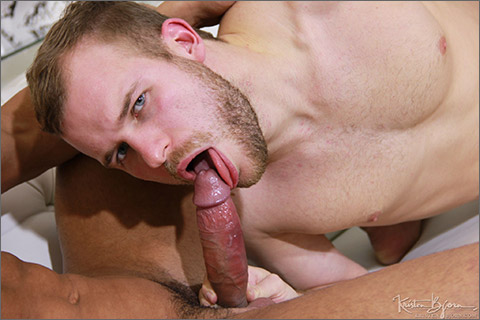 MEAT MEN – RUN ACROSS: JUANJO RODRIGUEZ FUCKS MALEK TOBIAS
As Juanjo Rodriguez runs through the park is his ever revealing running pants, Malek's attention is caught and he knows he must have this man. Malek Tobias follows Juanjo back to his apartment and is engulfed in Juanjo's seductive kissing and stroking. Juanjo strips down completely and steps into the shower. Malek salivates as he watches the water flowing across Juanjo's perfectly muscled body. Malek is then pulled into the shower by Juanjo with his t-shirt and underwear still on. As the water cascades over both men, Juanjo drops to his knees and takes Malek's straining cock all the way into his mouth and savors the taste of the hot man flesh running across his tongue. Malek attempts to swallow Juanjo's huge cock, but finds the challenge a bit too much for his abilities. Juanjo pushes Malek onto the sofa and drives his raw cock deep inside of Malek's hungry ass. Malek is flipped onto his back and Juanjo continues the assault on his bare ass. Getting flipped once more, Malek finds himself upside down on the sofa as Juango feeds his cock into that hot, pink hole. Malek's cock is rock solid and his balls have drawn up so tight and are cocked, loaded and ready to shoot. In this position Malek is able to feed himself his own hot load of cum with Juanjo pushing every last drop out of him with every thrust of his cock. Juanjo then creams Malek's pink, furry hole with his thick, gooey load of cum. The benefits of running are endless!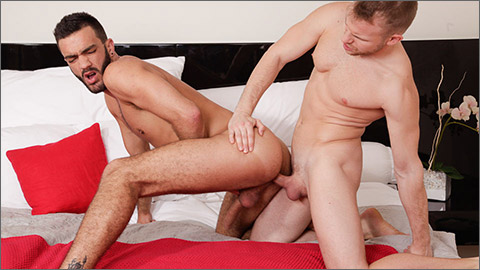 SKINS – INTIMATE: MALEK TOBIAS & ALEJANDRO ALVAREZ
Malek Tobias and Alejandro Alvarez are out enjoying the park on one of the last nice days of autumn. The cool, brisk air has made them both feel a bit frisky and a heightened desire for each other. Returning home they immediately strip away their clothes. Alejandro begins by running his lips and tongue up and down the long, hot shaft of Malek's huge cock. Malek then takes Alejandro's huge cock in his mouth and attempts to swallow it all the way to his balls. The guys move into a position where they are able to give each other the tongue lashing and tongue fucking that their asses love so much. Alejandro has worked up and appetite that only Malek's cock can satiate. Malek rams his raw, hard cock deep inside of Alejandro. Malek pounds him hard as Alejandro's cock remains as rigid as a marble statue. Malek loves the sensation of those tight ass muscles milking his cock that he blows his hot load of cum all over Alejandro's hairy hole. Alejandro lies down on his back as Malek mounts his stiff cock. Malek and Alejandro work in unison as Alejandro's bare cock pushes deep inside of Malek. Malek has never taken a cock this large before but is giving it everything that he has. Alejandro loves all the effort that Malek's ass is giving up to him and creams Malek's pink hole with his hot load of cum. What started out as a cool, brisk day turns into a steamy afternoon of lustful adventures.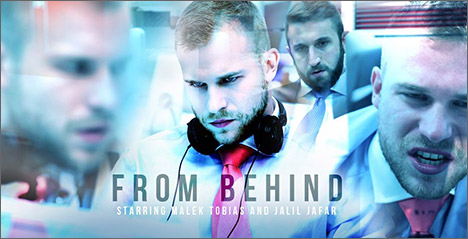 FROM BEHIND
Have you ever had the feeling you're being watched? You're sixth sense is telling you that gazing eyes are burning through the back of your skull? Lets be honest, if someone is eyeballing you, it's usually for one reason – they wanna hump you. That's the feeling young Malek Tobias gets when he's clocking up a bit of overtime one evening in the company office. Fortunately for Malek that searing gaze comes from his, hot , hairy, hunk of a suited supervisor, Jalil Jafar. When Malek peers furtively over his shoulder at his boss it becomes apparent very quickly that Jalil is a man of few words and blatant actions . Pulling out his cock through the fly of that perfect fitting navy suit of his, Jalil starts stroking it as Malek watches on from across the room. Such brazen sexual self confidence is a pull for any cocksucker and Malek is no exception going down on his bosses thick cock under the desk before being stripped and pummelled as Jalil rides his young tight hole making the office boy holler with, what we can only assume is pleasure. Are you ready to be taken From Behind ….
KRISTEN BJORN
MEN AT PLAY
MEN.COM
CLICK HERE TO GO TO HIS MEN AT PLAY DETAILS
CLICK HERE TO GO TO HIS MEN.COM DETAILS