Blond kinda Skinny American Jock Gay Porn Star, Luke Wilde
Known Aliases:
Years Active: 2015 – 2016
FAB SCOUT INFO:
Age (2015): 21
Height: 6'2″
Cock Size: 8 Cut
Position: top, versatile, bottom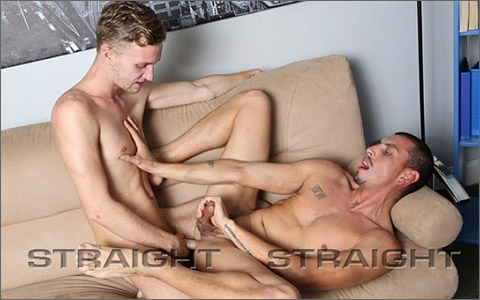 LUKE WILDE & CRASH
Well, this one really took Caruso by surprise. He was under the impression that Luke wasn't coming back anytime soon, since he didn't seem to really love having sex with Javier the first time he was at BaitBuddies.com. But, money talks and here he is and he's brought his straight buddy, Crash. Crash is your typical redneck from central Florida who spends his nights drinking beer and banging trashy pussy at local hangouts. He's even had a three way with one of these girls and his buddy Luke. The two have known each other for a couple of years. They met at the place they're both still working at. Caruso asks Crash what he thought about seeing Luke have sex with another dude in his first video at Bait Buddies. Crash says he's cool with it, because he's pretty open about sex. He tells Caruso that when he was a little younger he was sharing a bed with a buddy after a night of drinking and the next thing you know, he's getting a blowjob from the dude. "It felt good, so I didn't stop him", he said.
   Caruso tells the boys to strip down and get to it. Their clothes come off quickly and we're soon reminded that 6'2″, 21 year old Luke is a hottie, he has fair skin, wavy blond hair, blue eyes and a natural, sinewy, defined, fatless body with an 8″ cock and a big set of low hanging balls. His country boy buddy Crash, who got his name for crashing one too many cars, has the typical, naturally fit body you get from rural living and manual labor and he's got an average, but very serviceable sized cock. Once naked they're kind of just standing there, so Caruso tells them to touch each other. After some mutual stroking, Crash says "this is crazy", but he's not stopping, he says of their little stroke fest "it feels good". Luke, taking his cues from Caruso, gets on his knees and starts sucking Crash's cock. "That feels good" says Crash, "you're pretty good at that", but Luke quickly lets it be known that he's not a cocksucker and has only done it once before during his first video for Caruso. Luke is taking his buddy's cock deep and keeps gagging and coughing, so a few times a concerned Crash asks "you alright", and Luke just continues on. Caruso now tells Crash that it's his turn. He hesitantly gets on his knees and starts to slowly suck his bud's cock. Next thing you know he's going nuts on Luke's cock, even deepthroating that big thing a few times. Crash says to his friend "promise you won't tell anybody" and he's right back on Luke's cock…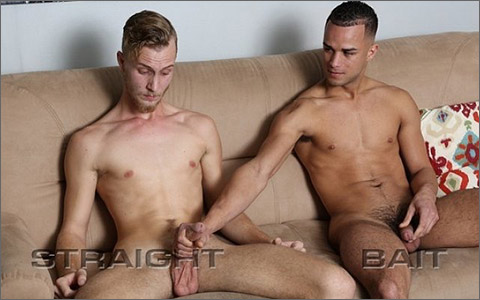 JAVIER CRUZ BAITS LUKE WILDE
Just this past summer, Javier, the handsome 21 year old Latino with the hot body and yummy bubble butt arrived at BaitBuddies.com declaring his straightness… that is until Caruso had him suck his first cock and fuck his first dude butt. And, he pretty much said that he liked it. So, when he calls Caruso recently and wants more work, he's told that he's going to have to do just a little more than last time – give up his hot, sexy bubble butt to another dude. Javier says he's up for it and when questioned by Caruso in the studio, he's a little bit embarrassed and reluctantly tells him that he practiced on his hole with his girlfriend's dildo. Javier is introduced to his screenmate, Luke, a 6'2″, 21 year old straight boy. Luke is a hottie, fair skinned, wavy blond hair, blue eyes and a natural, sinewy, defined, fatless body with an 8″ cock and a big set of low hanging balls. Luke tells Caruso that he's perfect for doing pussy porn because he can get hard for just about any girl. He especially likes them with long hair, a nice ass and big tits – even says his ideal measurements for a good piece of ass is 34-25-34. Well, he doesn't know it yet, but he's not even getting close to any pussy in this video – unless boy pussy counts. Anyway, Caruso explains the boner test to the boys and that they both need to get it up in front of the cameras, under the hot lots and with Caruso and each other looking on. Javier strips down fast as he loves to show off his stuff – and Luke isn't far behind. We that Javier is already rock hard, and it only takes Luke a few minutes to catch up as he watches the pussy porn playing in the studio. Caruso is off to get the girl, but returns empty handed, car accident this time – we just have the unluckiest female porn models in the industry *wink*. So, without any girls being available, the only option he can offer the two boys is from them to make a gay video… have sex with each other.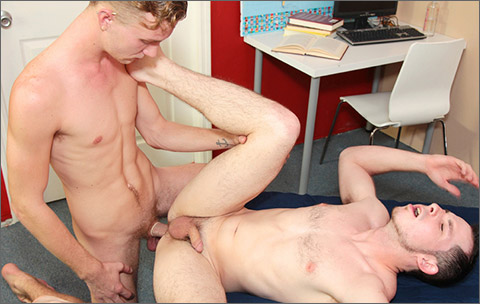 LUKE WILDE & TOBY SPRINGS
Luke Wilde can't keep his hands off of Toby Springs's package, and as they make out and strip off their clothes, Luke slowly and gently massages the bulge in Toby's pants! As their pants come off, these two get more impatient and Luke can't hold back any longer as he gets on his knees and gets a mouthful of Toby's sweet cock, sucking on it and then getting his own dick sucked by Toby next!
   When Toby's done teasing Luke's prick with his mouth, Luke bends Toby over and gives him a rimjob, fingering Toby's tight hole and then spreading that ass open and sticking Toby with his hard cock! Toby slowly pulls on his own dick while Luke fucks him, going deep inside as they slow down their fucking to make out, exchanging a few kisses while Luke's long shaft is still buried inside of Toby.
   They switch positions and Luke fucks Toby doggy style, pumping him full of that hard cock until he's ready to finish, pulling out and draining his big dick all over Toby's lower back. After that ass-pounding, it doesn't take Toby long to finish either as he lies back and strokes one out!
GIO CARUSO'S BAIT BUDDIES
COLLEGE DUDES
PRIDE STUDIOS
CLICK HERE TO GO TO HIS GIO CARUSO'S BAIT BUDDIES DETAILS