Corbin Fisher Amateur College Guy, Luke
Years Active: 2015 – 2016
CORBIN FISHER INFO:
Age (2015): 19
Waist: 31
Eyes: Brown
Height: 6′ 1″
Weight: 195 lbs
Hair: Dark Brown
Build: Athletic
Cock: 8.0″ cut
Shoe: 11.5
When I met Luke, what struck me right off the bat was his shy yet incredibly sweet smile. It matches his personality so perfectly. His boyish face contrasts his tall body in the best way. He's definitely the kind of guy that catches anyone's attention- which he definitely takes full advantage of. He has sex 3 to 4 times a week and, at 19, can pull both younger and older women alike!
   When it comes to foreplay, he's not the selfish type. From loving reciprocating as much as receiving to sensual massages to set the mood, someone's definitely taught him well! Which of course makes me think of what else he's willing to learn…
   One thing he's definitely not- is camera shy! He bites his lip and looks right into the camera while he's stroking himself off. Then again he has no reason to be nervous or self conscious, he's got a great body, well formed v-cuts, nice arms and legs, and even a small little trail that runs down his abs to his nice thick dick. One thing's for sure, there's a lot to like about Luke!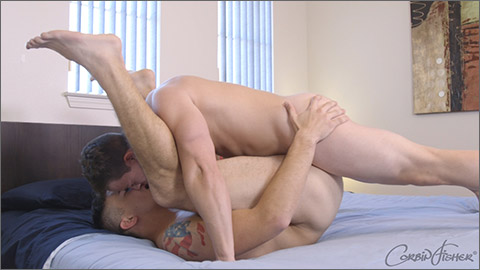 TOBIAS FILLS UP LUKE
Checking out girls might be fine and dandy, but the sexual tension in the room isn't coming from phone- and they know it! The memory of their first hook-up is fresh in Tobias and Luke's minds- and quickly causing an undismissable rise in their pants!
   Last time Luke topped Tobias, but now that Luke knows what kind of orgasm he can get from bottoming, he wants to fully experienced Tobias in a new way!
   He pushes Tobias's head down as he's being eaten out- it's so hot to see his transition play out on camera. Luke came in as a bonafide alpha top, but Tobias playing with his hole turns him into a hungry bottom! With Tobias working him over, we see Luke completely give into the pleasure and produce his hottest bottom scene yet!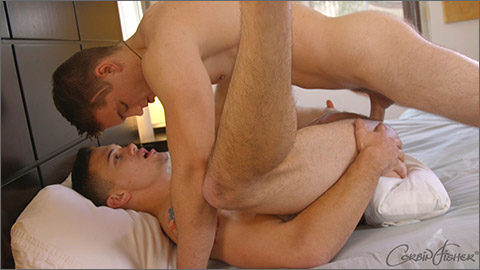 LUKE & JASPER'S MORNING WOOD
Jasper and Luke are two of the hottest new men to come to CF. In the time that they've been here, they've been having lots of fun exploring their sexuality and making for some quality and cum worthy moments!
   When it came time to decide who would top and who'd bottom, the guys were so horny that they decided to forgo the decision and just get right to it! Jasper jumps on Luke's cock first but Luke wants to be fucked too!
   Luke pulls Jasper into him, so that he can be filled deep. Luke is already ready to cum but he wants into Jasper's ass again one more time before he does! All worked up, Luke's big dick just feels too good this time and Jasper has to cum. Only then is Luke cleared to shoot his thick load!