Cute Bubble Butt American Gayporn Star, Luke Adams
Years Active: 2013 – 2016
TWITTER @LukeAdamsXXX
NEXT DOOR STUDIOS INFO:
Luke Adams is an exuberant body builder from San Diego with a great attitude and a tight package. Showing off his guns, this gymnast turned weight lifter takes a break from his hectic schedule for our cameras, revealing his multiple piercings and his rock hard cock. Reclining on an ATV in the mid-day sun, he pulls off his shorts and peels out of his undies, unleashing his eager cock, as he spits into his palm and fingers its head while it gets harder and harder. In need of a cool-off, Luke makes his way to a water spigot, drenching his rippled chest and basking in the relief of the cool water, before returning to the ATV to get down to serious business. He grabs his cock with both hands and strokes himself into climax, drizzling himself with a glazed load that puddles on his chest and glistens in the outdoor heat.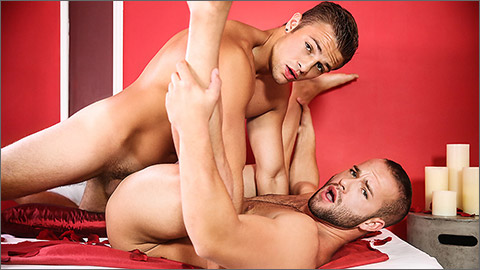 WEIRD SCIENCE A GAY XXX PARODY: Charlie Pattinson, Luke Adams
Charlie Pattinson is ready to fulfill Luke Adam's fantasies…except the one involving Michael Jackson and Gene Simmons.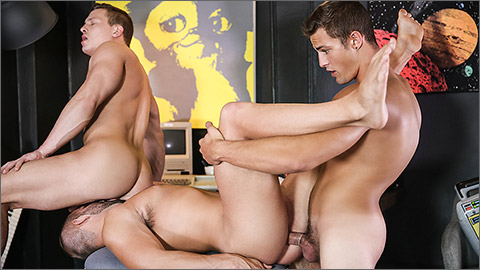 WEIRD SCIENCE A GAY XXX PARODY: Charlie Pattinson, Luke Adams, Tommy Regan
The big dance is tonight but Luke is buggin' because his parents have grounded him. Charlie thinks he can smooth talk him out of this—but it doesn't go quite as planned. Charlie has no choice but to freeze Luke's parents, thus turning the boys on to one hot threesome.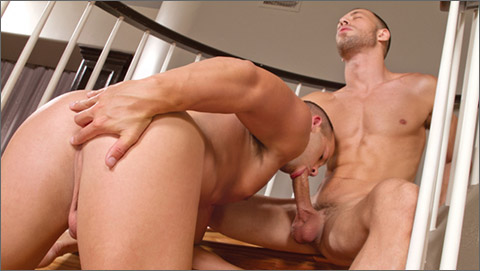 COCKSTAR: Brandon Jones & Luke Adams (all oral)
Luke Adam's clothing can't disguise the hot, muscular body it conceals. All is revealed when Brandon Jones wraps him in an embrace and peels off the layers. Luke's cock, already at max hardness, practically pops into Brandon's mouth, leaving his fat, lazily hanging balls to bump against Brandon's chin. Brandon is equally hard, and Luke is hot to suck him. Luke swallows the entire shaft, then mashes his tongue into Brandon's nut sack. They kiss and repeat. Luke wraps a hand around Brandon's cock and sucks harder and faster, adding firm strokes to increase the buildup of cum in Brandon's balls. Brandon's breaths grow short; he shouts as he squirts multiple blasts of cum into Luke's face and mouth. With Brandon's load still dripping from his pecs, Luke strokes himself and pumps a load across Brandon's lips. They lick it up together, kissing and sharing the taste.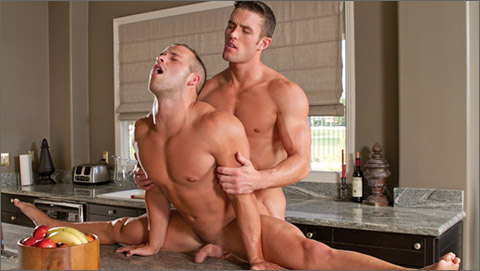 COCKSTAR: Ryan Rose fucks Luke Adams
Ryan Rose teases Luke Adams about the way he eats a banana, and calls for a more graphic demonstration. Peeling their shirts off, they come together in a lustful embrace. Ryan tugs Luke's shorts off and sucks his rock hard cock until it glistens. Ryan's tongue dives into Luke's hole — lapping, swabbing, licking, probing and eliciting moans of approval. Ryan's cock goes in next and the action goes to another level. Luke spreads his legs 180 degrees to accommodate Ryan's huge tool, utilizing the kitchen counters to reach incredible new positions. When Luke can't contain his release any longer, he shoots an enormous load of cum across his abs. Luke slides to the floor, just in time to capture the huge wad of cum shooting from Ryan's cock.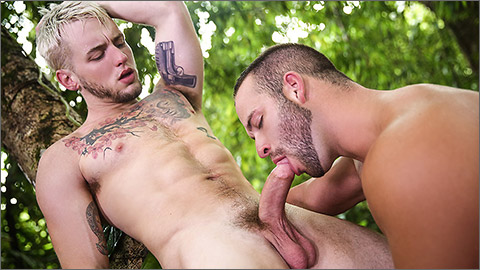 TARZAN A GAY XXX PARODY: Colton Grey, Luke Adams
Stranded ashore a lush tropical island, Luke Adams and Colton Grey cope with surviving the jungle by exploring each other's dark dank holes. Colton readies Luke's delicious cock with his warm wet mouth then opens his hole with his probing tongue before plunging his rock hard dick deep inside Luke's eager ass. Luke returns the favor by fucking Colton up against the palms of this tropical rainforest as a native resident watches from the bushes…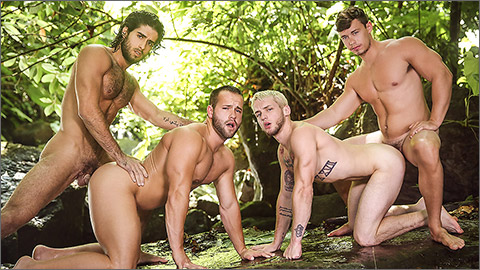 TARZAN A GAY XXX PARODY: Colton Grey, Diego Sans, Luke Adams, Tobias
Colton and Luke are wandering around the jungle looking for Tobias and decide to stop for some rest. Tarzan pops out of nowhere with Tobias in tow. Reunited at last! Tobias explains where he's been and what he's been teaching Tarzan; who is eagerly pawing at his 2 new discoveries. It doesn't take much longer before all four of them are sucking and fucking.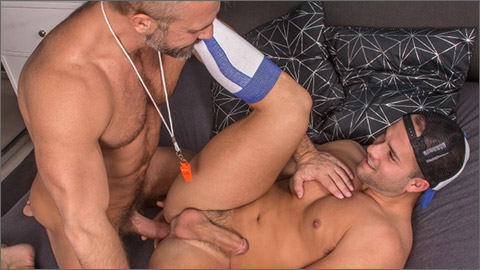 OUT!: Catcher Luke Adams comes out to Coach Dirk Caber
A.J's coming out interview also shocks minor league player Luke Adams, who sees it in his hotel room–and quickly comes out to coach Dirk Caber. "Takes one to know one," Dirk says to the surprised jock, who soon has the muscle man's cock in his mouth. Dirk can't wait to return the favor, licking and rubbing the smooth stud's bod and feasting on his shaft and sac: "God, you taste good!" he smiles. Luke's steel shaft slams against his own groin when released from Dirk's mouth, then stays stiff as he gets plowed ("Fuck yeah, coach!"). He shoots, then sucks his own cum off the top's finger. Dirk unloads, licks his own wad off the bottom's bod–then goes in for a kiss.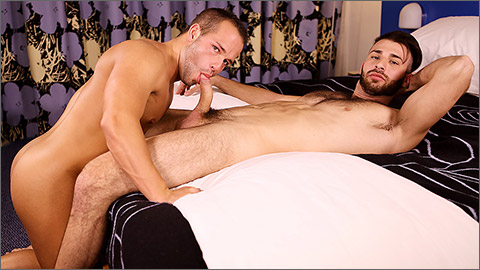 TROPHY BOYS – PART 3
Luke Adams and Jarec Wentworth are in L.A. for an awards show honoring the freshest and most talented pornstars. Luke's hotel room isn't ready so Jarec invites him to crash in his. They want to do a scene together but both agree that they should have a practice fuck session. Luke sucks Jarec's big cock before bending his cute ass over so Jarec can wet his sweet hole with his tongue. Jarec stays standing as Luke holds onto him and bounces on his hot cock.
CAUKE FOR PRESIDENT: Adam Ramzi fucks Luke Adams
"I'll do anything for the senator," says volunteer Luke Adams, going door to door looking for votes. He's greeted by Adam Ramzi wearing nothing but a towel, his throbber soon catching Adams' attention. "Suck it," says Ramzi, who face fucks the stud. The verbal alpha sucks the smooth stud back, the steel shaft deep inside the tattooed hunk's bearded lips. Ramzi eats out Adams' smooth hole, then plows him from behind. Adams sits on the top, who pumps him from below ("So deep in your ass! Good boy…ride it!"). Adams' steel shaft bounces as he rides, the two passionately kissing before the bottom squirts. Ramzi licks the bottom's load up, then squirts on his face. "Can I count on your vote", says Luke looking up with cum dripping form his chin. "Oh, sorry I'm from Canada, I can't vote", says Adam as he licks his cum from Luke's chin.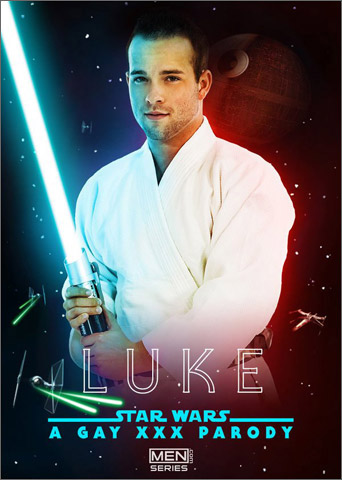 STAR WARS – A GAY XXX PARODAY
DATE OF RELEASE: DECEMBER 25, 2015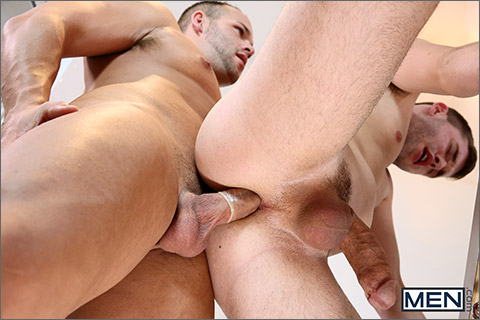 STEPBROTHERS – PART 2
Luke Adams has a plan to pop Jack Radley's cherry so he can have some practice before meeting his fantasy dream guy. Luke sucks Jack's big dick, then licks his sweet, sexy hole, and finally slides his hard cock deep into his ass.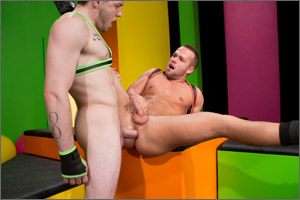 AFTER GLOW
SCENE 3: Colton Grey fucks Luke Adams
Colton Grey has edgy tattoos, a lithe, defined body, and a big thick dick: it's an irresistible package for Luke Adams, who eagerly services Colton's thick meat in preparation for fucking. These two young studs want each other bad! Colton knows how to give Luke what he wants: he presses his thick cock into Luke's hole from behind, pauses to deliver a wet, slurpy blowjob, and then resumes fucking with even greater intensity. Luke jerks his cock while he's getting fucked and pumps out a load onto his abs. Luke catches Colton's load in his mouth, savoring every drop.
TITAN MEN
MEN.COM
NEXT DOOR STUDIOS
KINK.COM / BOUND GODS
KINK.COM / MEN ON EDGE
KINK.COM / NAKED KOMBAT
CLICK HERE TO GO TO HIS HOT HOUSE BIO PAGE
CLICK HERE TO GO TO HIS MEN.COM BIO PAGE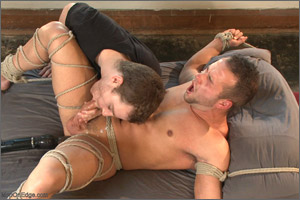 HOT NEW STUD LUKE ADAMS GETS RELENTLESSLY EDGED AND FUCKED TO CUM
12 DAYS A SLAVE
SON SWAP – PART 2
LAST CALL – PART 1
BUBBLE BUTTS – PART 2
ALARMING HOT FIRE
PICNIC PLEASURES
WORKOUT BUDDIES
LUKE ADAMS SOLO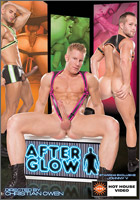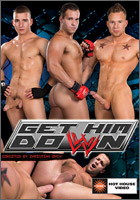 BEEF N' BRIEFS
NAUGHTY PINES – PART 1 (FVP-246)
AFTER GLOW
TRUNKS 8
CONTROL ROOM
GET HIM DOWN
EXTREME FUCK CLUB