Hunky Versatile Czech Gay Porn Star, Lorenc Byro
Known Aliases: Ismael Alrasid, Lorence Byro, Alan Wood, Dirty Scout 22
Years Active: 2015 – 2016
WILLIAM HIGGINS INFO:
Lorenc Byrd is aged 21 and lives in Prague. He is a student who enjoys sports, fitness and rugby. What a very handsome guy Lorenc is. Not only handsome, but with a great body too. As he lifts his tee shirt he shows off his awesome abs. Then he takes off the tee shirt and his upper body is fully displayed. It is just perfect, every muscle clearly defined. He poses with the tee shirt behind his neck, a big smile on his handsome face. What a great view that is. Then Lorenc sits on the bench and poses before kneelingg and turning sideways, with his jeans lowered revealing the shape of his hot ass. Standing and turning, back to camera he pushes the jeans down further to show off his sexy ass. Then, with his hands behind his head he poses, with his body twisted showing the chest and the round shape of that ass. He then gets naked and flexes a bicep as his soft cock is on show too. We get a good look at the cock and balls as Lorence pulls on the foreskin before getting hard. When hard he poses with his beautiful cock poking out in front of him. He then lays on the bench, lifting his legs in the air to show his tight ass hole. With his cock hard and his cheeks spread that hole looks so inviting. Dropping his legs his pushes his hard cock forward before turning over, onto his knees, for more of that sexy ass. He finishes a great show with more poses which show off his every attribute very well indeed.
Age (2015): 21
Home Town: Prague
Height: 185cm/6'0″
Weight: 82kg/180.4lb
Foot Size: EU44/US8.9/UK8.4
Penis Size: 17cm/6.69″
Profession/Student of: University student
Hobbies: Sport
Favorite Sports: Fitness
Active Sports: Rugby
Movie/Music/Sport Stars: Stanley Tucci
Visited Coutries: Scotland
Want to Visit Coutries: Canada
Dream of My Life: I don't know.
Zodiac Sign: Leo (July 23 – August 22)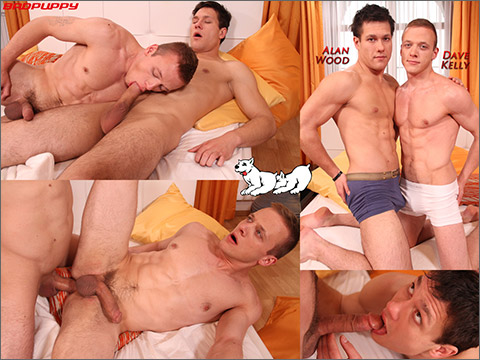 ALAN WOOD FUCKS DAVE KELLY
After a long day of skiing Alan Wood had fallen asleep on the bed as his mate, Dave Kelly finished his shower. Dave walked in to find Alan's stiff cock head protruding from his underwear and this completely turned on Dave. Dave drops his underwear and begins stroking his already hard dick. He quickly moves from the couch to the bed where he awakens Alan with a kiss before he licks his way down Alan's ripped torso and hungrily swallows his cock. Dave wants some of Alan's cock and he lays him back on the bed; taking every inch of his cock and licking his huge ball sack as Alan wiggles with pleasure. After some mutual cock sucking Dave lays back and spread his legs. Alan sucks up Dave's cock again; he takes his fingers and starts loosening Dave's tight little hole. Once Dave's ass is primed Alan plunges his cock deep into Dave's ass and pounds him as Dave works his cock with his hand. Alan can tell he's about to get a nut and as he lies back on the bed Dave helps him get off; licking up his share of the jizz. Now, he's ready to get off and Dave blows quiet the thick and runny load which he and Alan rub into his cock after he cums.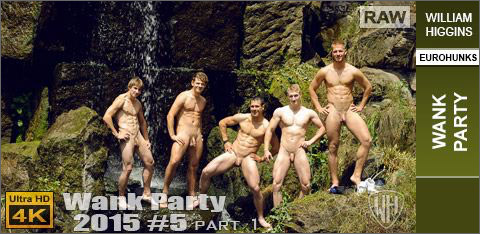 WANK PARTY 2015 RAW #5
WANK PARTY 2015 #5 features Rosta Benecky, Matej Valej, Lorenc Byro Matej Norzik and Dave Cargo. In this first part we find the guys out in the park having a great time. Lorenc and Dave are showing off with their acrobatic tricks, with Dave doing several somersaults. Then they run off, climbing down the hill to the waterfall, where Lorenc strips off and goes under the ice cold water. He has a great body and looks wonderful as the water cascades over him. As they play Matej, Robin and Rosta walk up and watch them. Then they walk closer and start chatting. They invite Lorence and Dave to join them at their place. Once inside Robin starts to show them how he uses the dumbells. Dave then takes a turn on them too. Meanwhile Matej uses other weights before letting Lorenc take a turn. Robin then sits and demonstrate more exercises with the dumbells, as Lorenc leans over to feel his muscles. He then sits on the bench to use the weights as Dave uses the other set. Next it is Matej's turn to show off his prowess before Dave takes another turn. Lorenc then goes again, this time the others stand around him and start to feel his chest.Matej flexes his muscles to show off his hot body, as the guys feel him. Lorence is very proud of his body too and is soon flexing to show off his muscles. Rosta does the same, comparing his legs to Lorenc's. Then Dave is under inspection too. When it is Robin's turn he pushes his shorts down to reveal some ass crack as everyone's hands are all over him. Lorenc leads the way to more, leaning over to kiss Robin's chest. They all examine Robin's legs too. Robin sits on the bench and everyone is all over him, Rosta kisses him , as does Lorenc as the hands grope his shorts. Lorenc licks that hot body and then pulls the shorts down so that he can suck on Robin's cock. He takes the cock all the way into his mouth, sucking it real good. Matej then sucks it too as Dave and Rosta get their own hard dicks out. They are both massively endowed and Robin is quick to start sucking on Rosta. His big dick fucks into Robin's mouth as Lorenc is back to sucking too. Then Robin turns his head and takes Dave's big, fat cock into his mouth. Matej sucks Robins again as Rosta's cock is fucking his face some more. Matej and Lorenc keep taking turns on Robin's cock as he takes turns on the other two. Then Robin stands and gets serviced my the handsome Rosta's hot mouth. Lorenc sucks Daves big cock, deep throating it until he gags. That dick goes all the way down his throat. Rosta also gags on Robin's dick and then swallowes Matej's too. They all move, with Matej on his back with Robin sucking him as Lorenc is laying over Dave sucking his cock and taking turns on Rosta's too. He is expert at sucking the really works those cocks. He places both cocks together and manages to suck both at the same time. Robin keeps working on Matej's dick as Lorenc's mouth works overtime.Rosta rubs a foot over Dave's big, throbbing cock and Lorenc sucks cock and toes at the same time. Rosta's foot rests on Dave's cock so that Lorenc can work on both. Meanwhile Matej is sucking on Robin's rock hard cock too. What a great start to a wonderful wank party, with much more to come in part two.
WANK PARTY 2015 #5 has a great group of guy, Rosta Benecky, Matej Borzik, Lorenc Byro, Robin Valej and Dave Cargo. In this second part we rejoin them as Rosta's hot ass is being fucked deep by Robin. Matej's hole is getting it too, from Dave's massive cock. Dave is fucking deep and hard, his big balls flapping around as well. Lorenc takes over from Robin , shoving his big cock deep into Rosta's eager ass. Lorenc slap that sexy ass to as he fucks hard and fast. Then he gives up the hole for Robin to take over again. Robin pounds Rosta's ass as hard as he can as Dave's pole is still stretching Matej's asshole. Then Dave moves over to fuck Rosta with Robin slipping his dick into Matej's ass. Rosta's big cock is nice and hard as he takes Dave's all the way. Lorenc spanks on Matej's ass and then takes over the fucking from Robin. His cock slams into Matej's hot ass. Matej moves, to lay over an exercise balls with his ass still being stretched by throbbing dick. Rosta moves too, laying on the bench wanking himself as Dave's massive cock slams into his hole. Lorenc is deep in Matej's ass fucking him deep. He pulls out and Robin takes his place. Rosta's dick is rock hard as he wanks it with Dave deep in his ass. Dave's cock is ready to explode and he pulls our and shoots a hot load, with Rosta going down on the dick to suck it dry. Robin pulls out of Matej's ass and both he and Lorenc drop their creamy loads over his back. Then all the guys stand around Matej as he wanks himself to lovely cumshot. They then all crowd into the shower to clean up after a great Wank Party.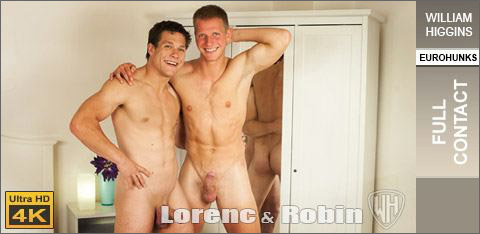 FULL CONTACT: LORENCE BYRO & ROBIN VALEJ
Two hot straight guys, Lorence Byro and Robin Valej are on top form in this duo. It stars with Robin going to the kitchen for a drink and then walking in to wake up Lorenc. Lorenc doesn't want to be disturbed though. Robin decides on another tactic in waking him properly. By indulging in some hot sex. He rubs Lorencs cock through his underwear and begins to kiss him. Lorenc's cock is rock hard in the underwear, which quickly comes off. Robin's mouth goes down to suck on the thtobbing cock as Lorenc's heavy balls hang between his thighs. He starts to fuck his rock hard cock into Robin's eager mouth. Robins lips are tight around the thick shaft and he really sucks well. Robin is rock hard too and after removing his underwear he climbs on top of Lorenc so they can 69. Lorenc quickly shows that he can suck well too. His mouth really works on Robin's dick as it fucks down his throat. They keep sucking on each other's cocks until Lorenc turns over, onto his knees to really work that dick. Robin's hand goes on the back of Lorenc's head as his cock is taken deep into the mouth. As he sucks that cock Lorenc rubs the tight balls too. Then Robin really starts to fuck that hot mouth. Lorenc moves up to kiss Robin who reaches round to grab his sexy ass. Then Lorenc is on his knees with Robin behind him, sliding his throbbing cock deep inside. Lorenc moans as the cock works into his hole and then starts fucking it. He takes Robin's dick real well, as it stretches his hot hole. Lorenc turns over onto his back and Robin fucks him missionary style. Lorenc wanks his thick cock as Robin fucks him hard. They both moan as they enjoy the action, with Robin's cock really pounding the hot hole. Robin needs to cum and pulls out of that sexy ass and dumps his hot cream over Lorenc. Then he leans over and kisses his buddy again.
WILLIAM HIGGINS
STR8HELL
DIRTY SCOUT
BADPUPPY
KRISTEN BJORN PRODUCTIONS
JAKE CRUISE'S COCK SURE MEN
CLICK HERE TO GO TO HIS WILLIAM HIGGINS BIO PAGE