Sexy Blond Jock William Higgins Slovakian Gay Porn Star, Libor Boucek
Known Aliases / aka: Zach Miro, Czech Hunter 376
Years Active: 2018 – 2019

WILLIAM HIGGINS INFO:
Model Name: Libor Boucek
Age: 23
Home Town: Prague
Height: 170cm/5'6″
Weight: 70kg/154lb
Foot Size: EU41/US8.3/UK7.8
Penis Size: 15cm/5.91″
Profession/Student of: Sales representative
Hobbies: Sport
Favorite Sports: Soccer
Active Sports: Fitness
Movie/Music/Sport Stars: Rowan Atkinson
Visited Countries: Italy
Want to Visit Countries: USA
Dream of My Life: I do not know.
Zodiac Sign: Capricorn (December 22 – January 19)

CHERRY BUSTING: LIBOR BOUCEK & IVAN GULA
Libor Boucek, in his erotic solo fantasized about doing something with a guy. Today that fantasy becomes reality when his cherry is busted by Ivan Gula. Then begin on the bed, kissing each other. Libor lays back and enjoys Ivan kissing his torse and then pull down his pants. Libor's cock is already bulging in his underwear and Ivan is quick to feel it with his hand and his mouth. He removes Libor's underwear releasing the rock hard cock and takes it in hand as he begins to lick and suck it. That thick cock looks so tasty as Ivan works on it. Libor reaches to feel Ivan's body as he enjoys his dick being sucked. Ivan's tongue swirls over the big cock head and he licks up and down the shaft as he sucks on the big cock. Then he sucks the balls too. Libor pushes Ivans head down on his cock to get more in the hot mouth. Then Libor gets naked and positions himself so they can 69. Libor eagerly takes Ivan's cock in his mouth and starts to suck. His own fat cock is in Ivan's mouth. He feels Libor's mouth on his dick at the same time. Then Libor kneels for Libor to suck his dick some more. He pulls Libor's head onto his hard cock as leans over to wank him. Then both are on their knees and Ivan removes Libor's tee shirt as they kiss and wank. Libor moves onto his elbows, presenting his sexy ass which Ivan starts to rim. His tongue laps at the hot hole for a while. Then he moves into position and slides his dick into that virgin hole. Libor takes it well as he feels the dick fucking in and out of his ass. His hips thrust as he fucks deep into Libor's ass. Libor moans as he takes that dick deep in his ass. Ivan pulls out and then slides it back in again. That sexy ass takes the cock so well as Ivan's hips thrust relentlessly. Ivan lays down for Libor to straddle him and slide his ass down on the throbbing cock. LIbor rides up and down on that hard cock as he wanks himself. He releases his cock and Ivan reaches round to wank it as his dick is deep in Libor's ass. Moving to spoon Ivan's dick is back in that hot ass, fucking hard as Libor wanks himself. He feels the cock deep in his hole, pounding hard as he keeps wanking. Libor wanks hard as the dick keeps working his ass. He moans loudly as his cock throbs in his hand and then shoots the creamy cum in huge spurts, onto his right thigh. Ivan continues to fuck the hot hole as Libor milks himself dry. Then he pulls out and shoots his load too, onto Libor's big balls. He milks dry as well then he kisses Libor again and they go off to the shower to clean up.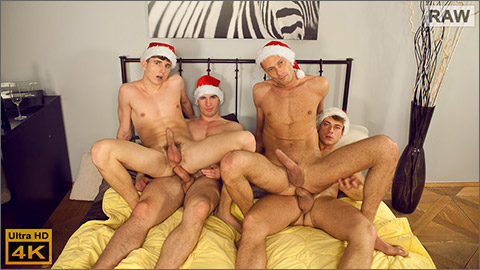 XMAS WANK PARTY 2018 RAW
Xmas Wank Party 2018 features Oleg Hubert, Jan Nurad, Libor Boucek and Roman Baren. In this second part we join the action as Jan is eating Oleg's ass and Libor is sucking on Roman's cock. Then Roman changes places with Libor and sits his tight hole down on the waiting cock . Jan sits on Oleg's thorbbing cock too and he and Roman ride up on the hard dicks. Those cocks stretch the hot holes as the guys both take it well. They moan loudly as the cocks work their asses.. Oleg thrusts hard into Jan's tight hole. Then Libor fucks hard into Roman's hole. Jan wanks himself as he takes the big cock in his hole. Roman's big cock flops around as he takes the cock in his ass. Libor grabs the dick and wanks it as he fucks his dick deep into the eager hole. He pounds that ass as hard as he can. Jan continues to ride Oleg's cock, turning his head to kiss him. Then they change partners and positions. Romas kneels and takes Oleg's big cock in his hole as Jan does the same fore Libor's cock. Libor's huge erection stretches Jan's hole as he fucks deep inside. Jan moans as his hole is stretched and fucked. Roman takes Oleg's cock so well as it pounds deep into his hole. Roman straightens up and kisses Oleg and then he lays on his back to get that dick in his hole again. He wanks his own cock as Oleg slams his dick in to the hot hole. He moans as he wanks himself hard as Oleg keeps up his hard fucking Jan wanks himself hard too as Libor's fat cock pounds his hole hard. Jan's moaning is so loud as he enjoys the big cock in his hole. Roman's dick soon shoots the creamy cum all over his hot body as Oleg fucks him hard.He milks himself dry as Oleg bangs his hole hard. Then Oleg pulls out and shoots his cum over Roman's body too. Libor and Jan kneel to the side of Roman, both wanking themselves to shoot their hot loads too. Libor's cock soon delivers the cum shooting it over Roman, with some going into his mouth too. Then Roman cums as well, dumping his load onto that hot body as well.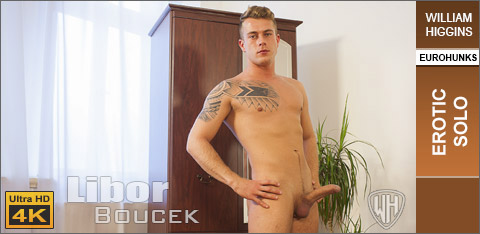 EROTIC SOLO: LIBOR BOUCEK
Libor Boucek is aged 23 and lives in Slovakia. This handsome, well-built str8 guy is a student who enjoys sports, fitness and soccer. He looks very good as he does his interview, laughing and smiling as he talks about his experiences and fantasies. A fantasy includes something with a guy, he says. Then he stands and starts to feel himself, slipping a hand under his tee shirt. Then he removes the tee shirt to reveal his sexy chest as he watches himself in the mirror. He reaches into his open jeans and gropes himself as he feels that hot body. Standing Libor pulls his big, hard, cock out of his jeans. That dick stands proud and he wanks it as he feels his sexy chest. His balls are tight at the base of his cock as he continues to wank himself, all the while watching his reflection. Then Libor drips some oil onto his big cock and rubs it in, and over his balls too. Movingn to the sofa he lays back and lifs his legs to show off his ass the his hot hole. He spreads his ass wide, pulling on that tight hole. He wanks his dick too as he shows off his ass. He stretches his hole wide as he pulls on it. Then he moves back to the mirror to wank is big cock as he watches himself. It is not long before his cock erupts, shooting streams of hot cum onto the mirror. That huge load runs down the mirror as Libor milks himself dry. Then he goes off to the shower to clean up.
CLICK HERE TO GO TO HIS WILLIAM HIGGINS BIO PAGE
CLICK HERE TO GO TO HIS STR8HELL BIO PAGE