Masqulin & CockyBoy & VideoBoys Gay Porn Star, Lev Ivankov
Years Active: 2015 – 2019
COCKYBOYS INFO:
Lev Ivankov is the tall, dark-haired, curious kind of bad boy that's always up for new experiences. He's got smooth, clear skin with just the right amount of muscles. Naturally, Lev falls comfortably into a submissive role — he loves giving good head and taking a hard dick, the type who loves to please his partner. You might call him a "twink" at just 19 years old, but Lev's got a lot of self confidence and is full of surprises. As our newest exclusive CockyBoy, we're excited he's using our platform to explore his sexuality and grow as a performer!

THE 4 DOORS – PART 2 – ROLE PLAY
Word of the underground 4-Doors sex club is slowly spreading. On a cold and snowy night, horny Lev Ivankov is intent on getting off. As he enters the club, he is presented with options. Exhibition… Submission.. but it's the Role-Playing door that most intrigues him. Inside, Collin Lust sits in a dark room behind a table playing Detective. Not interested in cooperating, Lev spits his water on Collin's face. The interview is over! Time to investigate the victim thoroughly.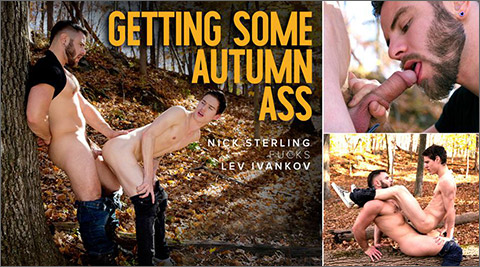 NICK STERLING FUCKS LEV IVANKOV
Meet our two newest CockyBoys: Lev Ivankov and Nick Sterling. Lev is the tall and thin type, with just the right amount of muscles to balance out his perfect physique. Being so new to the scene, Lev was nervous yet eager to get railed by our other new CockyBoy, Nick. Since Nick is a bit older, has a bigger build, scruffy beard, and thicker muscles, Lev was about to be broken in mercilessly!
   As their bodies met deep in the autumn woods, the grinding sounds of machinery off in the distance, the chemistry was instant. And their sexual energy was quite different from what you might expect around here — while Nick proved to be both extremely verbal and aggressive, Lev comfortably fit right into complete submission. Nick laid out everything he wanted Lev to do, from the kissing to the groping, and to the first time Lev's lips met Nick's cock.
   Nick forcefully skull-fucked Lev, telling him not to use his hands, before he bent him over against a tree and rimmed Lev's fresh hole. A short while later, Nick was pounding Lev doggy-style before pulling him up and holding him tightly to his body. He then brought Lev over to a fallen log, stripped of all his clothes and hammered him deep in missionary. Then Nick pulled Lev up to his lap so he could ride him, but Nick wanted to prove his full dominance. He picked Lev up, and with his strength alone, fucked him in the air, tossing him up and down with his cock slamming inside.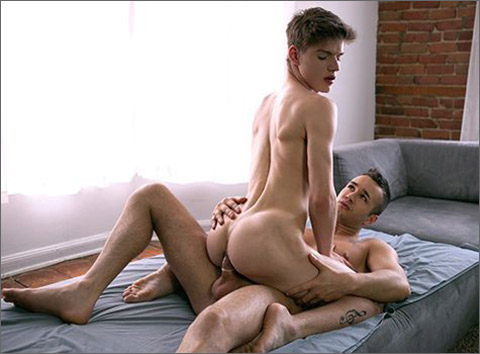 SONNY STEWART FUCKS LEV IVANKOV
If you liked the scene with Lev with Nick Sterling, then check out Lev's bottoming debut in this bonus update from Videoboys!
   As soon as Lev Ivankov appeared on the site, it was amazing how many of our Videoboys models, even ones we hadn't heard from in a long time, came out of the woodwork to ask to be in a duo with this boy. Everyone wanted their shot at Lev. But ultimately it had to be Lev's choice who would be his first partner. He wanted a sporty guy, a masculine guy, someone who would fuck him hard and feed him cum. He wanted a guy that was a couple of years older, confident and just a little bit rough.
   Sonny Stewart was exactly what Lev had in mind. And lucky for us the minute Sonny saw Lev's picture he gave us an enthusiastic yes before we could even ask the question. Sonny isn't usually into younger guys but Lev's beautiful face and incredible body just left Sonny drooling.
   From the moment they met, until the last drop of cum was spilled, the whole duo went down almost exactly as each of them had dreamed it would. Sonny had the most gorgeous twink of his life to toss around, fuck and feed. Lev got dominated just the way he has always wanted, with the hardest pounding of his life. But as much as his ass was begging for pleasure, it was Lev's oral fixation that he insisted on satisfying. After all the sucking and fucking what Liev really wanted and what Sonny graciously provided was a mouthful of cum.
CLICK HERE TO GO TO HIS MASQULIN DETAILS
CLICK HERE TO GO TO HIS COCKYBOYS DETAILS