American Gay Porn Star, Leon Lewis
Known Aliases: Leon @ Sean Cody
Years Active: 2012 – 2017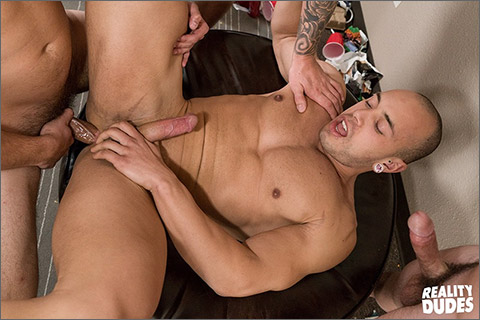 FUCK HIM UNTIL HE CUMS
Wanting to give a good show to their mates, these guys arenít shy about exploring each other and what they can do. Kissing, then blowing each other, until it becomes not just a show, but a full on gangbang. And youíll definitely want to see these hardcore and raw penetrations.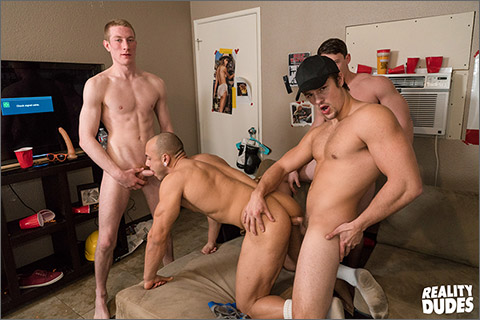 BEERBACK FUCK
A fun night of partying quickly turns into a bareback fuck-fest with our dudes going all out to satisfy their carnal urges. From power-bottoming their matesí massive cocks, to getting hardcore face-fucked, to even using beer bottles in strange and exciting new ways. Nothing is off limits.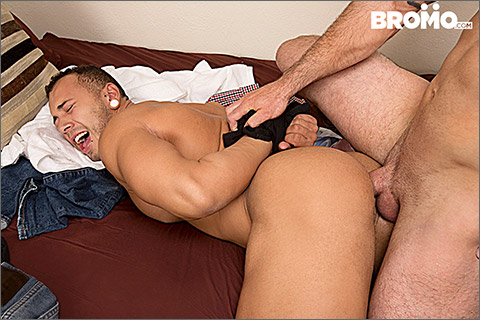 THE INTRUDER: Brad Powers fucks Leon Lewis
Leon Lewis must be asking "Where did my underwear go?", he only dropped them off a second ago. He soon gets his answer when he opens the closet to find a big piece of man meat in the form of Brad Powers' cock. Leon uses his muscular frame to finally reverse the tables on The Intruder, pinning him to the matress. Grinding together, Brad ties Leon's hands, and slides his huge cock in to Leons waiting ass.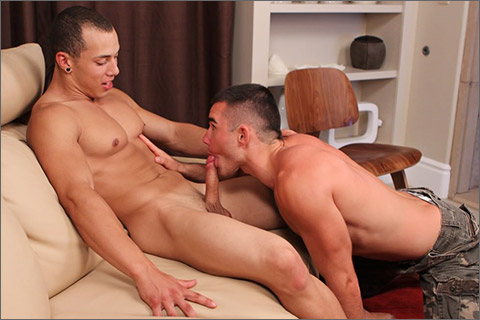 LEON & PHILLIP
"You're kind of quiet," I commented. Leon just kind of nodded and smiled.
      "He's big and shy!" Phillip said. "That's OK, because I'm going to take charge!"
   Leon laughed and nodded. I could tell Phillip was looking forward to this. He had a bulge in his pants already!
   Now one thing I can always count on with Phillip is that he is aggressive. He really likes to get in there.. wherever "there" happens to be.
   "I want to eat out your ass," he said to Leon without the slightest pause. Phillip pushed Leon's big, beefy legs up into the air so that his hole was wide open. Phillip teased it with his tongue for a bit, and then shoved his whole face in.
   "His butt is meaty!" Phillip said as he came up for air.
   From there he worked his way up to Leon's hard cock. Again, he teased with his tongue and then swallowed it whole. Leon tensed up for a second as his cock disappeared, but then relaxed back and really seemed to enjoy it.
   I was not sure who was having more fun. Phillip was licking, sucking, and swallowing Leon's dick and balls with a big smile on his face!
   Leon was dripping with sweat as he came all over Phillip's face. It was a big load and Leon was spent afterward.
   "Yum," Phillip said as he licked the last bit of cum off his lips. "That was fun!"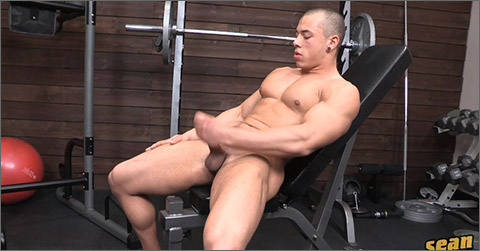 LEON
At first glance, Leon comes across as kind of a hard ass. But once he speaks and smiles you realize you can't judge a book by its cover.
   "I guess I'm a bit of a flirt," he said. "First I reel them in with my smile, bait them with my charming personality, and then finish them off with a little bit of French. Works every time!"
   He's fluent in French and he likes to use that to his advantage.
   "Sometimes I make up random things and say them in French. They may think I'm whispering sweet nothings, but usually I'm just spewing random crap!"
   Leon is only 18 years old, and surprisingly, he just graduated from high school. In the last year he's really buffed up. He's very proud of his body and doesn't mind showing it off.
   "I've just recently started doing body builder competitions."
   "How's that going for you?"
   "Well, it's kind hilarious wearing those 'banana hammocks' on stage! Just letting your junk hang out for all to see… it's exciting."
   His 'junk' is really nice too… thick and uncut.
   "I used to wish I was cut when I was younger," he said.
   "Do you still wish that?"
   "Hell no! Lose all that sensation. No way!"
REALITY DUDES NETWORK
BROMO
SEAN CODY