Hung Handsome Lucas Entertainment Gay Porn Star, Leo Alexander
Years Active: 2015
TWITTER @leoalexanderxxx
LUCAS ENTERTAINMENT INFO:
Height: 5'10
Weight: 160 lbs
Dick Size: 11″
Position: Versatile
Tennis, kayaking, hanging out on the beach — these are some of Leo Alexander's favorite hobbies when he's not filming porn. But when he is filming porn, it's all about fucking bareback. Leo made the point clear to us from the beginning that he's versatile: he loves feeling a raw cock buried in his ass just as much as he enjoys sodomizing a bottom with all 12 (yes, I said 12) inches of his own cock! And on that note, when I create these model pages I have a drop-down menu where I select a given model's penis size, but it's currently programed up to only 11 inches — since Leo broke that scale, we will have to do some re-programming. Leo is also a proud member of the Mile High Club, as the wildest place he had sex was in an airplane bathroom. He didn't elaborate on what exactly happened in those oh-so cramped quarters, but it's fun to imagine he was fucking the dude he was with. Imagine trying to stifle those gasps as the dude felt all of the penetration from Leo's soon-to-be-legendary meat!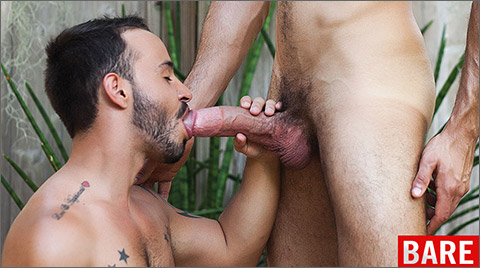 RAW LATIN HEAT: CHALLENGE ACCEPTED… Rafael Lords Takes Leo Alexander's Monster Cock
Challenge accepted indeed — Rafael Lords is a little guy, and Leo Alexander presents him with an oh-so very big dick. You really have to admire Rafael's gusto for not only handling Leo's meat, but also enjoying all of the work he puts into his encounter. Because his mouth barely fits around it, Rafael uses both oral and hand techniques while working to get Leo Alexander hard. And to what end, you might ask' Skip ahead to 24:12 to see for yourself.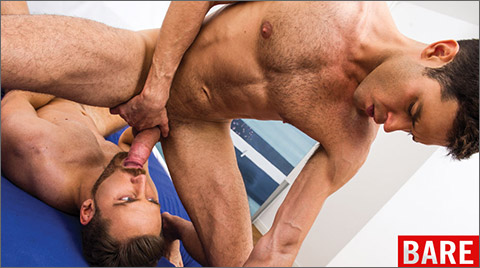 PLOWING & SEEDING: Leo Alexander Deep-Dicks Logan Moore Bareback
Logan Moore knows what he wants, and it's Leo Alexander's cock. Not even 30 seconds into the beginning of the scene and he moves his hand over to Leo's meat while they're making out. It's obvious he's sizing it up by touch, trying to figure out how exactly he's going to handle it. After all, the length and girth of Leo Alexander's penis has become a Lucas Entertainment legend in a very short amount of time. But how exactly does Logan make out taking Leo's dick' Well, after touch he measures it with his mouth… and realizes it tastes as good as it looks — you can see some of this action at the 2:45 timestamp. Logan eventually summons the courage for a bareback ass pounding, and at 16:40 you'll hear his moans, which tell you all you need to know!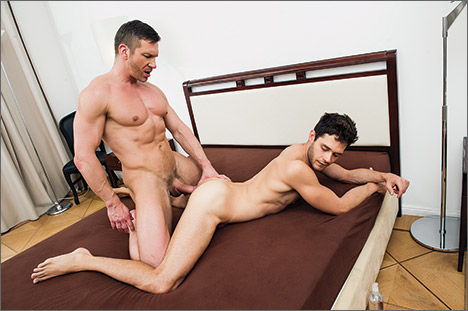 DREW SEBASTIAN'S RAW SEDUCTION
SCENE 2: Leo Alexander's Debut Versatile Fuck With Tomas Brand
It's time to see Leo Alexander in action: the new Lucas Entertainment exclusive model is here, and everyone at the studio couldn't be more excited for his first scene! Tomas Brand (one of the sexiest porn stars at work in the industry today) quickly found himself enamored with the fresh meat, and it took little thought to pair the two of them together. And the resulting scene is so hot it's dripping with raw cum. I have a sweet spot for intergenerational play like this, and Leo Alexander and Tomas Brand are just so fucking good looking that it's made all the better. Leo, if you didn't know already, is packing 12 inches between his legs, and at 6:37 Tomas sits right down on it and starts riding. The smirk on Leo's face tells us all that he likes the power dynamic going on… and the look on Tomas' face at 15:30 tells us that he wants Leo to give it to him harder! But Leo enjoys bottoming too, which is more than evident at 24:50 when you consider the adorable smile on his face as Tomas fucks him raw!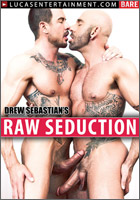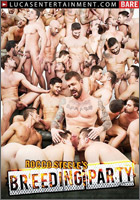 DREW SEBASTIAN'S RAW SEDUCTION
ROCCO STEELE'S BREEDING PARTY
BAREBACK CUM SWAPPERS
RAW LATIN HEAT
CLICK HERE TO GO TO HIS LUCAS ENTERTAINMENT DETAILS