William Higgins Sweet Looking Kid with a Big Dick Czech Gay Porn Star, Laco Meido
Years Active: 2015
WILLIAM HIGGINS INFO:
Age: 21
Home Town: Mlekojedy
Height: 183cm/6'0″
Weight: 72kg/158.4lb
Foot Size: EU43/US8.7/UK8.2
Penis Size: 16cm/6.3″
Profession/Student of: Worker
Hobbies: Traveling
Favorite Sports: Tennis
Active Sports: Jogging
Movie/Music/Sport Stars: Britney Spears
Visited Coutries: Croatia
Want to Visit Coutries: Poland
Dream of My Life: I don't know.
Zodiac Sign: Aquarius (January 20 – February 18)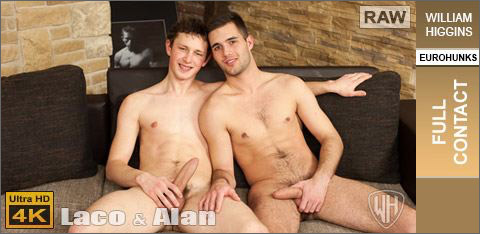 FULL CONTACT: LACO MEIDO & ALAN CARLY RAW
Laco Meido and Alan Carly are having a great time on the sofa. Laco is laying on top on Alan as they kiss. Alan is feeling his buddy's ass and then Laco moves down Alan's body, freeing a big hard cock from its' underwear. He starts to kiss and lick that cock and then takes it in his mouth. He pulls the underwear down further to give better access as he really works on Alan's big dick. Then, having done a great job of sucking Laco moves onto his knees for Alan to suck him too. Laco's cock is rock hard as it fucks Alan's mouth. As he sucks Alan wanks on his own throbbing cock. Then Laco lays on the sofa for Alan to suck him some more. That cock is so hard and needs more than sucking. So Laco is soon behind Alan, fucking his hot ass deep and hard. Alan moans as the cock pounds his hot hole. He takes it real good and is soon sitting on the dick riding it. That cock really stretches Alan's ass and he wanks himself as he keeps riding that thick shaft. He loves how it feels to have Laco's dick deep inside him, and he soon blows a big load of cum as rides the dick. Then Alan lays on his side for Laco to fuck him some more. He takes that cock so well as it slides in and out of his hot ass. Laco is soon ready to cum too and pulls out to dump his cum over Alan's ass. Laco milks his cock dry of cum and then slide it back into Alan's hole, leaning over to kiss him before they go off to the shower to clean up.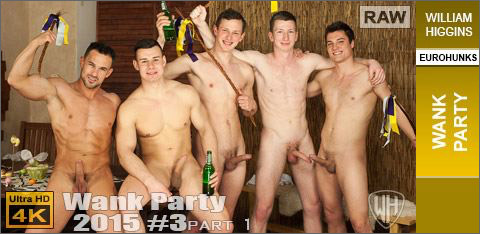 WANK PARTY 2015 RAW #3
For our EASTER WANK PARTY 2015 we lined up a great cast, Jirka Mendez, Martin Porter, Tony Mark, Laco Meido and Paul Hunter. We find Martin and Jirka waiting for some beer. It is delivered by Paul, who removes the caps from the bottle and hands a bottle to each of the others. It seems they have lost their friends who are out looking for girls to hit with their birch sticks, an Easter tradition. Then the others, Laco and Tony arrive. Paul gives each of the new arrivals a beer too. It seems they didn't have much luck with the girls. To make up for it they decide to use Laco's ass instead. Then strip him from the waist down and start to flick their sticks over his sexy ass. Then they release him and go back to drinking beer. Jirka and Paul start to rub Laco, soothing him after his ass was made sore. As he rubs Laco's chest Jirka leans over and kisses him. Martin moves over to Tony and starts to rub his legs, as he watches the others. Jirka licks on Laco's nipples as a bare-chested Paul rubs that sexy body. They remove Laco's tee shirt and he starts to rub Paul's leg as Jirka takes off his tee shirt. Martin and Tony kiss and start to get naked as Paul reaches over to Jirka to rub his chest and groin. Tony has Martin'as jeans open and reaches in to grope him. Meanwhile Paul kisses Laco as things start to really heat up. Tony loves Martin's big chest and starts kissing on it as Jirka has Laco naked and sucks on his cock. That cock is rock hard as Jirka sucks it, and Martin's is throbbing too with Tony's mouth wrapped around it. Laco kisses Paul as Jirka keeps on sucking and Tony does a great job on Martin's rock hard dick. Then Paul moves to join Jirka, sharing Laco's throbbing cock. They kiss too and takes turns sucking. Then Tony is naked and hard and Martin shows that he loves to suck cock too. His handsome face encloses Tony's beautiful cock, working up and down on it. Paul does the same to Tony with Jirka encouraging him. Then Jirka and Paul get naked too, their cocks all ready for action. Paul moves to stand in front of Martin who takes that hot cock in his mouth. Laco sucks on Jirks as Tony takes a turns a turn on Paul's cock. Then Martin sucks again as Tony switches to suck Jirka. they all take turns on Jirka's and Paul's cocks and then start some rimming. Martin lays on his back with Tony tonguing his hot hot. Jirka lays on top of Paul, both their asses available for Laco to rim. His pierced tongue laps as each hot. Martin loves Tony's hot tongue and then enjoys a finger joining it to work his hole, as Laco continues to work on the other two guys. That has set things up so well for the final part.
EROTIC SOLO: LACO MEIDO
FULL CONTACT: LACO MEIDO & ALAN CARLY RAW
FULL CONTACT: JIRKY SYTY & LACO MEIDO – SCREEN TEST RAW
WANK PARTY 2015 RAW #3
WANK PARTY 2015 RAW #2
MASSAGE: LACO MEIDO
CLICK HERE TO GO TO HIS WILLIAM HIGGINS BIO PAGE