American Twink Gay Porn Star & Power Bottom, Kyler Ash
Years Active: 2011 – 2018
TWITTER @KylerXAsh
HELIX STUDIOS INFO:
Age: 19
Height: 5'11
Weight: 135
Waist: 29
Ethnicity: American
Hair Color: Blond
Eye Color: Blue
Cock Size: 7
Orientation: Gay
Role: Versatile
Meet Kyler Ash an 19 year old from beautiful New York! He loves to play with cute boys & go out to the clubs. He hopes to see you out! He'll save you a seat on my face!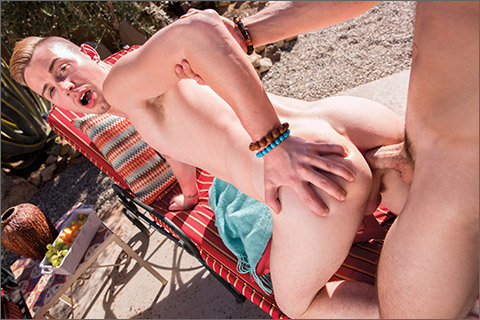 MOJAVE HEAT: Carter Michaels fucks Kyler Ash
Hot jock Kyler Ash meets up with hunky Carter Michaels for some fun in the hot desert heat. Without words, the two studs lock lips and make out in the sun. Carter wants to cut to the chase and gets on his knees to discover what's behind Kyler's bulging jeans. After working the hung young jock with his mouth, Carter sits back on his chair and lets Kyler explore his body. Kyler can hardly contain himself when Carter's massive manhood pops out from behind his zipper. He doesn't waste a second getting it into his mouth while working Carter's smooth hole with his fingers at the same time. Kyler rims the horny stud, getting himself worked up in the process and when both guys are ready to go, Kyler slowly slides his hard dick into Carter's eager hole. Kyler pumps away, keeping a steady pace between Carter's spread legs. Kyler craves more and bends Carter over to fuck him from behind. The toned stud has his way with Carter and builds to a grand finale that leaves Carter's smooth ass sticky and covered with Kyler's load.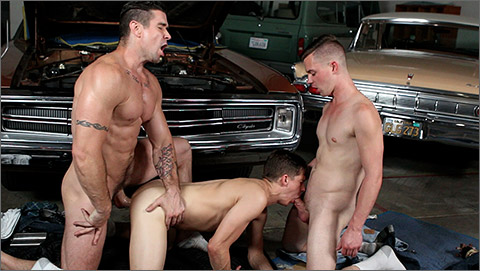 GREASERS: Kyler Ash & Kory Houston flip-fuck with help from Trenton Ducati
Horned up grease monkeys Kyler Ash and Kory Houston are hitting the hooch hard and soon they turn their attention to each other's hard cocks. Right in the middle of the throat-fucking, ass-pounding action the young greasers are joined by boss daddy Trenton Ducati who shows these punks the ins and outs of a hot flip-flop-fuck three way!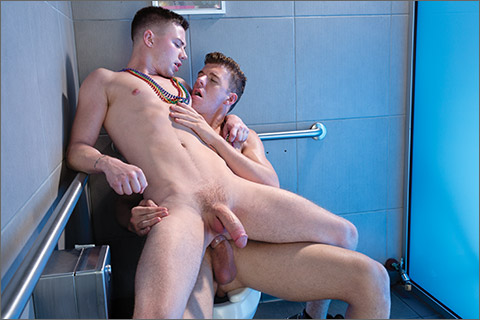 WILD WEEKEND PART 2: JJ Knight fucks Kyle Ash
In the Castro, the bars are slammed with Pride party-goers, and the scene at Beaux is filled with hot, gorgeous guys raring to fuck. JJ Knight gets lucky right away with fellow Pride-goer Kyle Ash. They duck into the bathroom stall and start making out as the music pounds away. As Kyle starts blowing JJ's monster meat, JJ's friend and roommate Wesley Woods sneaks a peek over the stall wall, but JJ and Kyle are having too much fun to notice Wesley. JJ starts thrusting his hips as Kyle slurps on JJ's massive tool. JJ has always been an ass man, and Kyle's perfect butt is too delicious to resist. JJ parts Kyle's cheeks and dives in with his tongue, wetting Kyle's asshole in preparation for an intense fucking. With Kyle's hole lubed and ready, JJ slides in his hard dick. Gasping, Kyle feels his hole stretch wide to accommodate JJ's super thick girth. Picking up speed, JJ pounds Kyle deeper and harder, and Kyle loves every minute of it. They move to a sit-fuck, and Kyle's cock bounces in the air as he rides JJ's meat. Grabbing his dick, Kyle jerks out a huge load while bucking up and down on JJ's meat, then kneels on the ground and gets JJ's cum blasted right in his face.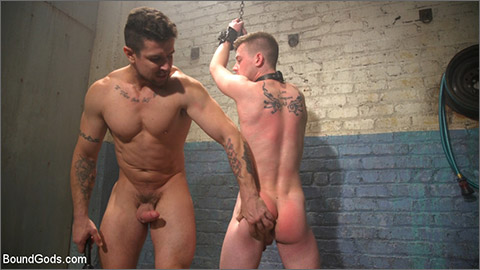 PERVERTED BUTCHER TORMENTS AND ABUSES HIS HANDSOME CAPTIVE
Kyler Ash awakens to find himself tied to a meat hook in Trenton Ducati's lair. Trenton comes towards his new sex slave to see what kind of meat he's packing. Trenton lets loose Kyler's thick cock, and slides it down his throat. Kyler sways in the air, begging to cum. Trenton instead takes Kyler off the meathook, and slams him onto a pile of meat. Trenton pulls out his throbbing dick, and rams it up Kyler's tight hole. Trenton leaves his mew meat locked in a cage for a while, before taking him out for a quick walk using a chain leash and zapper as incentive. Trenton leads his pet over to the meat cleansing station, where he makes Kyler lick his cock clean before chaining him to the ceiling and brutally flogging him. Trenton's flogger freshly tenderizes Kyler. Kyler is packed in a Maxcita sleep sack, while electricity is sent through his cock and nipples. The electric current hardens Kyler's cock while the rest of his body tingles with anticipation. Trenton decides it is time to open up Kyler's asshole, and sticks an electrified butt plug in to soften the little hole up. Kyler's ass is finally ready for Trenton's big cock. Trenton fucks the cum out of Kyler, and then pulls out his cock, and showers his hot load all over Kyler's face.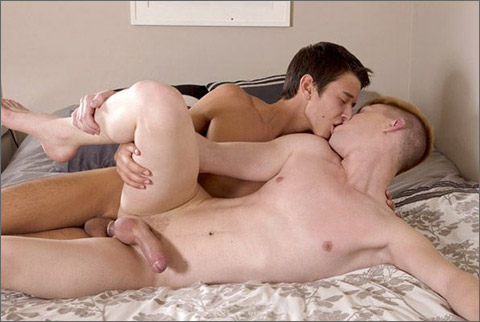 HOT POOL BOY'S FUCK ROUGHLY
Super sexy twink Kyler Ash is laying out by the pool when out comes toned jock Evan Parker but the temptation is too much and they quickly move to the bedroom. Evan starts things off on his knees sucking and slurping Kyler's pretty cock. Like a good slut Kyler is all too willing to return the favor and hungrily swallows up Evan's throbbing member. This does not last long and Evan is quickly on top of Kyler with his rock hard cock stretching out Kyler's boy pussy.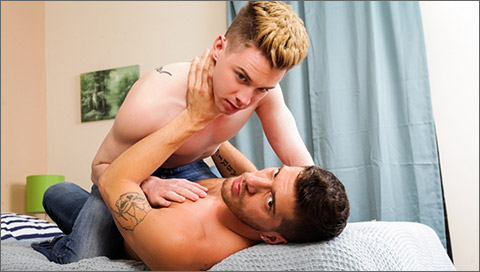 HIS DAUGHTER'S BOYFRIEND: Ty Roderick fucks Kyler Ash
Connor Maguire is becoming very close with Nick Capra's daughter, Siri; until she finds out that her boyfriend was seen leaving a gay bar. Nick comforts his concerned daughter, while across town Connor gets a phone call from his friend Ty Roderick. Ty called because he wanted to tell his friend about his latest hook up with a hot guy from the bar named Kyler Ash. The guys barely said two words to each other before they found themselves making out in the bedroom. Kyler can't wait to put his hands all over Ty, kissing his nipples and his trimmed chest. Both boys quickly strip the rest of their clothes off and Kyler props himself up to sit on Ty's rock-hard penis. Ty flips him around to get on top, and chokes the twink lightly as Kyler encourages him to thrust harder. Ty finishes by cumming in Kyler's mouth while getting his balls licked, and Kyler jerks himself to completion. Back on the phone call, Ty sends Connor a text with Kyler's number on it to give him a call, if he ever felt inclined.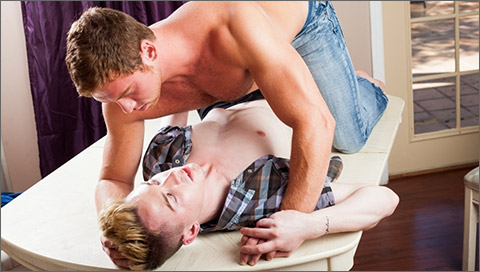 HIS DAUGHTER'S BOYFRIEND: Connor Maguire fucks Kyler Ash
Connor Maguire is not able to get a hold of his girlfriend, Siri. He looks at his phone and sees the number for the cute guy he saw at the gay bar the other day, Kyler Ash. Connor gives in to his desire for man meat, and calls the twink over. Moments later, they're shirtless in the bedroom, making out. Connor takes Kyler's pants off and rubs his bulge through his jockstrap. Then, he removes the jockstrap to suck his dick and lick his shaved balls. Kyler lays out on the bed and sucks Connor upside down, encouraging him to slide his dick further down his throat until Connor is dripping precum. Kyler looks back as Connor enters him and starts fucking him doggy style on the bed. Then Connor fucks him on his side and on his back until the mattress starts squeaking. Connor's ass cheeks clench until he's ready to explode all over the mess Tyler made on himself.
FALCON STUDIOS
NAKEDSWORD
KINK MEN
ICONMALE
HELIX STUDIOS
NEXT DOOR STUDIOS
GIO CARUSO'S BAIT BUDDIES
JAKE CRUISE'S COCK SURE MEN
SUBURBAN BOYS
GAY ROOM
BOY CRUSH / BARE TWINKS
CLICK HERE TO GO TO HIS HELIX STUDIOS DETAILS
VIDEO ON-DEMAND: Kyler Ash @ AEBN SMUTJUNKIES THEATER
DVDs & ON-DEMAND: Kyler Ash @ TLA VIDEO