Sexy Randy Blue American Gay Porn Star, Kurtis Wolfe
Known Aliases: Kurt Wolfe
Years Active: 2013 – 2017
TWITTER @KurtisWolfe
RANDY BLUE INFO:
Kurtis has a killer body and a sexy sneer that makes you know he is ready to have some fun. He also has one of the most infectious laughs you will will ever hear. His body was slamming, so we decided to let him show it off in the gym. After getting a good pump on, he started to strip down. He was left in just a jock strap with his bulging cock trying to push its way out. He turned around, showing off his tight little bubble butt. He started to spread his cheeks and rubbed his fingers across his quivering hole. He started to moan. This was getting to be too much for him. His dick needed to be set free. He turned around, pulled out his long hard shaft and started to stroke it. He then sat down on the ground and started to jerk himself off. He lifted his legs in the air so he could get access to his ass at the same time. He licked his finger and started to gently finger his hole as he worked his hard pud. He wanted to cum, so he sat up on the work out bench and started to vigorously work his meat. Finally he shot all over the gym floor. This boy is hard and ready to go. And he cannot wait for his first taste of on screen man on man action.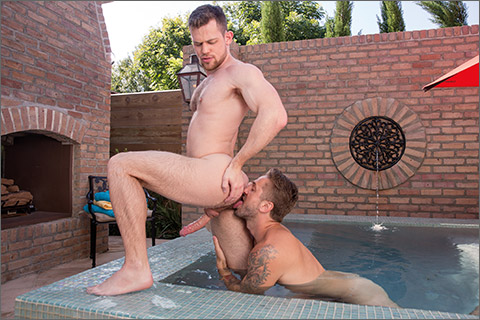 LOVE & LUST IN NEW ORLEANS: Wesley Woods & Kurtis Wolf (all oral)
It's another hot day in the South and the weather isn't the only thing steaming up the place. Wesley Woods and Kurtis Wolf are cooling off in the pool and making out when Wesley senses that Kurtis is hungry for some dick. Wesley stands up and lets the stud have what he wants when he opens his mouth wide and accepts Wesley in his mouth. Kurtis works his magic and gets Wesley hard as a rock before he decides he wants Wesley's tongue deep inside of him. Kurtis bends over and offers up his tight hairy ass for Wesley to do with as he pleases. Wesley gets to work licking every bit of the stud's welcoming ass as Kurtis' eyes roll to the back of his head. Wesley is hungry for dick and flips Kurtis over to suck the hairy jock. Wesley's mouth feels amazing to Kurtis and he blows all over Wesley's beard and in his mouth. Kurtis is ready to taste what Wesley has to offer and gets back down between his legs. After working Wesley's dick one final time, the stud blasts his cream all over Kurtis' well-worked tongue.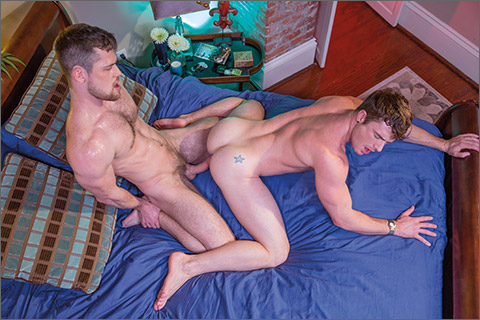 LOVE & LUST IN NEW ORLEANS: Kurtis Wolfe fucks Brent Corrigan
It's another crazy night in New Orleans. The crowds are out, the bars are full, and everyone is ready for a good time – including Brent Corrigan and Kurtis Wolfe. The two studs don't waste any time getting back to their room and shedding all their clothes. Before Brent's underwear can hit the floor, Kurtis has his mouth wrapped around the jock's hard dick. After sampling what Brent has to offer, Kurtis spreads Brent's legs wide open and goes in to taste his smooth, tight hole. Kurtis has a love of servicing men and doesn't miss an inch of Brent's shaft, balls and ass. Brent doesn't want to be left out of the taste-testing action and gets Kurtis hard by offering up his warm, wet mouth. Kurtis is so turned on by the whole experience that he can barely contain himself. He gets Brent's butt lubed up and then slips his giant dick deep inside the moaning stud. Brent loves the feeling of being stretched and rides Kurtis, taking the hard dick as deep inside of him as it will possibly go. The two hung jocks switch up their positions, and after a sustained pounding, Brent announces his intent to blow and lets it rip. After seeing Brent shoot, Kurtis is ready to join the ranks and unleash on Brent. He gets the stud into position and releases all of his inhibitions over Brent's perfect bubble butt.
RANDY BLUE LIVE CHAT & PRIVATE SHOWS
CLICK HERE TO GO TO HIS RANDY BLUE DETAILS