British Bear Gay Porn Star, Kris Irons
Years Active: 2014 – 2016
TWITTER @kris_irons
BUTCH DIXON INFO:
They invented homosexuality in Greece, so they must be pretty good at it. Kris Irons pops his porno cherry at Butch Dixon, showing off his natural sexy, hairy body and heavy, curved Pspot stabbing, uncut dick built to drive guys insane and have them howling as they squirt their loads.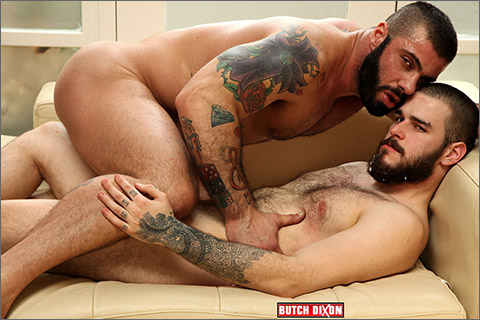 ALEX MARTE FUCKS KRIS IRONS
Now thats a big, burly bugger, Daddy Alex Marte makes porno new boy, Kris Irons father-figure-fantasy come true as these two, hairy studs get it on on a sofa. No Blah Blah just straight down to horny, unrestrained Man-on-Man action. Kris is putting on a brave face, as much as he wants that uncut length inside him thats a fat piece of meat for such a tight hole. But he perseveres and once Alex Marte has spit lubed his tight fuck-hole and gently pressed that fat dick inside him Kris is riding that pole like a pro. And when we asked Kris where he wanted Alex's steaming load he begged for it in the face and GOT IT.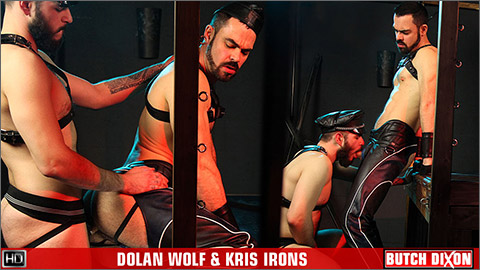 KRIS IRONS FUCKS DOLAN WOLF
Dolan Wolf is on his back on the fuck-table, with his hairy hole, lubed up and ready for new-cummer – Kris Irons. The two horny, hairy, big dicked guys are soon sweating up a storm. Dolan can't wait to get that massive, curved, Greek dick up his hole. You know what they say about the Greeks – they invented homosexuality – and by the looks of Kris they're getting damn good at it. Dolan offers his muscular rump in every way possible, aching for the full length of girthy gristle, before he squirts out his thick load all over himself.