Horse Hung Next Door Ebony Gay Porn Star, Krave Moore
Years Active: 2014 – 2016
TWITTER @KraveMoore_XXX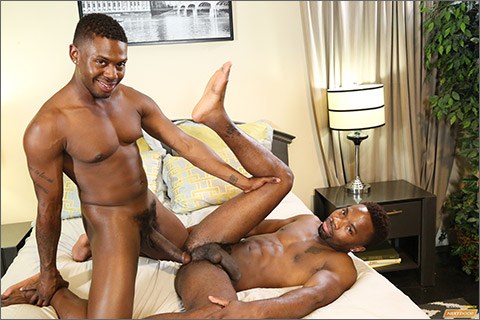 SUGAR BEFORE BED
Bam Bam loves getting naughty in the sack before bedtime, but his REAL-LIFE boyfriend, Krave Moore, is often too tired to fool around after a long day at the office. But Bam knows that he can usually coax his handsome beau into engaging in some sexy action…with a little work, of course!
   As Krave lays with his eyes closed, telling Bam to knock it off and go to sleep, Bam gently kisses his neck. He knows this spot usually melts Krave into acquiescence. Slowly, Bam works his way downward, Krave's protests wilting. He reaches the cock to find it already very stiff. Bam carefully wraps his wet lips around the throbbing dick and begins sucking and bobbing his head. By this time, Krave has accepted it. Bam can feel his lover enjoying the warm blowjob. He brings his head up and two kiss passionately. Their hard cocks rub together as they make out.
   They move into a 69 position on the bed, where Bam continues enjoying Krave's enormous erection, and Krave sticks his tongue deep into Bam's sweet hole. Then Bam lays on his back while Krave slurps his fat dick. The feeling of Bam's strong boner in his mouth makes Krave's asshole yearn to be fucked, so he climbs atop his boyfriend, eases his large, throbbing cock into his ass, and begins bouncing, gradually picking up the pace. They work up to a hard, intense pounding before switching things up so Bam can get plowed by Krave's incredibly huge cock. From there, they let their passions permeate every bit of their beings, allowing natural, instinctual desire to take over as they switch and flip flop between positions.
   Join these true-life lovers on an amazing erotic adventure, all in the privacy of their own shared bedroom.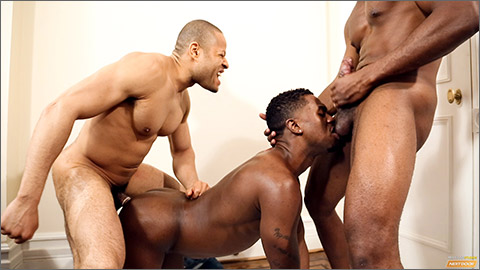 PLAYING BONES
What a sweet treat for all you strip dominoes lovers. The game of 'bones' is played among friends by taking turns positioning dominoes together to accumulate points, based on the rules. Today, Krave Moore has invited over two friends to have a little fun. But Rex Cobra and Andre Donovan don't know yet that Krave has another kind of 'bones' in mind!
   When Rex brings out the vodka, the guys decide to play strip dominoes, with shots to boot. The first guy peeling his shirt off is Krave. Not too long after, Rex and Donovan are pulling their pants down and showing off their gradually swelling cocks. Some horseplay ensues, and Krave is eventually on his knees, enjoying both hard dicks at once. Since Krave had the most points in the game, he gets to bottom this time. Krave is a real cock-hungry boner hound and loves being in the middle of the action.
   After slobbing on both knobs for a while, he bends over so Donovan can get some nice access to his ass. While Donovan enjoys tasting Krave's tender hole, Krave continues slurping Rex's fat, swollen cock. Then they switch things around a bit so Rex can slide his big dick into Krave's ass. He works his large meat in and builds to a good, solid steady fucking, the proper kind Krave likes. This gets Donovan eager to slam Krave's tight end, so they switch things around.
   Join this friendly round of strip dominoes that turns into a hot and wild fuck party before the game's even over!
NEXT DOOR WORLD
TREASURE ISLAND MEDIA
LURE OF THE MASSEUR
BIRTHDAY WAKE UP
MAX SOHL'S BONER