Hung Hairy Blond SpunkWorthy Amateur Ginger Military Man, Koury
Years Active: 2014 – 2015
SPUNK WORTHY INFO:
Age: 19
Height: 5′ 9″
Weight: 165 lbs
Hair: Blond
Eyes: Blue/Grey
Shoe: 10 1/2
Cock: 8″ x 6″ (cut)
Orientation: Straight
"Surprise" seemed to the word of the week when Koury first showed up. It was Christmas-come-early in my book. A hung and hairy present!
   To boot, Koury seems to have some blurry boundaries around being "str8" and that, as you know, will certainly mean we'll be seeing more of him.
   Bon apetit.
Tags: Hung, Hairy, Blond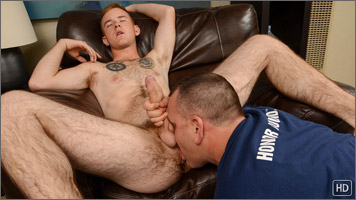 BLOWING KOURY
Now that Koury has whetted his appetite with his long-time dream of doing porn, he contacted me about coming back for a BJ. If you've been following along, you've probably noticed that Koury prefers a good dick sucking to a handjob (or even fucking, he mentioned off-camera). And since most of the girls he hooks up with are reluctant to try to deep throat his 8-incher, guess who's become his "go-to guy" when Koury gets horny? (wink)
   Koury has been expanding his sexual repertoire since his first shoot, too. For a guy who didn't like his ass played with at first, he seems to have taken a 180. After getting his cock hard with my mouth, I pushed Koury's legs back and buried my tongue in his hole, causing him to grab my head and push it in deeper.
   It was definitely a challenge, but taking Koury's dick down to the base became one of the goals of the day. And Koury might have been more determined than I was to force it down my throat. He might look like an innocent guy, but when it comes to sex he wasn't going to let a little gagging slow things down!
   Getting Koury to cum is all about the rhythm. Once we found it, I opened wide, wrapped my lips around the shaft and let him go town face fucking me. Without much notice, Koury let out a gasp as cum sprayed all over.
CLICK HERE TO GO TO HIS SPUNK WORTHY BIO PAGE