Handsome Hung Black American Gay Porn Star, Jason Vario / Kiern Duecan / Tyson Vario
Known Aliases: Kiern Duecan, Tyson Vario
Years Active: 2011 – 2018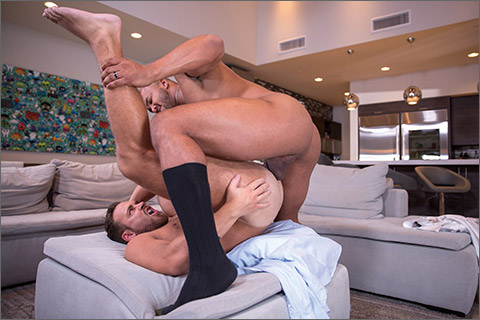 HUNGRY FOR MOORE: Jason Vario fucks Logan Moore
Logan Moore is whipping up a surprise dessert in the kitchen when Jason Vario comes home from a long day at work. Jason loves that Logan is so thoughtful and gives him a kiss that quickly leads to Jason unbuttoning his shirt and pants. Logan can see that Jason is ready for action and gets down to his knees to help Jason relax from a long day at work. Jason wants a taste of Logan's succulent ass so he bends Logan over the kitchen counter. Jason takes some of Logan's dessert and spreads it on Logan's hole. Logan loves the sensation of Jason's tongue eating his sweet hole. Logan is ready for Jason's swollen dick and takes off the rest of his clothes to invite Jason inside him. Jason slips easily into Logan's willing hole and pumps him deep, giving the horny stud exactly what he wants and needs. Logan is loving every thrust from Jason's big cock and turns over on his back to give Jason full leverage on his prostate. That's all it takes for Logan to get his relief and with Jason still inside of him, he unloads thick ropes on his own panting body. Jason is about to bust and pulls out to spill his load onto Logan. With Logan covered in cum, Jason bends down to seal their union with a kiss.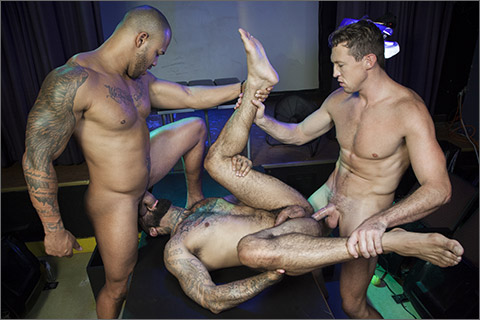 MAKING RENT: Jason Vario & Pierce Paris spit-roast Rikk York; Jason Vario fucks Pierce Paris
Rikk York is having one of those days. He's broke, rent is due and he's fucked. Desperate for cash, he picks up the local paper to skim the classified ads and comes across "production assistant needed for gay porn shoot". Why not? When he shows up to the Nob Hill Adult Theatre, he's greeted by the director and gay porn stars Pierce Paris and Jason Vario, who are super horny but worried they're going to have to cancel the shoot because of a no-show. No scene = no pay! Rikk flashes his bubble butt and 6-pack abs and offers to be the replacement. The horse-hung superstars approve and within minutes he's got 2 dicks in his ass and choking on man meat. The Who says Making Rent can't be a load-full of fun?!?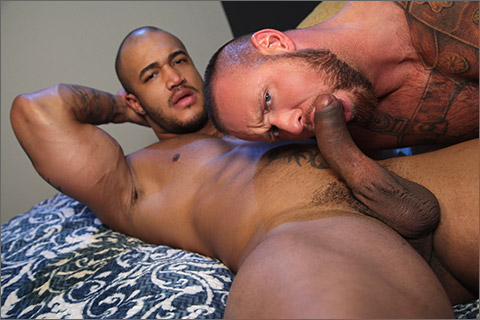 THE LAYOVER: Jason Vario fucks Michael Roman
Our jet-setting playboys are here to tackle the question on every horny traveler's mind: What should I do during my layover? You can bet Mickey Taylor and his friends aren't browsing duty free, reading a book, or taking a nap between flights. From Vegas to Los Angeles to Puerto Vallarta these young, hung, full of cum studs show you how they spend their temporary downtime in The Layover!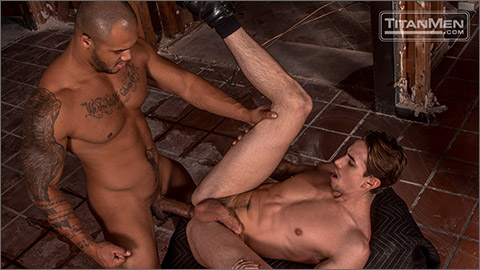 BOOM: Jason Vario fucks Jack Hunter
Catching Jack fresh from his fuck, Jason Vario asks: "Want some more?" He frees his huge meat, a spit strand connecting it to Jack's hungry mouth. "Choke on that," moans Jason as Jack gulps it up, spit dripping from his chin. "Let's see what you got," says Jason, marveling as Jack drops his jockstrap, "Jesus, big as I am!" He sucks him back, his nose planted in Jack's pubes. He turns Jack around and eats him, then slams him fast and hard from behind. Jack sits on it, his own dick smacking Jason's quad. Jason strokes the bottom as he rides, then gets him on his back. Jack squeezes out a big loadóthen gets a massive facial, nursing on Jason's cock after they kiss.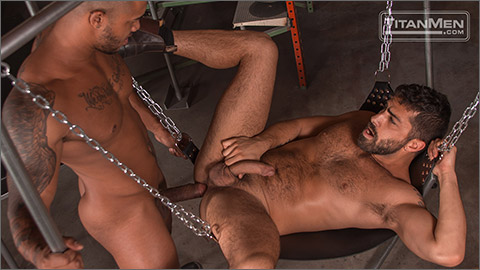 SLING: Jason Vario fucks Adam Ramzi
Adam Ramzi has a package for warehouse stud Jason Vario, who tells the deliveryman that they make play gear. "Like for playgrounds?" asks Adam. "No," laughs Jason, leading him to a sling. "Think a little more adult." Jason deep throats Adam's uncut cock, which bursts out of his uniform. Adam bends over for a kiss, beating the sucker's pecs with his dick. Jason slides off his overalls to release his monster, Adam gasping for breath as he worships it. Jason whips it on the sucker's face, Adam slapping Jason's huge pecs. Adam sits on a rim seat, their cocks rock hard as Jason tongues the quivering stud's hole. Adam sucks Jason as he gets eaten, then gets on all fours. Jason wraps his arm around the bottom, who grips it as he gets plowed ("It's so fucking big!"). Adam straddles the sling as he gets it doggie style, then gets on his back — his cock bouncing as Jason thrusts inside him. Jason jacks Adam's load out, then spurts on the bottom's beard.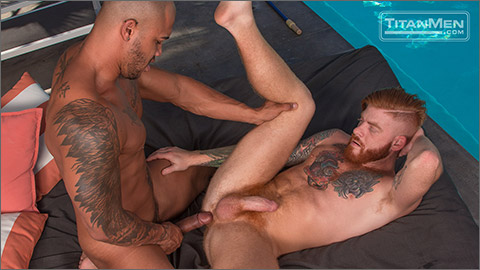 POOL SERVICE: Jason Vario fucks Bennett Anthony
Sunbather Jason Vario rolls over, his uncut throbber attracting the attention of pool man Bennett Anthony—who darts over to gulp up the muscle man's meat, barking "Woof!" as he comes up for air. Jason grabs the sub's ass and grinds his crank on it, then feeds him again before munching his hole. Jason sucks him back—his nose disappearing into Bennett's bushy fire crotch. The moaning bottom gets on all fours, reaching back for a kiss as he gets pounded from behind ("Fuck me!")—then gets on his back as Jason grinds into him, his ginger fur soon splashed.

DEMOLITION: Jason Vario fucks Eric Nero
Eric Nero stops Jason Vario from destroying a wall. "What else are you offering me?" asks the disappointed construction stud. "I got something for ya," responds the boss, taking out his huge cock. Jason unleashes his uncut meat, the two stroking. "That's a thick cock, dude," admires Eric. "Want me to suck it?" Eric opens wide, engulfing it and teasing the foreskin. Jason sucks back, his nose hitting Eric's groin before he eats his ass. Eric's boner bobs furiously as he rides the top. Jason fucks him from behind, wrapping his arm around Eric as they clasp hands. Eric gets it deep on his back—slamming his cock on Jason's abs before a massive facial coats his beard and face.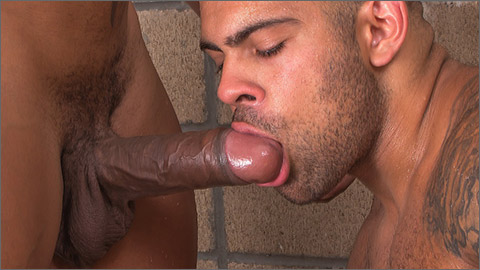 2 MEN KISS: Jason Vario fucks Lorenzo Flexx
In the pool, muscle men Lorenzo Flexx and Jason Vario kiss as they wrap their arms around each other before hitting the outdoor shower. They continue to lock lips, cocks pressed against each other, as the massive Jason towers over Lorenzo—who feasts on Jason's uncut throbber. He takes it all in, water cascading down their built frames. Lorenzo gasps for breath as his face gets fucked, the two soon toweling off inside. "Fuck, that feels amazing!" moans Lorenzo as his ass gets eaten, thumbed and fucked. Lorenzo sits on the top, balls slamming against balls, before getting on his back—licking Jason's thumb as the top grinds in deep. "Come all over me!" moans the bottom, who is soon soaked—Jason rubbing and licking it off him before one last kiss.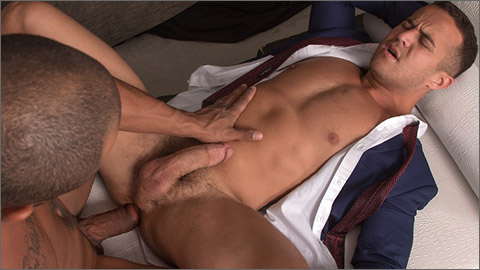 CAUKE FOR FREE: Agent Bo Hunter (Jason Vario) fucks his boss Speaker Ryan Paul (Alex Graham)
"Did you see anything?" asks the nervous Speaker to Agent Vario, whose crotch hovers by his face. "I did, but I have your back." Alex rubs the growing bulge, soon breathless as he gags on Jason's uncut cock, spit dripping to the floor. Their boners poke each other as they kiss, Jason then slurping Alex's throbber—which stays stiff as steel as he rides the top. Alex gets pinned to the couch as he gets fucked from behind, then gets sprayed by the top's multi-stream gusher.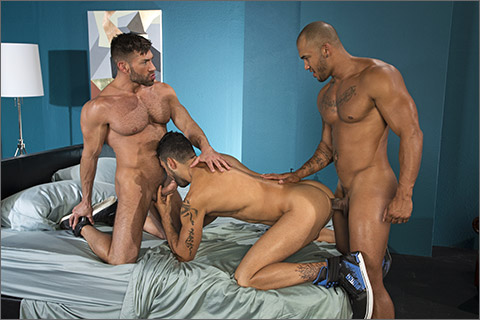 OBJECT OF DESIRE: Bruce Beckham & Jason Vario spit-roast Mick Stallone
With interview cameras pointing at them from every direction, three muscled men get intimate and talk about what they like sexually before they make out and grope each other's naked bodies. On the left, Bruce Beckham displays his massive chest. Scruffy stud Mick Stallone sits in the middle, and Jason Vario is on the right. Mick gets down on his knees to suck Jason's cock. Bruce stands up, and his massive cock swings through the air like a baseball bat. Bruce and Mick take turns deepthroating Jason's hard, uncut cock. Wet spit accumulates on Jason's shaft. Jason falls backwards on the bed, and Mick sits on his face. As Jason rims Mick's ass, Bruce uses his mouth to work Jason's dick. Spreading Bruce's ass apart, Mick blows spit right into the center of Bruce's pink asshole. Switching it up, Mick braces himself against the bed and takes Bruce's cock doggystyle. Jason moves behind Bruce and fucks him while standing. Bruce thrusts back and forth from the middle of the fuck-sandwich, turning up the heat. The three-way connection shared by these horny men amplifies the intensity of their deep, vigorous fucking. Mick is eager to have Jason's cock in his ass too. With Jason's cock stretching out Mick's ass, Bruce stuffs his cock down Mick's throat. Bruce's hand presses down on the back of Mick's neck, guiding his mouth down on the shaft of Bruce's cock. Switching sides again, Bruce pushes his huge dick into Mick's ass while Mick wraps his lips around Jason's cock. With Mick's ass stretched to the limit, he reclines in a chair and strokes his cock, watching as Bruce makes out with Jason. Jason beats out a thick, white load onto Bruce's muscular ass. Bruce unleashes his hot cum on Jason's chest. Mick lets loose with a gusher of cum across his hairy, washboard abs.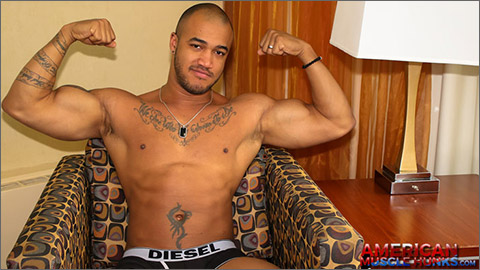 TYSON VARIO
Introducing Tyson Vario. He's the latest hunk and he's ready to show off his huge, ripped muscle body as well as his monster cock. He comes to us from Canada and, after a short interview, stands up and we see how massive this hunk really is. It takes no time for him to strip down and start flexing. After his flex show he climbs into bed and strokes his monster meat until he blows a huge load.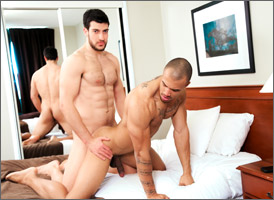 SHOWER FOR TWO
When Kiern Duecan & Zane West return home from the gym, Zane goes straight in for a shower. Kiern can't help but notice his hot roommate has left the door to the bathroom wide open while showering! Kiern decides to watch for a bit.
   But the temptation is too much. Kiern strips down in the hallway and joins Zane in the shower. After some caressing, Zane sucks Kiern's fat dick for a while before they take the action to Kiern's bedroom. Kiern returns the favor by slurping on Zane's large erection. This is a fantasy Zane's had for some time, but been too bashful to see if it could become a reality. Now it's happening and neither Zane nor Kiern are letting slip the opportunity to take passion to the max. Watch Zane fuck Kiern's tender hole as they let intensity build.
FALCON STUDIOS
TITAN MEN
RAGING STALLION
AMERICAN MUSCLE HUNKS
NEXT DOOR STUDIOS
NEXT DOOR EBONY
NAKEDSWORD
CLICK HERE TO GO TO HIS NEXT DOOR STUDIOS DETAILS
VIDEO ON-DEMAND: Kiern Duecan / Jason Vario @ AEBN SMUTJUNKIES THEATER
DVDs & ON-DEMAND: Kiern Duecan / Jason Vario @ TLA VIDEO