ChaosMen Amateur Guy, Kiefer
Years Active: 2015
BRIAN OCKERT / CHAOS MEN INFO:
Kiefer is cute Italian guy with a somewhat Jersey or North Philly accent. You can hear his accent right away during the interview. He was excited to come to Texas to hear others speaking with a southern accent. He of course didn't think he himself had an accent.
   He is studying nursing and also bartending to put himself through school. Kiefer is Vegan and likes to work out.
   He says he likes jocks, but also said he liked mature guys too. Kiefer is versatile, saying he excels at both bottoming and topping. He also loves to give head.
   He is pretty relaxed during his solo, and his cock gets hard as I hover over him closely with the camera. Yup, he likes mature guys!
   Kiefer has a nice slow stroke that allows us to see his cock, and also hot bubble but with a little pink hole!
   His cum shot is great as he pulls a big load out of his cock!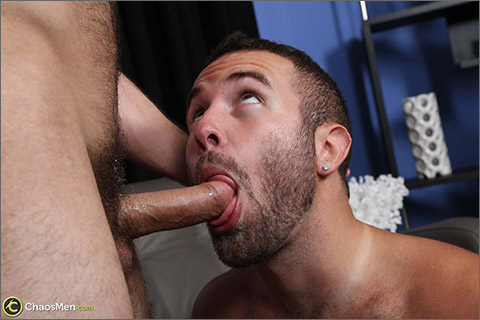 SERVICED: KIEFER & NOAH RILEY
If you like furry dudes, this video will surely please!
   Both guys are totally into each other, and both have amazing oral skills.
   They take turns servicing each other, then move on to rimming each other. Noah gets Keifer's feet up in the air to suck on his cock and rim him, so if you like feet, there are some great views.
   Kiefer said a standing position would be easiest to cum in, so Noah got down on his knees are receives a hot facial.
   Noah then blows his load on Kiefer's cock, then laps up the cum.
   They share their cum with an amazingly wet kiss! Nothing like scruff to hold all the cum in its place!
CLICK HERE TO GO TO HIS CHAOSMEN BIO PAGE