Latino Gay Porn Amateur, Katracho
Known Aliases:
Years Active: 2016
LATIN BOYZ INFO:
The guy in the photos with the sexy abs and everything else for that matter is our newest model Katracho. He's 18 and was born in Honduras but raised in Southern California. He's never fucked around with a guy before but says he's 'curious' and has been hit up at the gym a couple times by guys but hasn't gone all they way, yet. During the shoot he got so excited that he accidentally shot is load before we even got his underwear off. He told us he only needed a half an hour to recharge his batteries and true to his word he had no problem getting hard again and shot an even bigger load after that.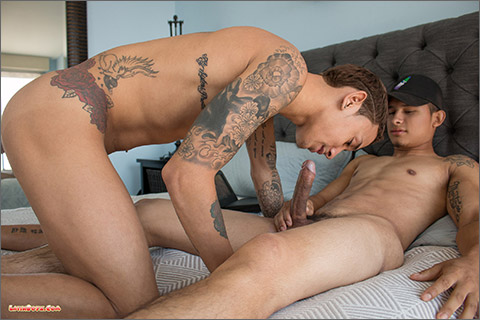 KATRACHO & JAE G
When new LatinBoyz star Jae G. told us he wanted to get fucked we told him we would love to watch and asked him who the lucky guy would be. Without thinking he said he really wanted to get pounded by that cute bisexual papi Katracho. Katracho never turns down the chance to fuck a Latin twink hot ass and the result was this hot session.