Hung William Higgins Czech Gay Porn Star, Kail Kopec
Known Aliases:
Years Active: 2015 – 2016
WILLIAM HIGGINS INFO:
Kail Kopec is from Drnovice. He is aged 20 and works as a carpenter. In his spare time Kail enjoys sports, particularly soccer. What a lovely looking guy Kail is, with a beautiful smile too. As he opens his shirt he show off his sexy chest, which has a nice covering of hair from above the nipples. He removes the shirt completely, to show off his sexy body, and more hair, leading down to his groin. He gives us some lovely poses before opening his jeans and exposing a very full bush, and just a glimpse of his cock. Removing his jeans Kail shows more of the thick bush, and then turns around to reveal his sexy ass. Next he removes the underwear and we see his beautiful, soft cock, resting on his heavy balls. We also get more shots of his sexy ass as he poses for the camera. Next he kneels on the sofa, ass to camera, and spreads his cheeks to show his hairy hole. That hole looks so inviting, as does his cock, which is next for some attention. Kail gets that dick rock hard and stands up to show it off beautifully. He works through a nice series of shots, both sitting and standing, to ensure we get a good look at his stiff cock. Then we get more of that sexy, hairy ass and a very inviting hole. He is one very hot and studly guy.
Age (2015): 20
Home Town: Drnovice
Height: 176cm/5'9″
Weight: 78kg/171.6lb
Foot Size: EU42/US8.5/UK8
Penis Size: 15cm/5.91″
Profession/Student of: Carpenter
Hobbies: Sport
Favorite Sports: Soccer
Active Sports: Soccer
Movie/Music/Sport Stars: Whitney Houston
Visited Coutries: Croatia
Want to Visit Coutries: Germany
Dream of My Life: I don't know.
Zodiac Sign: Taurus (April 20 – May 20)

FULL CONTACT: MAREK BOREK FUCKS KAIL KOPEC RAW
In a great scene we have Kail Kopec and Marek Borek. As we join them Kail is on his laptop and Marek is exercising his biceps. But they soon forget about those things and get together for some hot action. Marek's chest is quickly bared, showing off his muscles. Then Kail's hairy chest is on view too, as Marek runs his hands over it. The kiss each other and then with Marek naked and hard Kail leans over to suck on his cock. His mouth clamps tight around Marek's dick and sucks it hard. He keeps on sucking, taking it deep into his mouth as Marek leans over to play with his ass. Kail wanks himself as he sucks and Marek's finger is deep in his hot ass. Moving to a 69 with Kail on top they suck each other's stiff dicks. Then Kail wants more, he wants Marek's big cock deep in his ass. Marek is happy to oblige and, as Kail is on his back with his legs up, his cock slides deep into that hole. Kail stays rock hard as his hole gets fucked deep. Then he changes position, bent over, for Marek to pound his hole some more. Marek's dick goes all the way into that eager hole, opening it up real good. Marek then lays on the sofa and Kail climbs onto that cock and rides it. His ass slides up and down on the throbbing cock, taking every inch. Moving to a spoon position Marek continues to fuck that ass deep and hard as Kail wanks himself and shoots his creamy load. His hot cum shoots up onto his belly as Marek continues fucking him hard. Then Marek pulls out and shoots his cum all over Kail's chest. Kail sucks the spent cock into his mouth to clean it off and then they go off to the shower to clean up.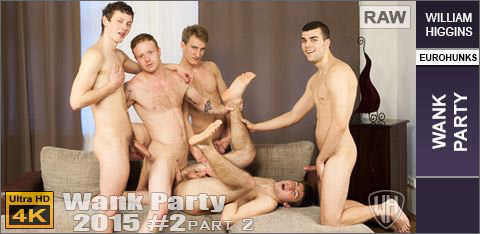 WANK PARTY 2015 RAW #2
In WANK PARTY 2015 #2 we have a great line-up, with Tom Vojak, Petr Zuska, Matej Borzik, Laco Meido and Kail Kopec. In part one we find Petr and Tom knocking at the door, but getting no response. Tom lets them in with a spare key, finding Laco, Matej and Kail all drunk, and asleep. They notice that Kail's cock is hard as he sleeps. Petr reaches forward and relases the hard cock and the balls. Tom leans over and licks the cock head, before Petr starts sucking it. Then they decide to check out Laco as well, noticing a vibrator on the floor. It seems the guys had been having some fun as they got drunk. Tom and Petr decided to continue the fun, stripping Laco's underwear from him. As he still sleeps they examine his cockand balls and then lift his legs, so they can use the vibrator in his ass. Tom pushes it into that sexy ass and lets Petr fuck the hole with it. Tom stands and pulls out his own cock, which is massive and quite hard. He moves Laco's head so that the cock rests on his lips. The get rouse Laco, whose mouth opens and Tom's cock slips in. With Laco awake he starts sucking on that big cock as Petr rouses Matej. He removes Matej's tee shirt and strips himself to his waist, opening his pants too. Matej starts sucking on Petr's cock as Laco continues to suck Tom. That wake Kail too, who is pleased to see the fun that is going on. He quickly joins the action, presenting his cock for sucking too. Matej tales turns on Petr's and Kail's dicks, sucking one and as he wanks the other. Petr then joins Tom in having Laco suck him, leaving Matej to enjoy Kail's throbbing cock. As they suck Laco and Matej wank each other. Then the guys move so that Laco and Kail are on the sofa, asses presented, having their tight holes rimmed. Tom works his tongue into Laco's ass and Matej does the same to Kail. Kail's hairy hole gets a good licking by Matej and his balls and cock feel Petr's hot mouth too. Tom starts fingering Laco's hole as Matej slips a digit into Kail's ass as well. They are loosening the holes ready for some hot fucking in part 2.
In PART 2 of WANK PARTY 2015 #2 we haveTom Vojak, Petr Zuska, Matej Borzik, Laco Meido and Kail Kopec having a great time. We see Laco on his back with Tom fucking his big cock in that sexy ass. All the other guys crowd round as Tom fucks him, then pulls out for Petr to take his place. Laco's ass gets stretched real well and then they move. Kail and Matej are on their knees, with Laco and Petr behind them fucking them deep and hard. They really work the hot asses, with encouragement from Tom. Then Petr and Laco change partners, with Laco pounding Kail's ass as he wanks himself. Petr rams his throbbing cock in and out of Matej's eager hole. Then Kail's wankng pays off and he shoota a big load of creamy cum as Laco fucks him deep. Laco Pualls out and Tom shoves his massive cock into Kail's ass and fucks him some more. Laco wanks himself as Petr continues fucking Matej. Tom pulls out of Kails'ass and dumps his cum all over him. Laco is still wanks hard as is Matej who takes Petr's dick in his hol. Petr pulls out and both he and Matej kneel over Kail to cum over him. Laco is the last to cum and unloads over Kail too to end a great Wank Party.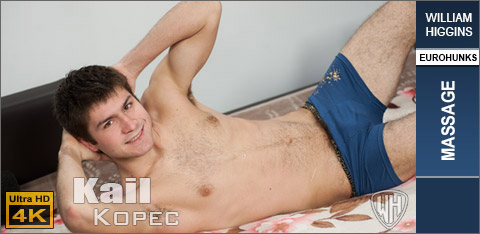 MASSAGE: KAIL KOPEC
Kail Kopec is a real hottie. He looks so good as he lays on the sofa, on his belly, waiting for a massage. The masseur arrives and takes some oil to get started. Borek Sokol is the masseur and his hands are soon gliding all over Kail's back and up to his shoulders, coating him in oil. Borek straddles Kail as his hands massage the back, from the underwear right up to the shoulders, paying particular attention to the spine. Borek pulls the underwear off Kail's hairy ass and his hands get to work on those cheeks. The hands pull the ass cheeks apart and they work. Then underwear is removed and Borek starts working on Kail's legs too. With the legs spread Kail's cock and balls are on show as Borek works on the hairy legs and feet. Then he reaches between Kail's legs and takes hold of his cock. Borek wanks the cock with one hand as the other rubs in that sexy ass crack. Then both hands pulls the cheeks apart to expose the hole. Kail's cock swells nicely as Borek wanks on it. Then Kail is moved onto his knees with his sexy hole on show as Borek wanks that big stiff cock back between the legs. The wanking continues as a finger is slipped deep into Kail's ass. Then Borek uses two fingers in that hole, going all the way in, making Kail's hips buck a little. The fingers really probe that hot ass as Borek grabs the big cock again and wanks on it some more. His fingers ram in and out of the hole as he wanks on the cock. The fingers work in and out of the hole,stretching it wide apart. Kail's cock is rock hard as it is wanked, with the fingers jammed into his hole. The fuck in and out of the hole hard as the wanking continues. Then a vibrator is pushed deep into the hole and a second one is slipped in next to it. Kail takes them both real well as they fuck his hot hole. When they come out Borek's hands spread the cheeks and the hole opens up so well. Kail then turns over and lays on his back with Borek wanking him again. That big cock looks so good in Borek's hand as the wanking speeds up. Borek keeps wanking on the stiff cock until it gives up a nice, creamy load, shooting over Kail's hairy body. His cock is milked dry of cum as the hot cum lays on his body and Borek leaves him to relax.
WILLIAM HIGGINS
STR8HELL
BADPUPPY
CLICK HERE TO GO TO HIS WILLIAM HIGGINS BIO PAGE