Blond Handsome Hung Czech Gay Porn Star, Justin Fisher / Bjorn Nykvist
Known Aliases / aka: Mark Blom (East Boys), Bjorn Nykvist
Years Active: 2016 – 2018
STAXUS INFO:
If you want your runes read, then Bjorn's most definitely your guy. Whether it's the Algiz or the Jera rune – or even the blank Odin! – this young man has a distinct interest in this particular aspect of the occult. So much so, that he loves nothing better than to give personal readings to his co-stars between shoots. Our prediction? This boy's definitely a winner!
Date of birth: 31st October 1996
Height: 6'1″ / 183 cms
Cock size: 7.5″ / 20 cm
Ethnicity: Czech
Role: Versatile
Interesting Fact:
Bjorn was a Hallowe'en baby – but there's nothing scary about him at all. In fact, pretty much all our other models think he's fucking beautiful!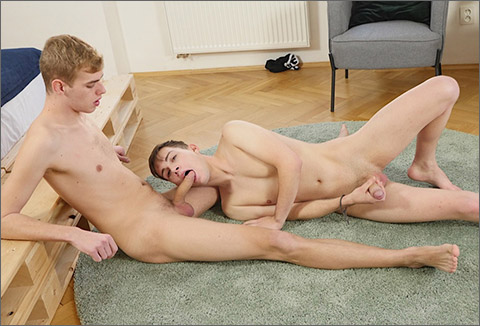 WARMING UP INSIDE
Europe is so romantic at any time of year, but when the temperatures plummet in the winter months the opportunity to snuggle up with a friend and enjoy some BoyFun to keep warm only makes it more enjoyable. Tall and hung Bjorn Nykvist and his cute friend Ruben Bart have exactly that plan as they escape the chilly streets for the comfort of his Bjorn's apartment, kissing and groping from the moment they arrive. Within a minute greedy boy Ruben is demanding a taste of his friend's incredible cock, both stripping down to their underwear and exploring those bulges. Bjorn's immense length is soon revealed, and quickly slipping into cute Ruben's mouth for some slurping. He's an experienced young man, he knows how to handle a delicious length of hard uncut cock, even one as big as Bjorn's! Perhaps his skill comes from the pleasure his own incredible shaft gives him; the boy has his own thick and long cock to share with Bjorn when the tables are turned. With both awesome young boners straining and wet with precum and spit Ruben offers his tight little butt hole for his pal to fill, a challenge Bjorn is perfectly suited to. Rubens immense cock swings and sways with every bounce while he rides his pal's bare length, sliding up and down Bjorn's awesome shaft. Fucked face down on the floor the boys finally take their pleasure to the comfort of the bed, spooning and thrusting deep, making young Ruben spurt his thick cream from his huge dick as the pleasure rushes through his slim body. With the boy's cock spent and his own on the edge of unloading Bjorn slips his naked tool free to pump a generous mess of hot ball batter all over his friends nuts and taint, bringing their afternoon tryst to a sticky end. If there's a better way for a couple of boys to warm up on a winters day, we have yet to discover it.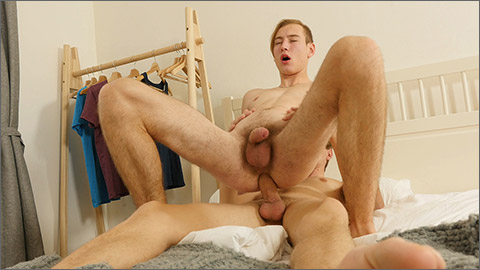 LAZY DAY DESIRE
Is there anything better than having a day to yourself to just be lazy and do nothing? Well, yes, it's much better to have a friend like Bjorn Nykvist to share your down-time with! The tall and sexy young man arrives in Casper Ivarsson's bedroom to wake him up and get him moving, but whatever his plans might have been he's soon enticed into some BoyFun by the sexy twink and his offer of cock delicious young cock. Bjorn gets on that hairy dick and sucks his friend with the kind of hunger we would all express given the chance, slurping the precum out of his friend and working his cock up into a rigid shaft of pink pleasure, but Casper's boner isn't the only one ready for some head. Hung Bjorn has an amazing dick of his own to share with his buddy, stripping off and revealing his impressive inches, feeding his buddy his engorged boner as clear nectar leaks from the exposed swollen tip. Casper might have been feeling lazy at the start of this morning escapade but he's soon demanding a good deep fucking from his friend, something Bjorn is more than equipped to deliver. He eases his experienced bareback manmeat between the boys slightly fuzzy cheeks and gets to work, plundering the boy's pucker, humping his length in and out. A little break for some ass-to-mouth oral gives Casper a tasty treat, but soon enough he's demanding more of that dick and sliding his pucker back down on it, riding his friend while his own shaft throbs and swings. Taking the boy from behind at the edge of the bed finally gets Casper spilling his seed, cum pumping from his well-worked boner just before Bjorn pulls his long shaft out to splash warm ball-juice all over the lad's butt cheeks! That's certainly a better way to start the day than whatever Casper had originally planned.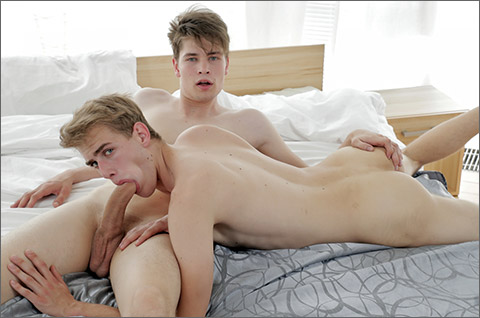 HUNG JURY: Legal Newbie Awards Bad Boy With A First Class Ride Of Hot Ass
Whoever said that lawyers don't have a heart? Or that the only thing that they truly appreciate and understand is hard cash? Well whoever it was, the image of legal minds being solely obsessed with mercenary reward is definitely in for a bit of a bashing here; as fresh-faced solicitor, Bjorn Nykvist, displays his distinctly compassionate side when Jaro Stone enters his office looking for representation in court. All the same, there's still no such thing as a free lunch; and whilst our legal eagle might not be thinking of the bucks, he almost certainly thinking of the fucks! Indeed, it's a definitely a deal of a carnal kind that's quickly getting brokered between these handsome youngsters; with the two buddies heading straight for bed in order to run through a few points of order.
   Needless to say, it isn't long before both their dicks are the centrepiece of negotiations; with a fine display of cock-sucking quickly developing into an ambitious session of energetic 69-ing. Ultimately, however, the urge to get Stone's infamous butt-picker deep inside his guts simply proves too much for the blond-headed Nykvist; who then proceeds to get his innards bashed to a legal high in a succession of positions, most notably reverse-cowboy. It's enough to send even the most dullened of fans into a spunk-fevered frenzy; and it certainly isn't long before Nykvist's cock is squirting out a generous wad, which Stone eagerly laps up to full effect. Not that Stone's ensuing eruption is any less intense; as both lads underline their rank as top-notch performers by exchanging a final devilishly jizz-laden smooch!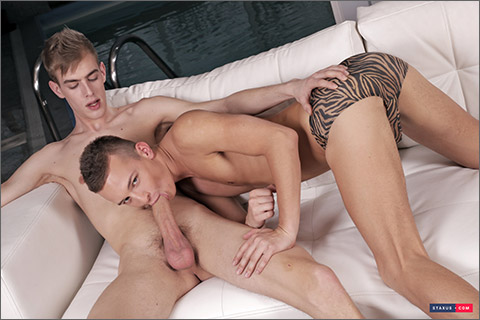 BIG IS BETTER: Hot Blond Gets All His Ass Stretched & Jizzed By A Monster Cock
It's no fucking wonder that Lucas Drake can't keep his eyes off Bjorn Nykvist. Having jumped out of the pool after a invigorating swim and stripped off under the shower, Nykvist is donning one of the thickest, meatiest dicks that a young lad like Drake is ever likely to see; and it's something of a miracle that the lad doesn't choke on the apple that he's munching as he gazes on at the heavenly form before him. Of course, his relaxed attitude may have something to do with the fact that he knows for certain that a guy like Nykvist isn't ever going to turn down the chance to get intimate once he's soaped and clean; and needless to say the two lads are soon taking full advantage of the situation to gobble away on each other's shafts with all the gusto and eagerness that you'd expect from a pair of cock-crazed sluts like these.
   Drake, in particular, doesn't seem to be able to get enough of his mate's oversized ramrod; but having stretched his jaw to breaking point to accommodate the monster schlong, he's soon stretching his legs with the same expectation. Nykvist, to his credit, extends the passion by taking time to rim the horny twink's hairless little pucker; but it's not very long before the lust for dick simply gets too much for Drake, who promptly lands his ass down on that gorgeous chopper and rides it for all he's worth.
   It's a move that's almost certainly gonna go down a storm with our fans, as Drake manfully takes every inch; before switching positions to take it first from behind and then on his back. Culminating in a jizzy blast that leaves his hole twitching with goo!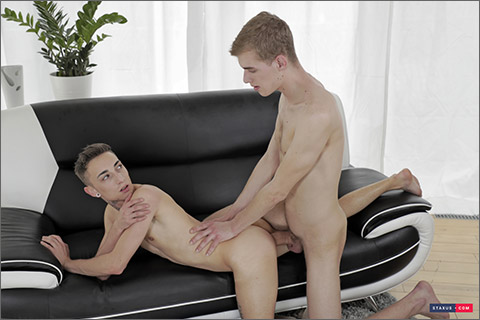 BIG IS BETTER: Poolside Twink Gets His Holes Filled To The Max With A Big Dick
For those who enjoy seeing contrasts between their pairings, this horny little escapade between Bjorn Nykvist and Mark Fontana will surely tick all the right boxes. Tall, lithe and fair-headed, Nykvist is almost the complete opposite to the young Spaniard – Fontana being distinctly petite, darker-skinned and tattooed. Two things that they do have in common, however, is the fact that they're both distinctly well-hung and that they both have a ferocious appetite for cock; which even if we didn't realise beforehand, soon becomes apparent as the two fellows frolic both in and out of their swimming-pool.
   Indeed, it's not too long before both lads are ready to take their interest in each other to a whole new level – heading to a private room, where they promptly begin to take turns at sucking each other off. Clearly enthused, the pairing then uptake 69-position on a sofa; simultaneously devouring cock like it was the only thing that they were born to do. Such a natural sense of purpose only continues when Nykvist – as the taller, more physically dominant party – turns his attention to his buddy's hairless little pucker, rimming the hole for all he's worth before ploughing hard into Fontana's guts.
   What ensues is a classic power-bottom performance from the Spanish lad, with Nykvist fucking his mate in literally every position imaginable – including a mid-air ass-banging bonanza that once again only emphasizes the Czech guy's physical mastery. All of which – not surprisingly – results in Fontana getting a heavy wad of jizz in the arse; before he himself splatters into Nykvist's mouth!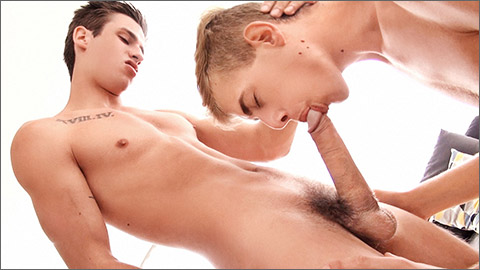 FRESHMEN TUESDAY: NATE DONAGHY & BJORN NYKVIST
It the world of BelAmi sometimes things happen a little differently than in the real world, for example, in the BelAmi world it is OK to order your cleaner to be tall, blond and have a big dick. If only we could do that in the real world as well!
   Our 'cleaner' today happens to be Bjorn Nykvist and happily, the subject of the cleaning is not so much the apartment, but Nate Donaghy.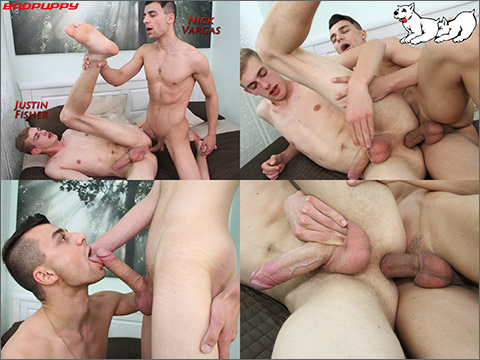 NICK VARGAS FUCKS JUSTIN FISHER
Nick Vargas walks in on Justin Fisher napping on the bed, apparently dreaming of something naughty. Nick wakes Justin, lets him know that he's all horned up and that he wants to make love to him right then and now. Nick grabs the bulge in Justin's underwear, pulls back the shorts and is blown away with just how really big Justin's cock is. They both quickly strip naked and start kissing and sucking passionately; squirming all over the bed. After some intense foreplay, Nick pushes Justin's legs back, and slowly pushes his cock deep into Justin's waiting hole. The ass pounding continues until Justin takes control; sitting himself down on top of Nick's rock hard cock. Justin starts riding Nick's cock and jerking his own at the same time. Nick; really getting into Justin's ass, thrusts his cock harder and faster from below. In the final heat of passion; with Justin wildly riding Nick's cock, Justin starts spraying jizz all over himself and the bed. He climbs off Nicks cock and immediately swallows it working out every last tasty drop of his creamy, thick jizz.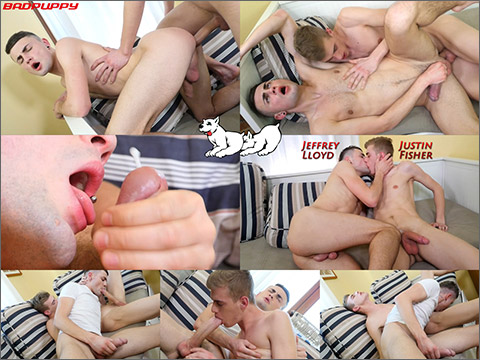 JUSTIN FISHER FUCKS JEFFREY LLOYD
Justin Fisher hooks up with hunky Jeffrey Lloyd for an afternoon of hot, steamy play time. No sooner does Jeffrey walk through the door; he's got Justin's pants down around his knees, his cock buried deep in his throat and Justin's balls buried in his nose. Justin turns around, gets a look at the size of Jeffrey's cock and immediately puts it in his mouth; sucking it deep. Our two young studs perform hot, mutual cock sucking and sixty-nineing on each other; but, Jeffrey wants Justin's long-assed dick up his ass. He bends over the sofa and Justin slides his big ole cock right in and goes to fucking Jeffrey like nobody's business. Switching it up a little, Justin crawls in behind Jeffrey, shoves his cock back in and the fucking continues; at least, until Jeffrey is ready to blow his load. Justin want's Jeffrey's cum; so, he kneels down beside Jeffrey as he jerks his cock. When Jeffrey starts cumming, Justin starts licking and swallowing. Justin's cock; still standing straight up, is definitely in need of attention. Grabbing his cock; it only takes Justin a few strokes before he is unloading a load of thick, creamy jizz right down Jeffrey's throat.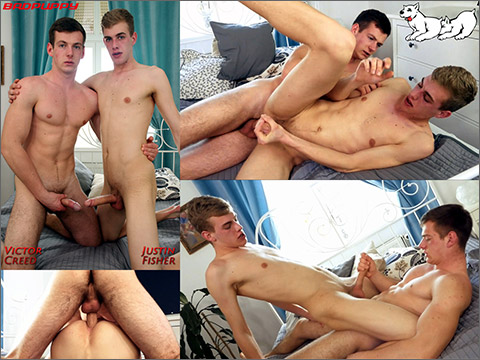 VICTOR CREED FUCKS JUSTIN FISHER
When Justin Fisher forgets to show up at boxing class his instructor; Victor Creed, decides to take the class session to Justin at home. As he walks into Justin's kitchen Viktor takes a set of boxing gloves from his duffle bag and slides them onto his hands. Justin does not take Victor seriously at first; but, as Victor continues punching at him Justin gets into the grove. The heated boxing lesson quickly turns into both of these ripped, young studs getting naked and wrapped up in each other's tongues and bodies on the bed. The mutual cock sucking continues until Victor's rock hard cock finds its way into Justin's ass as he's sucking Justin's cock. Justin sits down on Victor's thick piece of meat and very quickly these two begin an intense fuck session with Justin bouncing up and down and Victor just as forcefully fucking from below. Justin almost blows his load while Victor is slamming his ass; but, Victor pulls out in time and comes around to jerk Justin's cock and ram his fingers into his hole until Justin squirts his creamy jizz all over his stomach. Victor then grabs his own cock with his cum covered hand and Justin is there waiting with his mouth wide open when Victor dumps his cum onto Justin's tongue.
BOY FUN
STAXUS
BADPUPPY
BEL AMI
EAST BOYS
BJORN NYKVIST BOY FUN PROFILE
CLICK HERE TO GO TO HIS STAXUS DETAILS
VIDEO ON-DEMAND: Bjorn Nykvist @ AEBN SMUTJUNKIES THEATER
DVDs & ON-DEMAND: Bjorn Nykvist @ RAD VIDEO