Blond Handsome Hung Czech Gay Porn Star, Justin Fisher
Known Aliases / aka: Mark Blom (East Boys), Bjorn Nykvist
Years Active: 2016 – 2017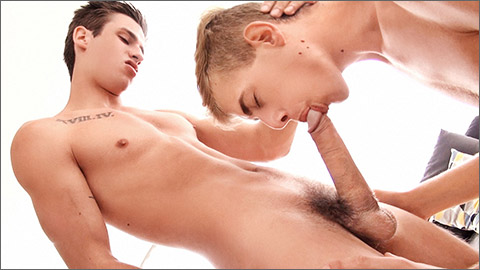 FRESHMEN TUESDAY: NATE DONAGHY & BJORN NYKVIST
It the world of BelAmi sometimes things happen a little differently than in the real world, for example, in the BelAmi world it is OK to order your cleaner to be tall, blond and have a big dick. If only we could do that in the real world as well!
   Our 'cleaner' today happens to be Bjorn Nykvist and happily, the subject of the cleaning is not so much the apartment, but Nate Donaghy.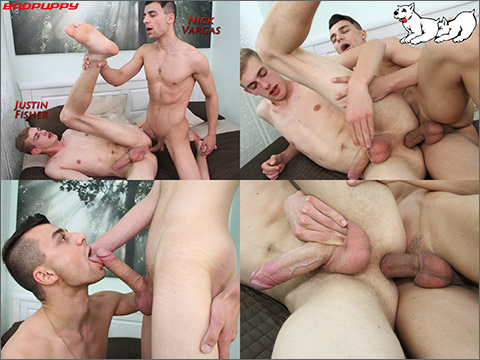 NICK VARGAS FUCKS JUSTIN FISHER
Nick Vargas walks in on Justin Fisher napping on the bed, apparently dreaming of something naughty. Nick wakes Justin, lets him know that he's all horned up and that he wants to make love to him right then and now. Nick grabs the bulge in Justin's underwear, pulls back the shorts and is blown away with just how really big Justin's cock is. They both quickly strip naked and start kissing and sucking passionately; squirming all over the bed. After some intense foreplay, Nick pushes Justin's legs back, and slowly pushes his cock deep into Justin's waiting hole. The ass pounding continues until Justin takes control; sitting himself down on top of Nick's rock hard cock. Justin starts riding Nick's cock and jerking his own at the same time. Nick; really getting into Justin's ass, thrusts his cock harder and faster from below. In the final heat of passion; with Justin wildly riding Nick's cock, Justin starts spraying jizz all over himself and the bed. He climbs off Nicks cock and immediately swallows it working out every last tasty drop of his creamy, thick jizz.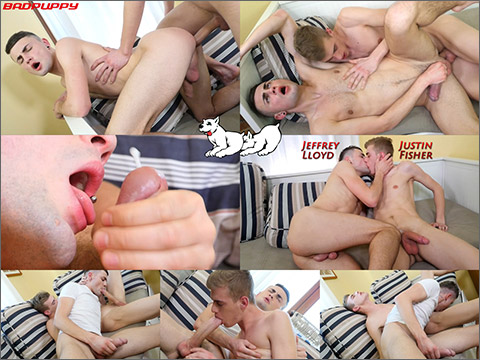 JUSTIN FISHER FUCKS JEFFREY LLOYD
Justin Fisher hooks up with hunky Jeffrey Lloyd for an afternoon of hot, steamy play time. No sooner does Jeffrey walk through the door; he's got Justin's pants down around his knees, his cock buried deep in his throat and Justin's balls buried in his nose. Justin turns around, gets a look at the size of Jeffrey's cock and immediately puts it in his mouth; sucking it deep. Our two young studs perform hot, mutual cock sucking and sixty-nineing on each other; but, Jeffrey wants Justin's long-assed dick up his ass. He bends over the sofa and Justin slides his big ole cock right in and goes to fucking Jeffrey like nobody's business. Switching it up a little, Justin crawls in behind Jeffrey, shoves his cock back in and the fucking continues; at least, until Jeffrey is ready to blow his load. Justin want's Jeffrey's cum; so, he kneels down beside Jeffrey as he jerks his cock. When Jeffrey starts cumming, Justin starts licking and swallowing. Justin's cock; still standing straight up, is definitely in need of attention. Grabbing his cock; it only takes Justin a few strokes before he is unloading a load of thick, creamy jizz right down Jeffrey's throat.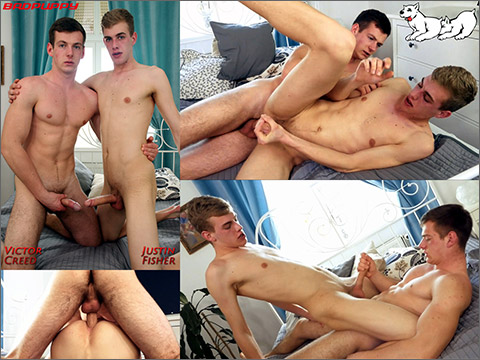 VICTOR CREED FUCKS JUSTIN FISHER
When Justin Fisher forgets to show up at boxing class his instructor; Victor Creed, decides to take the class session to Justin at home. As he walks into Justin's kitchen Viktor takes a set of boxing gloves from his duffle bag and slides them onto his hands. Justin does not take Victor seriously at first; but, as Victor continues punching at him Justin gets into the grove. The heated boxing lesson quickly turns into both of these ripped, young studs getting naked and wrapped up in each other's tongues and bodies on the bed. The mutual cock sucking continues until Victor's rock hard cock finds its way into Justin's ass as he's sucking Justin's cock. Justin sits down on Victor's thick piece of meat and very quickly these two begin an intense fuck session with Justin bouncing up and down and Victor just as forcefully fucking from below. Justin almost blows his load while Victor is slamming his ass; but, Victor pulls out in time and comes around to jerk Justin's cock and ram his fingers into his hole until Justin squirts his creamy jizz all over his stomach. Victor then grabs his own cock with his cum covered hand and Justin is there waiting with his mouth wide open when Victor dumps his cum onto Justin's tongue.