Blond Sexy College Jock Czech Gay Porn Star, Justin Corner / Robert Malat
Known Aliases / aka: Adam Lee, Robert Malat, Lazar Long, Justin, Lucas Light, Lukas Kas, Lukas, Lukas Lyko, Luki Lyko, Lyko Lykas, Lucky Lucas
Years Active: 2004 – 2007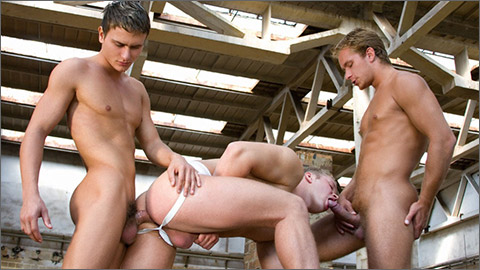 FACTORY FRESH: Jason Jackman and Honza Banan rip off sleeping sexy Marco Mark, then watch as Thomas Lee and Dion Philips spit lube each other's dicks and fuck Justin Corner
As handsome Marco Marc stretches out on an abandoned factory floor for a quick nap, cute Jason Jackman (in a white tank top) and sexy Honza Banan steal Marco's briefcase and rifle through the wallet they find in it. They've got a fantastic view of the factory floor and catch sight of handsome Thomas Lee and sexy Dion Philips kissing while beefy Justin Corner swallows their stiff dicks. Justin divides his attention between their two massive cocks, gagging and spitting as he deep throats them and licks their tight balls. Justin drops his pants to show the guys his jockstrap-clad bubble butt and grants Dion a turn at sucking him and Thomas.
   Justin and Dion then jam their cocks down Thomas' throat until they blow their sticky wads all over his hard, ripped chest, covering his pecs with their jizz; Thomas then jerks himself off, dumping his own big pool of cum into the mix.
   If you think that satisfies these young guys, think again—they've got energy to spare! While Thomas crams his dick down Justin's throat, Dion lubes up Justin's hole, pulls on a condom and mounts him like a bull, his balls slapping against Justin's hard butt. Dion and Thomas switch off and Thomas grabs Justin by the waist and pounds his ass while Dion facefucks him. Justin squats over and rides Thomas' cock before flipping on his back and letting Dion crack his ass open with his dick while Thomas feeds him his cum-filled ball sack and throbbing rod. Thomas takes over fucking Justin's butt with long hard strokes, pushing deep into his ass and pulling all the way out until he finally blasts his load all over Justin's butt; Justin squirts a creamy load onto his abs and Dion shoots a thick load of spunk onto Justin's pecs.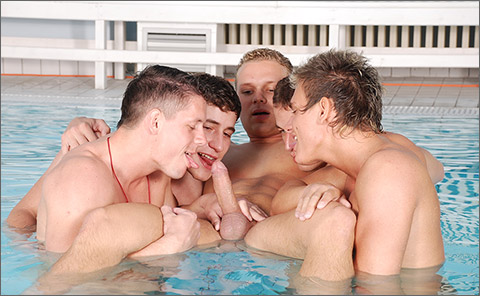 SPLASH – POOLSIDE ORGY
What happens when four of the hottest swimmers get together with an equally hot coach after swim practice? All five get naked, the coach and three of the swimmers sit down on the side of the pool with the fourth swimmer orally servicing the lot. Moving back and forth down the line of hot man-meat our servicing swimmer winds up back on the coach's cock working it until it erupts into a hands-free gooey mess of jizz running down the length of his cock. Each of the other swimmers are greeted with a blowjob ending in awesome hands-free cum shots. The four of them jump off the ledge into the pool and grab up the fourth swimmer who had just so willingly pleased the lot of them. They surround him; taking turns pleasing his cock, until it starts spewing thick glob cum into the pool. From this point forward; until an incredible climax, these five studs take turns fucking and sucking each other's beautiful bodies, cocks and asses. When it's time for the happy ending you won't be disappointed. Bodies and balls tighten; cum starts shooting and dripping everywhere as these five young studs get each other off.
TITAN MEDIA / TITAN FRESH
BADPUPPY'S DANNY RAY COLLECTION
WILLIAM HIGGINS