Randy Blue American Gay Porn Star, Judas Cole
Known Aliases:
Years Active: 2016
TWITTER @JudasCole
RANDY BLUE INFO:
Preston Cole let us know that his older brother was also gay and was interested into joining Randy Blue. And when we got the pictures. Holy shit, is this man hot. He has these full lips and piercing blue eyes. He is big and beefy with tattoos and a huge thick dick. You would think that brothers would have identical dicks, but no. Judas' dick is as thick as Preston's is long. Be sure to watch this hot gay man bareback as both a top and an bottom right here at Randy Blue.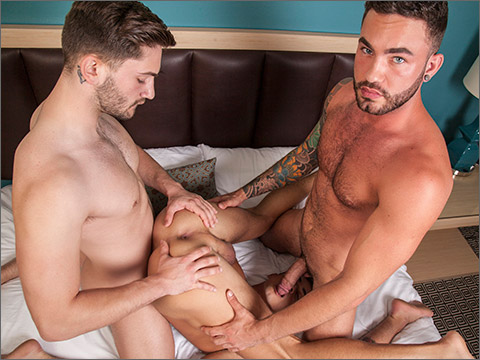 GAY BROTHERS PRESTON AND JUDAS COLE BAREBACK ASHTON SUMMERS – PART 2
In Part 1, Ashton got the cum fucked out of him. But the brothers have just begun. To help spring Ashton back to life, they all decide to blow each other. Preston sucks on Ashton while Ashton sucks on Judas. Once all their dicks are hard and wet, Judas lays back and Ashton rides his cock. Preston stands next to them and feeds his dick to Ashton. Ashton loves getting fucked in both ends by these two hot siblings. Beefy hunk Judas Cole is going crazy as he pumps up deeper and deeper inside of Ashton. Preston wants another turn at that hole, and the two start to tag team Ashton doggy Style. They each slide their cocks in and out of him until finally they each blow their loads inside of Ashton. What a way to make his debut at Randy Blue. Ashton is a fucking keeper. Be sure to check out the free gay porn trailer of the bareback action here at Randy Blue.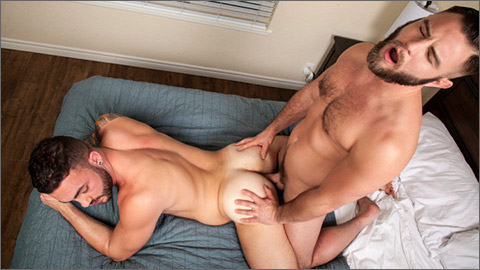 JUDAS COLE TAKES A LOAD FROM NICK STERLING
Nick Sterling wants to wake up and fuck Judas Cole. But Judas is still sore from his workout from the night before. Nick has a plan. He decides to give Judas a massage. But it doesn't take long before he works his glutes. Judas starts to protest, but the feeling of Nick's hands kneading his fat juicy booty felt too good. And then Nick got hard and pulled out his cock. He started to rub it on Judas' sexy butt. And then Judas went from not wanting sex to begging to get fucked. With just his spit, Nick Sterling lubed up Judas' butt and slid his raw dick in. He fucked Judas raw on his stomach nice and hard. Then they took turns giving each other blow jobs. Then Nick kept on fucking Judas as hard as he could until Judas shot ribbons of white cum all over his chest. Then Nick pulled out and came all over Judas' hole before shoving that hot jizz back inside. Be sure to check out the free gay porn trailer in full HD of the hot bareback action.
RANDY BLUE
RANDY BLUE LIVE CHAT & PRIVATE SHOWS
CLICK HERE TO GO TO HIS RANDY BLUE DETAILS