Next Door Studios Porn Star, Juan Lopez
Years Active: 2015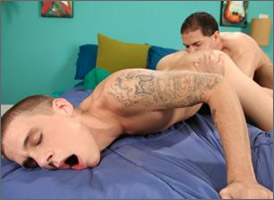 CAUGHT BY MY STEPBROTHER
As young, handsome Trent Ferris studies for his Geometry exam, he hears a curious noise coming from the hallway outside his room. He investigates and finds the peculiar moaning sounds are coming from his new stepbrother, Juan Lopez's, room.
   He cracks the door open slowly to discover Juan jerking his swollen cock while watching a video of two men having sex. Trent is surprised to find he himself is very turned on by this entire witnessing. Just as his mouth begins to water while gazing upon his stepbrother's fat meat being stroked, Juan catches Trent watching!
   Trent dashes back to his room and hides under his covers. Juan comes right in after him and, in his thick accent, tells his new stepbrother that he'd better not tell anyone what he had just seen. Trent reassures him, but lets him know that it made him curious. This gives Juan a naughty idea. He offers to show Trent what it's like to be intimate with a guy. Trent doesn't hesitate to dive in, pulling out Juan's dick and sucking it until it becomes very firm. Juan then reciprocates by wrapping his lips around Trent's big dong. After some deep slurping, Juan positions himself behind Trent and rims his sweet, tender hole. Finally, when it's ready, Juan slides his massive cock into his stepbrother's ass and fucks him hard. Watch Trent get fucked for the first time, by his own stepbrother, right in the comfort of his bedroom.
Amateur, Blonde, Interracial, Latino, Condom, Hardcore, Anal Sex, Oral, Facial, Tattoo/Piercing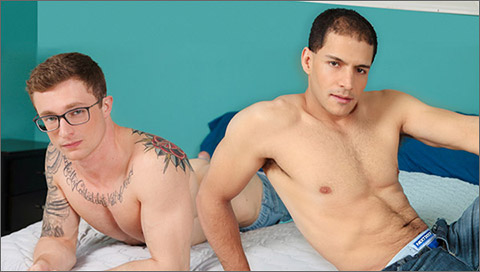 BUDDIES AUDITION: JUAN LOPEZ
Bespectacled Markie More is looking studious today as he leads the Casting cameras to meet Juan Lopez, a Latino stud with a hard cock and a penchant for passion. Juan is anxious and eager to show what he's got, and just as excited about taking Markie's sweet ass to PoundTown.
   Both guys strip down, as Juan forces Markie to deep throat him, pushing his head down further and further onto his shaft until Markie chokes, then letting him catch his breath before repeating the process. Next, Juan shows off his ass eating skills, pushing Markie onto the bed and going all in, getting a face full of Markie's sweet meat as he tongues the hole and smacks the cheeks, and Markie realizes this is no average encounter.
   Juan then mounts Markie from behind, punishing him with a constant thrust, grabbing Markie by his hips and pulling him closer, then pounding him even harder. As Markie shoots his load all over himself, Juan pulls out and does the same, blasting Markie with a hot batch that wets Markie's glistening chest. Is it enough to keep the fiery Juan around? You decide.
Amateur, Interracial, Latino, Condom, Hardcore, Anal Sex, Oral, Deep throat, Brunette, Tattoo/Piercing
CLICK HERE TO GO TO HIS NEXT DOOR STUDIOS DETAILS