Sexy Czech Twink Gay Porn Star, Tommy Hunter / Joshua Levy
Known Aliases: Charlie Bogard, Joshua Levy, Shane Harris
Years Active: 2015 – 2018
BOY FUN INFO:
aka: Charlie Bogard, Joshua Levy, Shane Harris
Nationality: Czech Republic
Date of Birth: 1996
Height: 173 cm / 5'7
Weight: 60 kg / 132 lbs
Dick Size: 9″ cut
Role: Top
Orientation: Straight
STAXUS INFO:
Josh – to all his friends – is a bit of a prankster at heart, and loves nothing better than to have a bit of fun both on and off set.
Date of birth: 24th April 1996
Height: 6'0″ / 183 cm
Cock size: 7.5″ / 18.5cm
Ethnicity: Czech
Role: Versatile
Interesting Fact:
Joshua has always dreamed of travelling to America to do Route 66!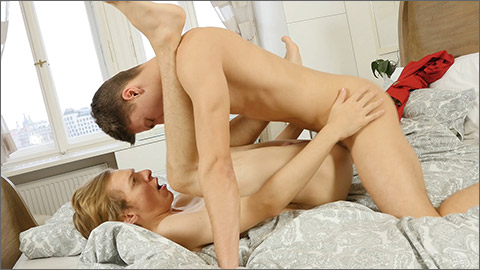 SLEEPYHEAD
It might be considered wrong, but Rick Lovatelli is the kind of horny boy who just goes after what he wants, and he won't let walls stand in the way of his desires. Right now he wants the big meaty cock of handsome neighbor boy Tommy Hunter, but although a session of BoyFun might not have been expected it seems the object of his desires isn't at all reluctant. It's understandable that Tommy would be the kind of boy he would lust after, the gorgeous young man has an incredible cock, and being immensely hung himself blond boy Rick knows how to handle and please a big piece of youthful meat. After letting himself in and sneaking to the bedroom he finds the gorgeous young man snoozing in nothing but his sexy underwear, his morning boner starting to twitch and throb. Unable to restrain himself he reaches for the delicious tool immediately, releasing Tommy's impressive cock and sucking it gently. Roused from his slumber by the pleasure of the boy's experienced mouth Tommy isn't shocked to find this sweet little intruder gobbling on his erection, he's more than happy to have such talented company, and more than eager to return the favor. Rick's incredible dong is revealed, a damp and hooded banana of morning manhood perfect for a greedy young man to feast on. Tommy works the blond boy's schlong with skill, his own cock still throbbing and desperate for some tight young ass, which he soon gets. As the city comes to life outside the window Tommy licks his friend's perfect little pucker and eases his awesome rod into the boy, giving Rick the kind of fucking he craves, his own ginormous cock bouncing and swinging while he rides his new friend. Tommy pumps Rick's hole from behind, flipping the boy over to drive deeper still, taking them closer and closer to their first release of the day. As moans of pleasure escape their lips the two share their climax, a messy reward of fresh cream pumps into blond boy Rick's waiting mouth and his own generous hooded length quickly spews a fountain of milky goodness! I guess Rick now has an open invitation to wake up his neighbor after this.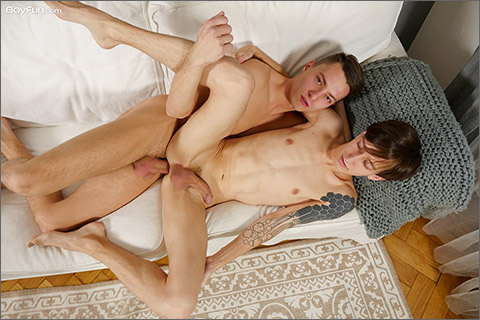 FALL TIME FUCK
Gregor Gilead and Tommy Hunter have a chance meeting in the street, cruising each other as they pass, swapping a quick expression so subtle any voyeur watching them could easily miss it. With their language of lust enticing them both they quickly returning to Tommy's apartment for some spontaneous BoyFun, immediately meeting in a lip-locking embrace. The handsome host gives his new friend a little loving smooch but it's quickly clear that what he's really after is the length of stiff boy meat between his buddy's legs. Gregor has a delicious cock, that's obvious from the way good-looking Tommy worships it with such hunger, bobbing up and down on the juicy tool while the hung young man leans back on the couch and enjoys all the attention. Of course, one good sucking deserves another, and within short time Gregor is feasting on the generous portion of fuckmeat Tommy has to offer in return, showing that he's certainly no slouch when it comes to pleasuring dick. Their exchange of tongue lapping pleasure can only lead to an inevitable butt stuffing, and it seems young Gregor is more than capable when it comes to having his smooth little pucker stretched. Tommy fills his friend with his inches of wet and naked cock, fucking the boy on his side then giving the young man a ride on his awesome bareback length, finally fucking Gregor on his back until his smooth and tight body is ready to be decorated with semen. Tommy stands over his smooth young twinky friend, wanking his thick tool and launching a splashing mess of hot cum over the boy, almost instantly triggering young Gregor's climax in appreciation and leaving his slim frame dripping with jizz.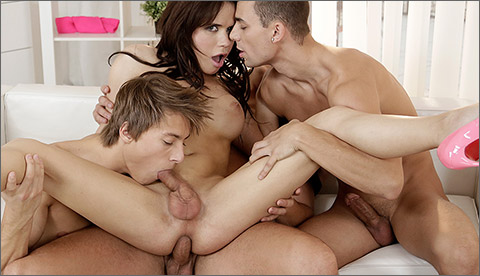 TS TWINK PARTY: POLICE GIVE A DEEP-FUCKED INTERROGATION FOR ONE HOT SHE-MALE!
Everyone knows that the police can sometimes adopt somewhat unorthodox tactics in pursuit of crime, but officers Nick Vargas and Shane Hirch take such procedures to a whole new level when they bust into Joshua Levy's apartment and find the fellow getting frisky with the glamorous Sasha Shatalova. Of course, what they don't realise at this early stage of their enquiries is that the young lady in Levy's company isn't quite what "she" appears to be; but, having taken the opportunity to force her to suck Hirch's cock, whilst Vargas and Levy watch from the sidelines, Shatalova's secret is unceremoniously revealed when Hirch reaches for her crotch. The bitch has a dick – a revelation that soon gets the officers into quite a considerable lather!
   Indeed, before you know it both the police agents have removed their pants and are forcing their shafts down the young lad(y)'s throat; whilst Levy gobbles away on her swollen ramrod. It's all just a tad surreal, if truth be known; but still enormously erotic, not least of all when the three guys decide to take it in turns to fuck the she-boy's ass-hole. First Vargas pounds her from behind; then Hirch pummels her from underneath, cowboy-style.
   Finally, the two officers give Shatalova a helping hand by lifting here up onto Levy's knob and then bouncing her up and down on his lap! Little fuckin' wonder that it's no time at all before both Vargas and Hirch are ready to cream all her face; leaving Levy to finish the fuck that he'd tried to start before the interruption, resulting in another heavy load of fresh hot spunk!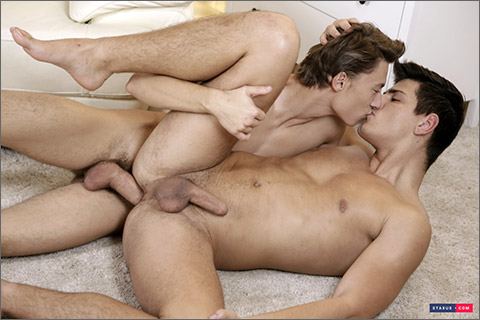 THE BIG PICTURE: HOT & HORNY SWIMMERS TAKE A HARD FUCK TO A SPLURGE OF SPUNK!
They've just enjoyed a lovely swim, but it's clear from the off that neither Shane Hirch or Joshua Levy are much in the mood to relax. In fact, as quickly becomes apparent, they're both looking for a very different form of exercise – and that, of course, can only mean one thing for you very lucky viewers! All the same, there's no denying the sensuous introduction to this horny little escapade, as the two lads smooch to a backdrop of instrumental music.
   Don't be fooled for one moment, however. Once that score has faded away, these two horny young fuckers are quickly reaching for each other's crotches and pulling out the thick, meaty offerings inside. Hirch, in particular, doesn't seem able to get enough of his new buddy's joystick; before the pairing take up to 69-ing on the sofa so that they can mutually pleasure each other. Ultimately, however, it's clear that one of these filthy-minded whores is going to find his ass accommodating the other boy's ramrod; and it's almost with a sense of relief that Levy finally takes command of the situation, rims Hirch's horny little hole and then shoves every inch of dick that nature blessed him with deep inside!
   No wonder that the filthy bottom groans his satisfaction in response; with Levy soon getting into his stride and pounding the pucker with near-mad fury. Little wonder that Hirch is quickly reaching the point where he just has to unload – mid-fuck, all over his belly! To underscore his sluttish credentials, however, he then proceeds to get down on his knees to allow Levy to unburden a fine wad of hot twink jizz over his mouth!
BADPUPPY
BOY FUN COLLECTION
TWINKS IN SHORTS
STAXUS
TOMMY HUNTER BOY FUN PROFILE
CLICK HERE TO GO TO HIS STAXUS DETAILS