Randy Blue American Gay Porn Star, Jonn Lundgren
Years Active: 2015
RANDY BLUE INFO:
Jonn Lundgren looks like someone took a time machine, kidnapped a viking, brought him back to the present and gave him a hot makeover. This man is six foot two inches of pure beefcake. He is a gentle giant, and his soft spoken manner that contrasts to his rugged physique only adds to his appeal. He is as gay as they come, and he says he is versatile but definitely prefers to bottom. Come see this hunk dive head first in the best HD gay porn out there. Watch him get deflowered here at Randy Blue.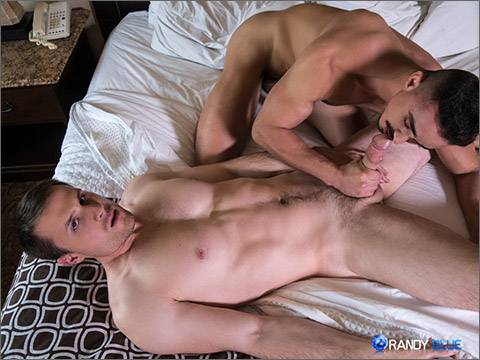 JONN LUNDGREN MAKES HIS BAREBACK DEBUT WITH LATIN STUD, RANDY DIXON
Jonn Lundgren is one of those tall big muscle guys that seem like they should be a bouncer at a bar. But in actuality he is a shy bottom that loves it when a hot hard dick gets shoved into him. Randy Dixon saw Jonn on our instagram and specifically requested to get a crack at him. Randy and Jonn met and immediately they began to make out. Randy got Jonn naked and was in awe of how big his juicy cock was. He began to suck on it, and then got up and fed his own dick to Jonn. He sucked on it, but that is not what he really wanted. He needed to get fucked. Randy lubed up his hole and shoved his raw dick inside. They barebacked in every position possible until finally he got Jonn on his back and started to pump nice and hard into him. He was so turned on, he had to nut. He pulled out and came all over Jonn and shoved the cum back into his hole. Then Jonn got close and Randy ate all of his jizz that shot out of his huge hard dick. Be sure to check out the free gay porn trailer of the hot bareback action in full HD here at Randy Blue.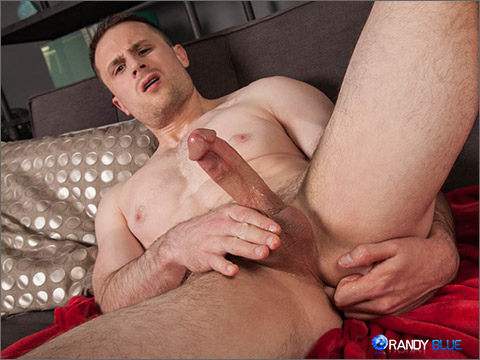 JONN LUNDGREN GETS NAKED AND FINGERS HIS HOLE
Jonn Lundgren has such an innocent smile and quiet demeanor. It contrasts with his six foot two frame and huge muscular body. But once he gets naked, you can tell that he is a freak in the bed room. He pulls out his huge cock from his underwear and starts to jerk himself off. He plays with his hard dick until he decides to give his hole some attention. He bends over, wets his finger and plunges it deep into his ass. He moans in delight as he penetrates himself. He admitted that he prefers to bottom, and he cannot wait until he gets some Randy Blue cock up his ass. He finally cums all over himself leaving hot white jizz all over his chest. Be sure to check out the free gayporn trailer of the hot action in full HD here at Randy Blue.
CLICK HERE TO GO TO HIS RANDY BLUE DETAILS