Handsome American Hunk Gay Porn Star, Jon Vincent
Known Aliases / aka:
Years Active: 1988 – 1996
OUTCYCLOPEDIA INFO:
"Jon Vincent" was the name used by former professional baseball player ##### during his nearly fifteen year career as a star of gay and bi porn videos. Born in New Orleans, Vincent was signed to play with the Kansas City Royals baseball team when he was only twenty years old. In November of 1983, however, he was arrested along with four other team members, including star Vida Blue, and charged with conspiracy to buy cocaine. While the other four more experienced and valued players were suspended for a year and eventually traded off to other teams, Vincent was fired. As he later said in an interview, "I broke my father's heart."
   Shortly after, he entered competitive body-building and began performing in porn under the name John St. Vincent. In 1988, as Jon Vincent, he appeared in "HEAVENLY" and quickly became a star with a tremendous following.
   Vincent's popularity with his fans stemmed largely from his rough, dirty-talking, masculine persona. He was frequently rough with his co-stars, and was even known to put his fist through a wall during an argument with a director. Though he once told an interviewer that he had no intention of dying a drug addict, and had even joined a drug treatment program, Vincent's drug problems which had begun in the early '80s continued to plague him throughout his life. After successfully auditioning for a part in the New York production of the play "TEN NAKED MEN" and beginning talks for a directing deal with porn company New Age Productions, Vincent was found dead in his apartment of a heroin overdose. Though no note was found and his roommates believed his death to be a simple overdose, the coroner found undigested valium pills in Vincent's stomach and ruled his death a suicide. After a memorial service in New York, Vicker's body was shipped to Baton Rouge and interred next to his father. He left behind a nineteen-year-old son.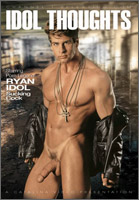 IDOL THOUGHTS
Ryan Idol has always had what it takes to suck a mean cock. He just never had the company to give you the action the way you deserve to get it – until now! Superstar Ryan Idol in his first hardcore, hands-on adventure, with Tom Katt – able-bodied, amply endowed, and the target of Ryan's man-reciprocation.
CLICK HERE TO GO TO HIS CHANNEL 1 RELEASING DETAILS

ADVOCATE MEN  November 1988, October 1996
UNZIPPED  June 8, 1999, September 14, 1999
MALE PICTORIAL  September 1990, November 1992
HONCHO  February 1989
INCHES  June 1989
INCHES: 1991 GAYPORN STAR'S ANNUAL
TORSO  January 1987, September 1988
ALL MAN  September 1991
HEAT  March 1989, July 1989, April 1991
IN TOUCH  #140
JOCK  May 1987
MANSHOTS  June 1993, October 2000
NUMBERS  July 1989, November 1992
STALLION  March 1992
ADONIS  #117
JUST MEN  v06 n05
LATIN INCHES  v01 n01 (1998)
OBSESSIONS  April 1988, March 1989
SKIN COLLECTION  #17
SKINFLICKS  v09 n02, v10 n05, August 1994
BRUNO GMUNDER: ULTIMATE FALCON
ADAM GAY VIDEO: 1993 ADAM GAY VIDEO DIRECTORY
ADAM GAY VIDEO: THE TOP 40 FILMS OF CHI CHI LARUE
MAG CORP: SKIN COLLECTION #17
A THOUSAND AND ONE NIGHT STANDS: THE LIFE OF JON VINCENT
MEN MAGAZINE 15TH ANNIVERSARY

A THOUSAND AND ONE NIGHT STANDS: THE LIFE OF JON VINCENT
Jon Vincent was all these things. Like Elvis and Jim Morrison, he was idolized by many and understood by very few, and like them, he left behind a legacy of enduring fascination. Now, at last, his official, authorized biography, A Thousand and One Night Stands: The Life of Jon Vincent, documents and explores his life and legacy. From his aborted career in professional baseball to his explosive success in the world of gay porn; from his failed heterosexual marriages to his secret off-screen love affair with fellow gay porn icon, Joey Stefano; from his manic days and nights as a Hollywood high roller to his descent into the hell of heroin addiction, A Thousand and One Night Stands is a harrowing roller coaster ride through a life filled with triumph, tragedy, and self-torment–a life which ended prematurely at the age of thirty-seven.
   In A Thousand and One Night Stands: The Life of Jon Vincent, noted author H.A. Carson illuminates the life, soul, and tragic death of one of the most enigmatic figures in modern American x-rated culture.
VIDEO ON-DEMAND: AEBN SMUTJUNKIES THEATER
VIDEO ON-DEMAND: MALEFLIXXX
DVD / DOWNLOAD / VOD: GAY DVD EMPIRE